Exceptional Safaris in Africa
Tailor-made safaris and scheduled small group safaris
"The only man I envy is the man who has not yet been to Africa – for he has so much to look forward to."
Africa is a continent that can delight safari goers but, if you don't get it right, it is also a place that can  frustrate and disappoint; so make sure you get the best possible advice when planning your safari.
We've been organising safaris in Africa for over 30 years and we still learn something new every day. Our experience and expertise can save you a lot of wasted time and help you make the right choices.
Let us do the hard work so you don't have to.
So whether you're looking for a photographic safari, a walking safari or something that will keep the whole family happy; we can help you make sure your next safari is really special.
Wow! Thank you so very much for all your perseverance and patience regarding our recent trip to Zimbabwe. We had an incredible time. The most challenging part of making the trip was getting the Covid test on the front end. We felt safer in Zim than we do at home. Your recommendations for lodges and lodge companies were terrific and your team was fantastic. Everything, I mean everything, worked like clockwork.
What do you want to see?
It's not a silly question at all. The species you may see, and the number of them you may see, depend to a great extent on which country or reserve you visit.
Some places have elephants in abundance, in others they are scarce; some reserves will almost guarantee leopard sightings, in others you need to be very lucky to catch a glimpse of one.
So, depending on what you want to see, the choice of location for your safari is very important.
We tailor make our safaris to your specification. This means that if you tell us what species you are keen to see, we can suggest itineraries that will give you the best possible chance of seeing them.
Where can I see?
Whether it is leopards or wild dogs, elephants or rhinos; our quick reference chart makes it easy for you to find out which countries and which reserves are the best for seeing specific species.
As well as the full chart, you'll find a country specific guide on each destination page.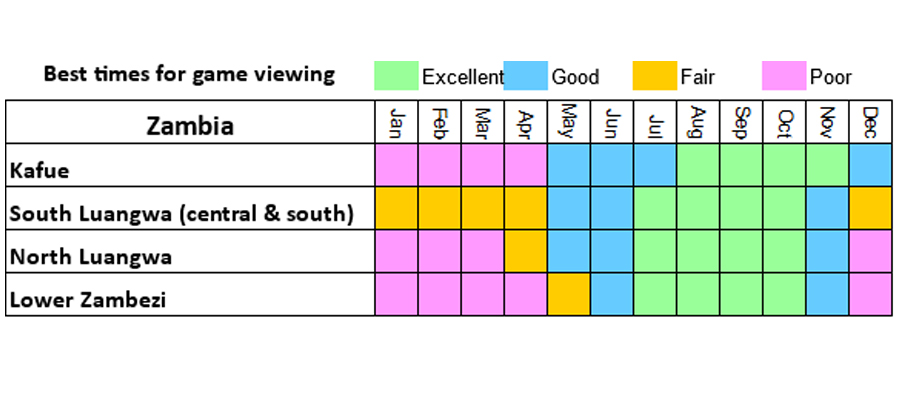 When is the best time to go?
This is one of the questions we get asked the most, and with good reason. It's not just about the weather either; your chance of seeing particular animals or birds vary considerably during the year so it is important to get it right.
Our 'when to go' calendars make it easy. You'll find one on each destination page, along with other useful information about that country's wildlife parks and the species you can expect to see there.
What will the accommodation be like
Naturally enough, you want to know where you'll be staying, it does matter. Where possible we prefer to use small intimate camps and lodges that will enhance your overall experience.
Don't let the word 'camp' worry you; safari camps in Africa bear little resemblance to the family camping holiday you were taken on as a child. It would be much more accurate to describe them as tented lodges.
Although the 'room' itself is often made of canvas, it is spacious and comfortable, with large beds and an en-suite bathroom. The camp itself will have a lounge and dining area.
Camps and lodges are constructed to blend in with the environment and often have amazing locations with animals regularly coming right up to – sometimes into – the camp.
Even on our mobile safaris you still get a tent with proper beds and en-suite facilities. A camp crew erect the camp, look after all meals and camp chores, leaving you free to enjoy your wilderness experience.
Share our passion for Africa and its wildlife
It's your holiday, we'll never forget that; so before we do anything else, we listen carefully to what you want. Only then do we make suggestions.
Africa is our passion and we aim to make it your passion too.
If you'd like to discuss ideas for your safari in Africa we'd love you to get in touch; either by email or by telephone.
or give us a call
+44 (0)7775565375