Dear Martin - I just wanted to say a huge thank you for organising the most amazing holiday for us. It was absolutely fantastic - honestly one of the best holidays ever - safari was fantastic (despite charging buffalo, poisonous snakes, roaming/roaring lions and a sleepless night or two!) and the camp was superb - they did Christmas so well it was magical. And the hotel at the coast was just lovely. All transfers worked impeccably (showing up BA!). Thanks so much - it really was amazing and we were all very grateful.
Martin Dunn
It was while working as a freelance photographer in London that Africa imposed itself on Martin's life. Bored with the routine of photographing shows and exhibitions he decided that Africa was the place to find new photographic challenges, so in 1980 he set off on a journey from London to Nairobi. That journey ended up lasting about five months and took him across the Sahara and West Africa, before crossing through what is now South Sudan to enter Kenya.
It was the beginning of a love affair that remains just as strong today.
Arriving in Nairobi he found that there was more call for his expedition leading skills than his photography and he quickly found work as a safari guide. He also spent some time managing a small camp on the shores of Lake Turkana.
Surrounded by so much that was spectacular it is hardly surprising that he kept his cameras close to hand and he was soon supplying photographs to companies in the UK and USA for their magazines and brochures.
From Kenya he moved to Egypt where he set up a tour operation that went on to become a world leader in small group adventure travel to the region. He returned to the UK and, in 1991, co-founded The Imaginative Traveller.
The Imaginative Traveller was a pioneer of low impact experiential travel offering experiential small group journeys in more than 60 destinations worldwide.
But Africa kept calling.
After leaving The Imaginative Traveller in 2007 and deciding it was time to focus on his two passions, Africa and photography, Martin set up Wildlife Photography Africa.
In its early days Wildlife Photography Africa ran workshops aimed at helping people to improve their photography skills and take control of their cameras.
Since then the company has used Martin's wealth of experience to establish itself as a specialist in bespoke safaris for people wanting to photograph Africa and its wildlife.
"It's just as exciting for me as it is for my clients. Every safari is different and it's a huge buzz to see people developing their photography skills and their own passion for Africa at the same time"
Martin is a Fellow of the Royal Geographical Society.
Rena Brennecke
Rena's love of travel began many years ago (we're not allowed to say exactly how many) when she left Germany to explore Australia. Returning to Europe her background in hotel management and finance helped her secure a job with a leading adventure travel company. 
Hooked on Africa since her first Kenya safari in 1986, Rena co-founded The Imaginative Traveller and where she worked as Marketing Director; playing a major role in establishing the company as one of the world's leading small group adventure operators. 
Rena left The Imaginative Traveller in 2007 to work as a freelance marketing consultant in the travel industry.
She brought her marketing expertise to Wildlife Photography Africa in 2012; although she continues her consultancy work and also provides specialist German lessons to local businessmen.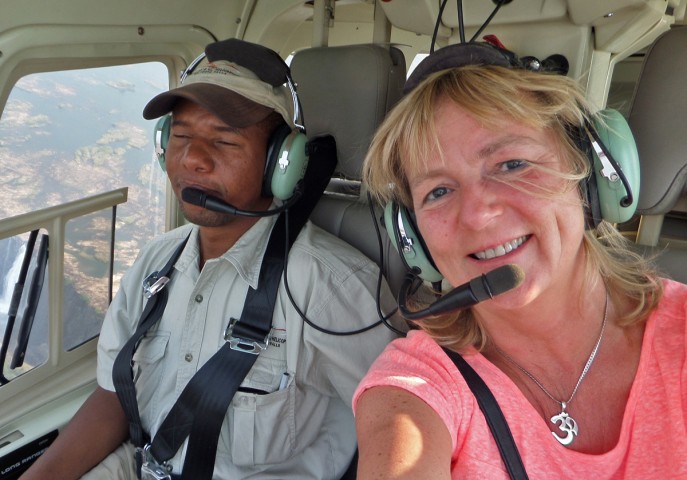 Safe Hands
One of the key attributes of our success as a tour operator has been the importance we place on long term relationships with partners in the various destinations and it is the strength of these relationships that give us the confidence of knowing that, whatever happens, our clients are in safe hands.
Although we like to personally accompany our photographic groups whenever possible we can't accompany every individual client on safari, so it is vital that we have complete confidence in the people that do.
Our drivers and guides, the staff at the camps and lodges we use;  indeed all our partners on the ground in Africa, have proved time after time just how good they are and we are sure you'll be as impressed with them as we are.
Recommendations only
We do not advertise.
The vast majority of our bookings are either repeat bookings from regular clients or as a result of recommendations made by past clients. 
We very much appreciate the fact that those who find us online have clearly taken the time and effort to search beyond the paid listings.