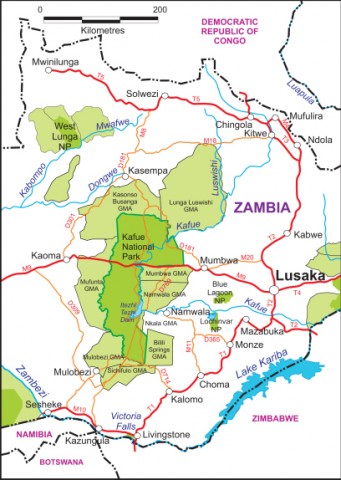 The Kafue National Park, known locally as KNP, is one of Africa's best kept secrets. A giant untramelled wilderness with an outstanding variety of wildlife; it embraces a rich blend of woodlands, grasslands and aquatic environments in a complexity of shapes, colours, adaptations and interrelationships.

Larger than the well-known Kruger National Park in South Africa, Kafue covers 22,480 km2 (8,650 square miles), representing 36% of Zambia's National Park land. Surrounded almost entirely by Game Management Areas, which cover a further 45,406 km2, the combined total of wildlife estate is 68,000 km2, twice the size of Belgium, an enormous national asset of over 9% of Zambia's entire land. Most of the Park lies at about 1,068 metres (3,500 feet) above sea level, with a gently undulating landscape, in a zone of moderate rainfall, moderate temperatures and low humidity making it a comfortable place to visit throughout the year.
kafuenationalpark.info has been created by Peter De Vere Moss.
When it comes to Kafue National Park in Zambia, there are few people more knowledgeable than Peter.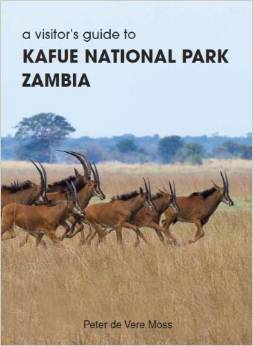 Peter spent much of his life working as a ranger in Zambia's National Parks, and Kafue in particular. Although he is now resident in the UK, his passion for Kafue is undiminished and he has taken on the challenge, almost single-handedly, of raising the profile of this iconic African park. For although Kafue National Park is vast and boasts a fabulous diversity of wildlife (including both roan and sable antelope) it does not attract anything like the same number of visitors as it ought to; losing out to more mainstream reserves both within and outside Zambia.
In 2013 Peter published "a visitor's guide to Kafue National Park", an invaluable companion for anyone making a safari there. (We've been giving a free copy with every booking on our 12 day 'Lusaka to Livingstone' safari.)
Not content with that, he has just launched a new website kafuenationalpark.info which is packed with useful information for anyone contemplating a safari in KNP.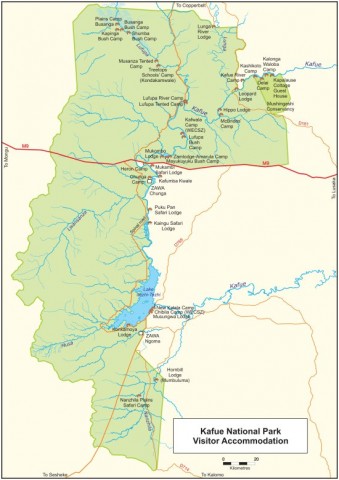 Although it does not yet contain the same wealth of information that can be found in the guide book, one of the great advantages the new website has over the guide book is that it can be updated at any time new information becomes available. So, for example, it currently features news of 4 new camps that have opened in the park
Fig Tree Bush Camp–opened July 2015 on Shishamba Loop. Owned and managed as a satellite camp by the well-established Mukambi Lodge offers an exciting combination of high quality Lodge and first class bush camp safari opportunity not far from Lusaka.

Mawimbi – accommodation in three large tents each with its own bathroom; this delightful bush camp specialises in top class canoeing and guided walking.

Kasabushi – situated about 20 km further south of Mawimbi and already specialising in quality self-catering camping as well as residential bush camp facilities with guided walks and river trips to be available soon.

Hippo Lodge – in the north-east has recently opened Lunga island Bush Camp at the confluence of the Kafue and Lunga Rivers about 12 km upstream from Hippo Lodge. Within a pristine island lsetting, 6 big "Mweru" tents provide comfort and splendid views of the river and surrounding riparian woodland. The camp is managed at present on a self-catering basis with professionally guided trips run in tandem with the main lodge.
Peter's vast knowledge of KNP has been a great asset to us a Wildlife Photography Africa and we really hope that his new website succeeds in stimulating an increase in visitors to this magnificent African park.