Madikwe Safari Diary
Day 3
After 2 pretty hectic days where we had been driving to all corners of the reserve, JP announced that this morning would be more sedate. We were just going to 'bumble around' and see what turned up; spending time with some of the other, less high profile, animals.
That was fine with me. We'd enjoyed really good sightings on the previous 2 days and it would be nice to take things a bit slower.
And it was a quiet morning.
We saw plenty of impala, steenbok, kudu and other antelope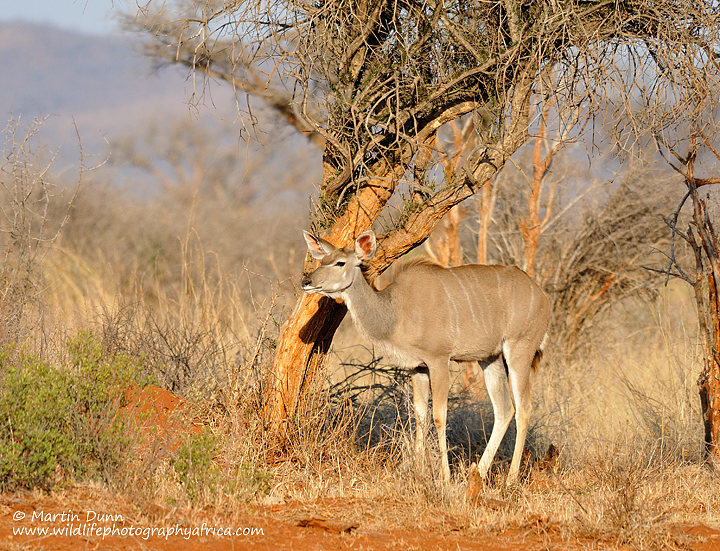 and some neat birds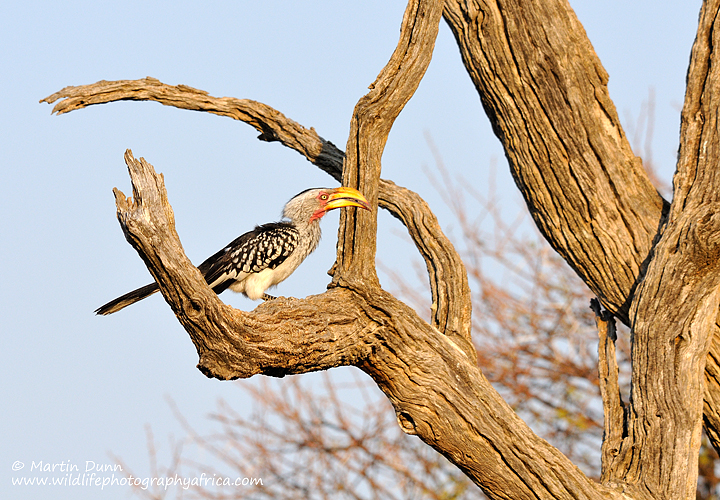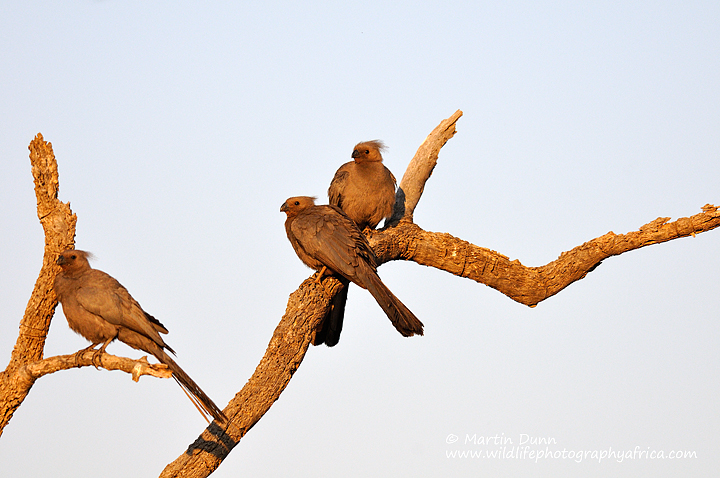 Banded Mongoose, a real highlight
but the highlight was seeing a family of banded mongooses at their burrow.
Pat spotted something moving in amongst the bushes just off the main track and as we made our way towards whatever it was a banded mongoose flashed across our path and disappeared down its hole.
We decided to stake out the burrow and see if they re-emerged. It turned out to be something of a waiting game.
We'd see the top of a head, then a pair of eyes appear, then duck back down.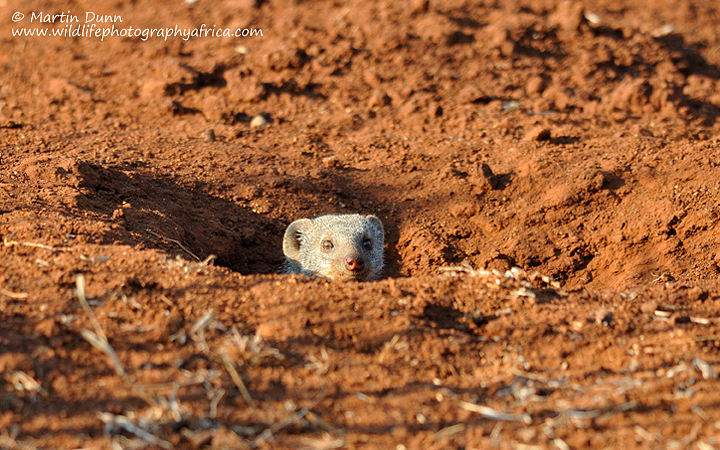 Perhaps we were a bit too close. We moved about 5 metres further back to a position where we would not be directly in their line of vision when they looked out.
It seemed to work; we saw three heads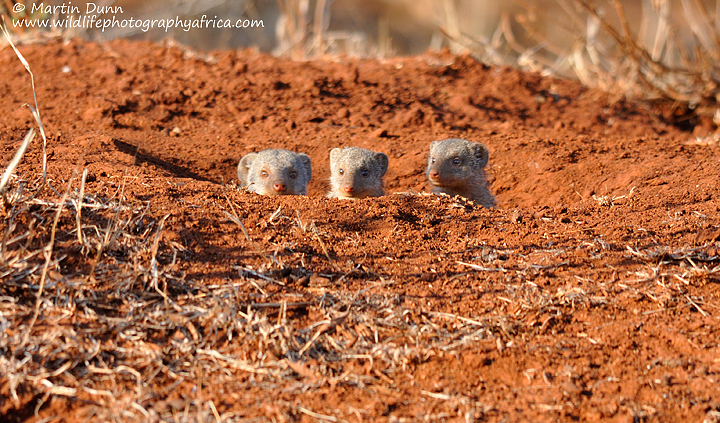 then eventually the mongooses gained enough confidence to come out and sit in the sun.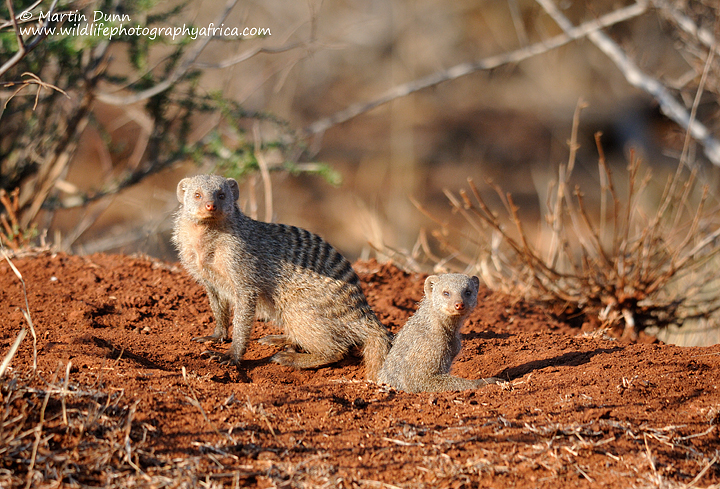 For me this was a really great encounter. Usually whenever I'd seen these mongooses before they were always running for cover, so it was wonderful to see them at ease like this.
Not much else occurred on our drive and we returned to the camp feeling slightly deflated, largely because all our other drives had been so amazing.
Action at the waterhole
But, even though that was our last game drive, Madikwe still held a few surprises for us.
To reach the Molatedi Gate we had to traverse the south eastern section of the reserve and so we naturally kept our eyes open, just in case.
We didn't see much until we were getting close to Vlei Pan but then we started to see groups of zebra everywhere. There were giraffe all around us as well, crossing the road in both directions. A little further on we saw two white rhino relaxing in the shade of a tree.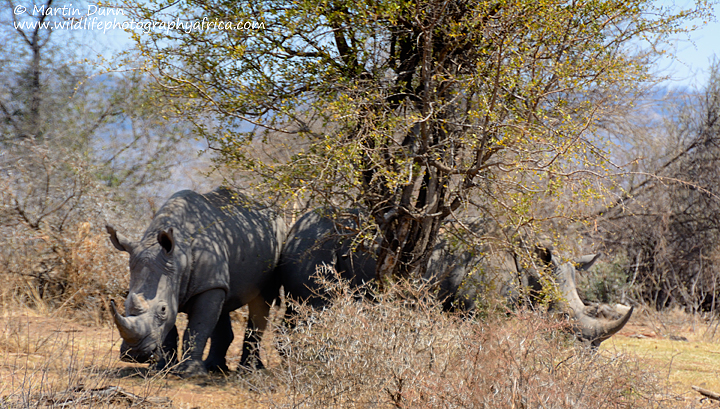 About 100 metres further on we reached Vlei Pan and the sight that greeted us was incredible. In front of us was the greatest concentration of animals we had seen anywhere so far.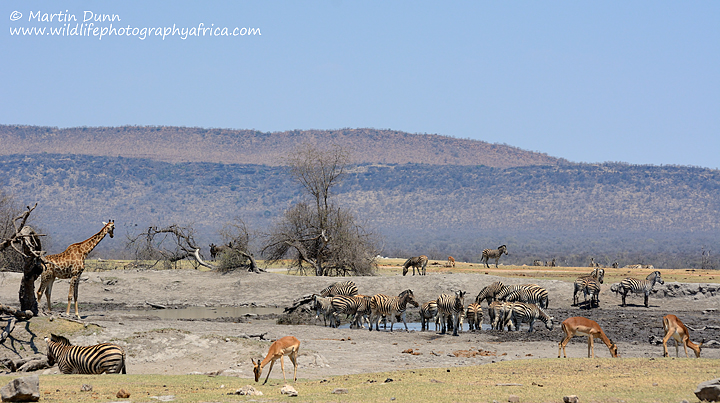 There must have been at least 100 zebras in and around the pan, red hartebeest were coming and going, there were giraffe and wildebeest and impala too.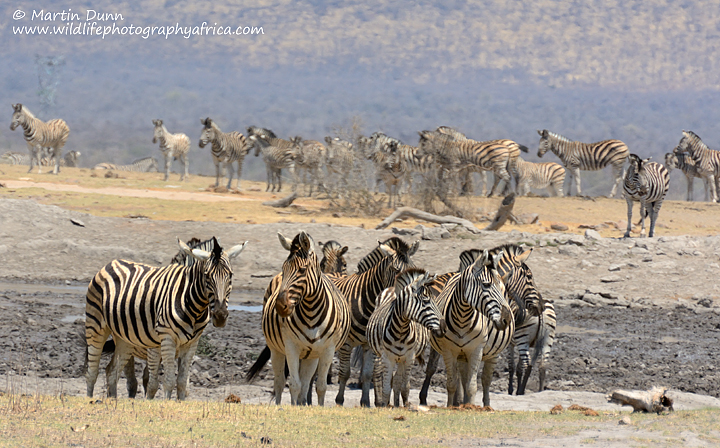 It was close to midday by now and the light was horribly harsh so any photographs were going to be simply for the record, but the spectacle was engrossing.
Unexpected visitors
Suddenly we saw movement at the back of the waterhole; unbelievably it was wild dogs. Their arrival caused panic amongst the animals and the impala scattered. We watched the dogs come down to the water and drink, then drop down to wallow in the mud.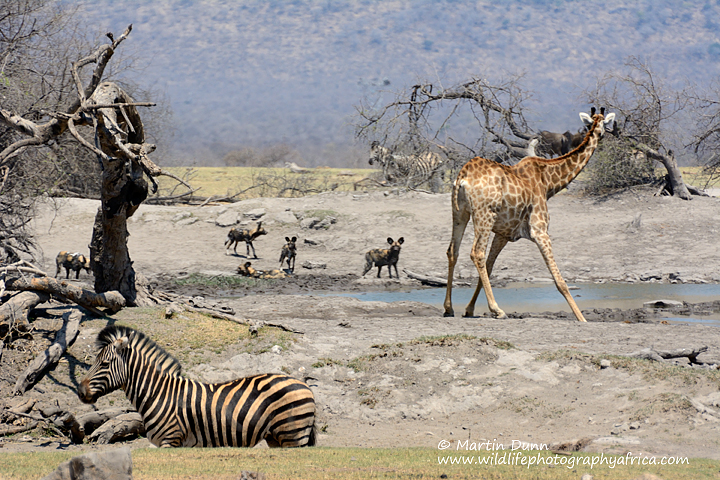 We counted 5 of them. A different group from the ones we had seen a day earlier.
We thought for a moment that our luck might really be in as one of the dogs decided to give chase to the retreating impala. But it was just a half hearted gesture and he soon returned to the cool of the water.
A huge bull elephant appeared from the trees and walked purposefully towards the water hole.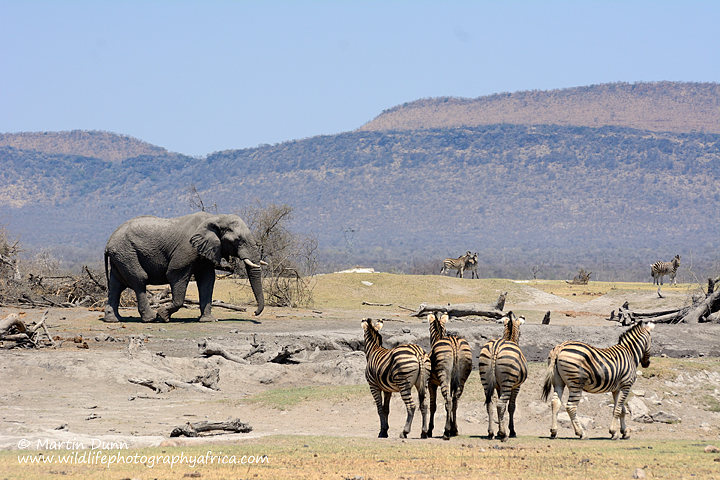 He didn't like the dogs being there and chased them away from the area he wanted to use. He then enjoyed a long drink before splashing muddy water all over himself.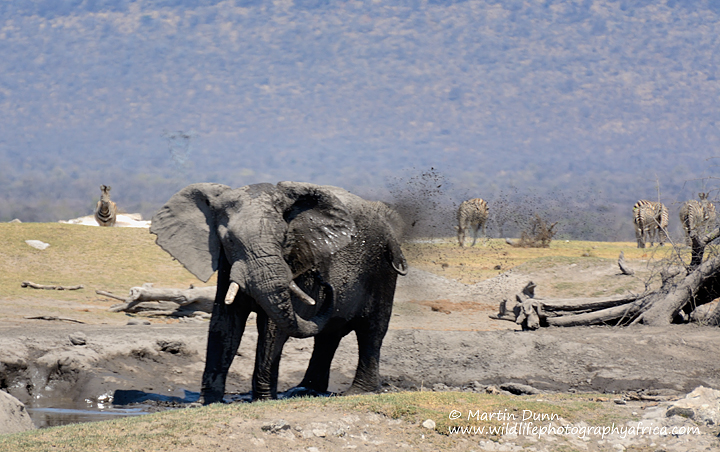 With out attention focussed on the wild dogs and the elephant we'd missed the arrival of another white rhino at the far side of the waterhole and we only noticed him when he started walking away.
Now we can relax
Eventually the elephant departed and the dogs could return to the water. Some of them just too a drink and crept back into the shade but two of them decided that the best place to be was right there in the mud.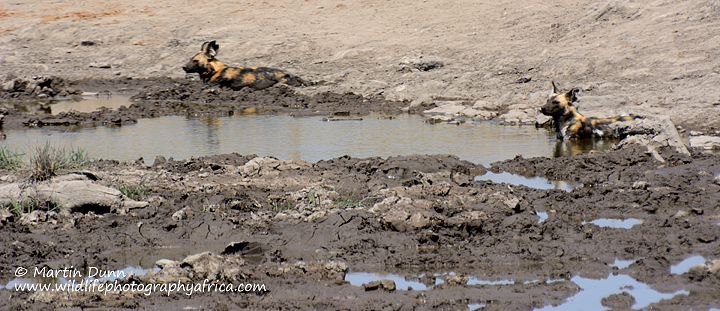 We'd love to have been able to wait until later in the day so we could see these dogs set out on their hunt. If they stayed where they were, hidden in the shade, eventually an un suspecting impala or young hartebeest would wander too close and the chase would be on.
Unfortunately we had to tear ourselves away and head for the gate.
All in all a brilliant stay in Madikwe.