Camps & Lodges with the WOW! factor
Someone just asked me "What is your favourite camp in Africa?"
How do I pick just one? 
I've been fortunate enough to stay in so many amazing places.
Faced with this challenge and a few idle hours over the festive season I thought I'd try and at least narrow it down to a short-list. Even that wasn't easy and it took far far longer than I'd anticipated as every time I thought I was finished I remembered somewhere else I just had to include.
To make the list it's not just about one good safari; it's about picking the places that will always deliver, no matter how often you go there.
The camp has to have personality; that means the staff must be welcoming and efficient, the food must be great and the location must have a real WOW factor.
It also means that the guides must be first rate; they must have knowledge and personality, and be able to keep guests engrossed even when the game is scarce.
Then there's the wildlife. The camp needs to be close to the action; so that you don't waste hours on every game drive getting between camp and the place where the animals are.
It should also offer more than just game drives. If you're spending time in an area it's good to be able to experience it in a variety of ways.
Game walks, canoeing, boat trips, hides and even night drives all add to the experience.
So I'm not asking for much then.
Believe it or not, there are loads of camps that meet all these criteria, so here – in no particular order – are a few of my favourites.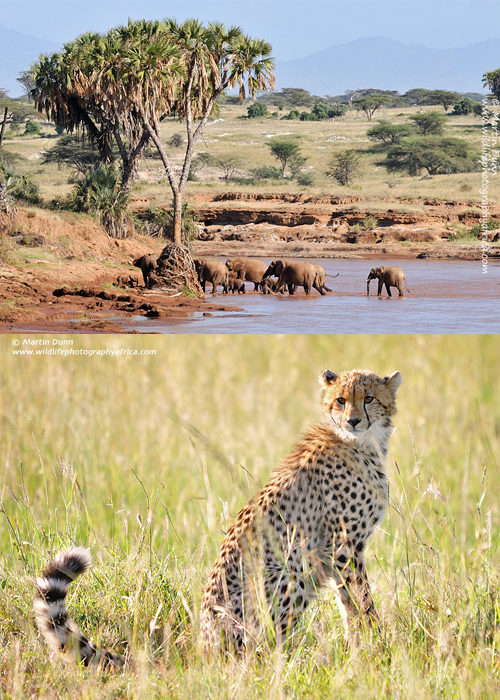 For more than 30 years Samburu has been one of the game parks I have enjoyed visiting the most.
Stunning landscapes make a terrific backdrop for the incredible array of wildlife and at the heart of it all is the Ewaso Nyiro river.
No surprise then that my favourite camp in Samburu is right on the banks of the river; an ideal spot to relax in between game drives watch elephants in the river.
Elephant Bedroom Camp is small and cosy, with comfortable accommodation and great food in a wonderful setting. The camp staff are almost all drawn from local communities and have a real affinity with the area.
You're probably starting to notice a recurring theme here, as this choice is also located by the water.
No apologies for that. You shouldn't underestimate the real advantages of being close to water. Perhaps most important of all is that it helps you stay a bit cooler on those hot African days. Wildlife also likes the water so you can just sit back and watch the animals coming down to drink.
Zambezi Expeditions is a seasonal camp, right on the banks of the Zambezi river. The location is perfect for game drives and walks on the flood plain and also for canoeing expeditions on the river.
The food is superb and the camp crew are amazing.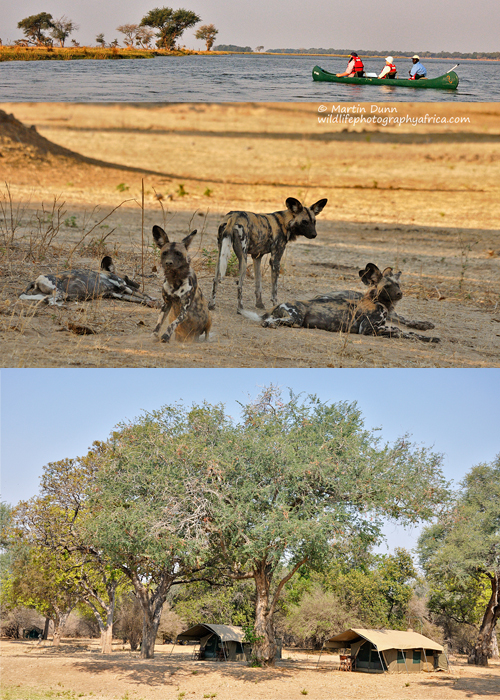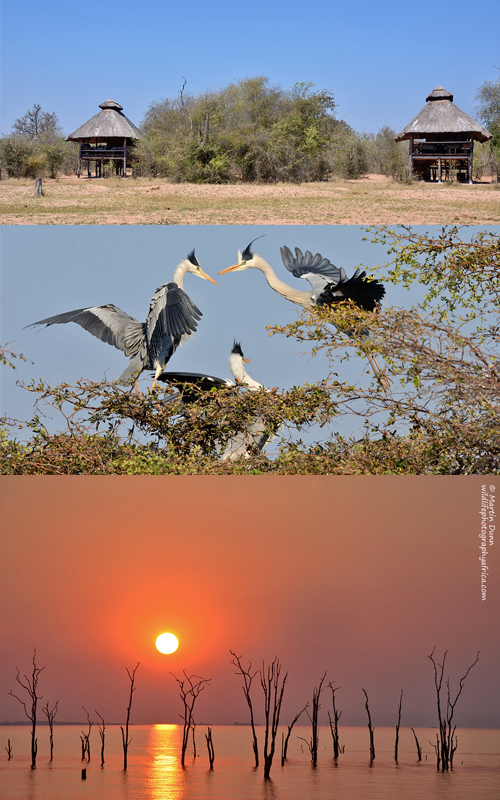 Rhino Safari Camp



Matusadona NP, Lake Kariba, Zimbabwe
Location is one of the key things I look for in a camp and they don't come much better than this.
Rhino Safari Camp is right on the shores of Lake Kariba and the guest accommodation is on elevated platforms overlooking the lake.
Elephants will often stroll down the camps paths and pause to browse on bushes right beside your bedroom. Special.
The communal areas are spacious but not luxurious; the food is good and plentiful without being pretentious and evenings spent sitting by a fire at the lakeside are memorable.
One of the great pluses about staying here is the chance to do more than just game drives. The walks are terrific and afternoons spent game viewing from a boat on the lake are sheer magic.
It is a wonderful feeling when you finally get to visit a place that you've wanted to see for ages and it lives up to all your expectations. Chilo Gorge Safari Lodge, and Gonarezhou NP in general, is one of those places.
The location is breathtaking and the vistas from the deck are so amazing that I did something here that I very rarely do; I skipped a game drive just to sit on the deck and watch the world go by.
Tucked away in the south western corner of Zimbabwe, Gonarezhou NP is not exactly inaccessible, but going there does ramp up the cost of your safari. Trust me; it's money well spent. You won't regret it.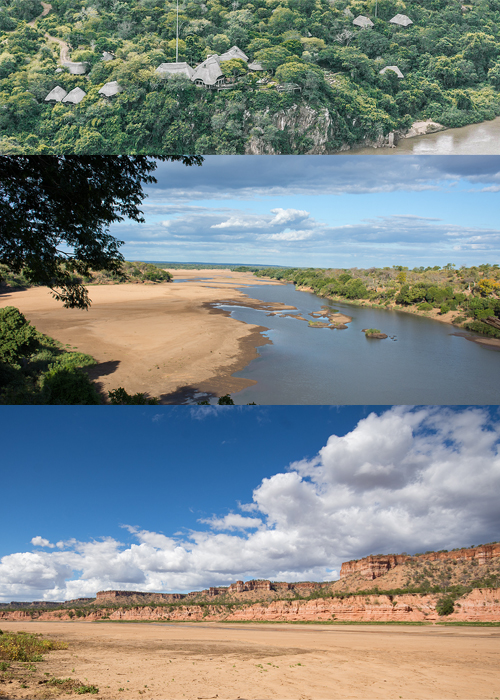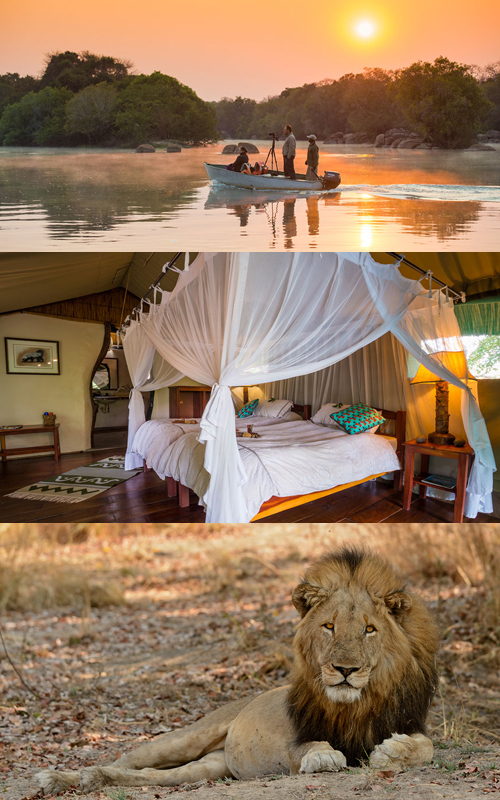 Staying at Kaingu Lodge was one of my absolute highlights of the past year or so.
The lodge nestles discreetly amongst trees along the bank of the Kafue river, with the main dining area set on large deck overlooking the river.
It is actually located outside the park itself; Kafue NP is on the other side of the river, but that does nothing to diminish the attraction of this exceptionally well run lodge. One of the key reasons for that is the opportunities it presents for spending time exploring the river by motorboat or canoe as well as easy access to the park itself.
The bird life is prolific and varied and guide extraordinaire John D was the perfect companion to help me discover it.
Savanna Lodge



Savanna Private Game Reserve, Sabi Sand, South Africa
The inclusion of Savanna might surprise a few people – it won't if you've been there.
Sabi Sand is a private reserve adjoining Kruger NP, and quite a small one at that.
As such it is not a reserve that has wide open plains or spectacular scenery but what it does have is a great concentration of wildlife and really excellent guides.
Even on short visits I have seen lion, leopard, cheetah, elephants, rhinos and wild dogs.
You don't have to drive too far to find the animals and you can get pretty close to them so photographic opportunities are excellent. It is the only place I've been where we were able to follow a wild dog hunt from start to finish.
The accommodation is pretty swish and the food is abundant and delicious.
The chance to share safaris with Neil and Paddy – both excellent photographers as well as amazing guides – is the icing on the cake.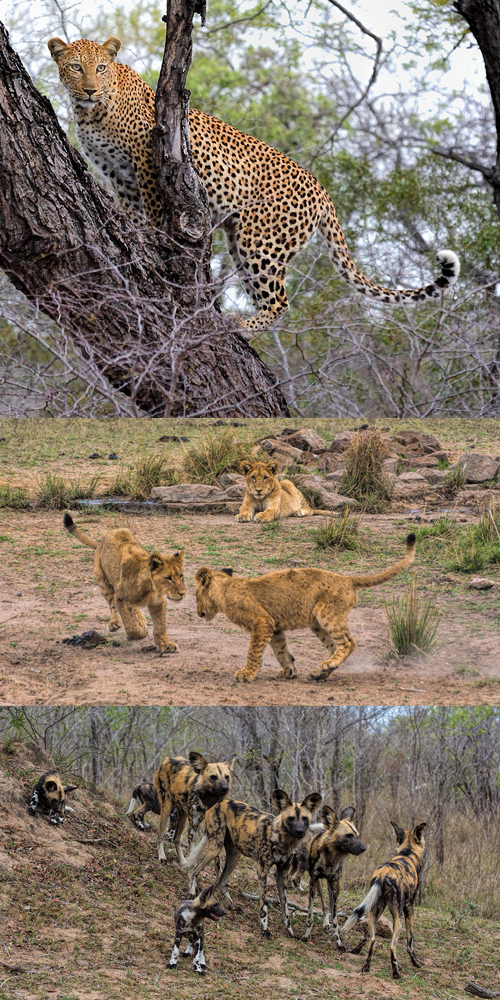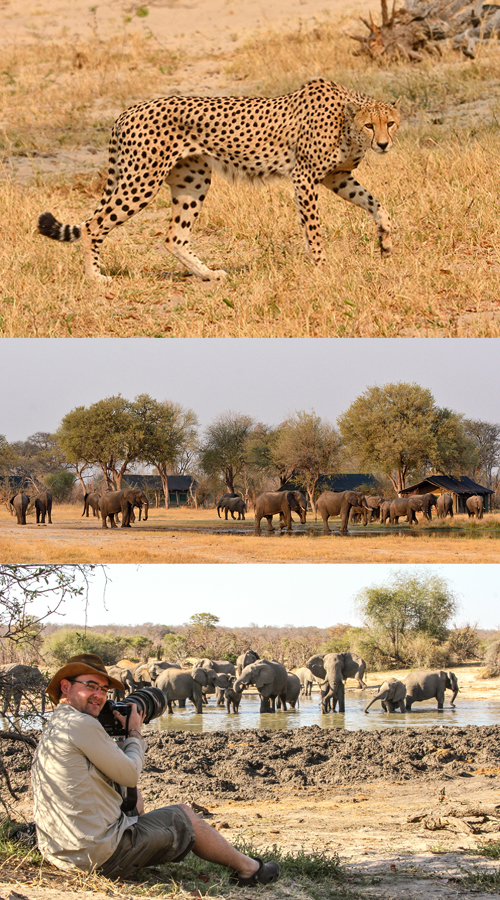 Bomani Tented Lodge is tucked away by the western corner of Hwange NP.
What makes Bomani special?
The accommodation is terrific; the guest rooms are large with great views of the surrounding plains.
The guides are first rate and the game viewing is excellent, with large herds of buffalo and elephants throughout most of the year. An excellent hide overlooking one of the nearby pans is the perfect place to watch animals coming for their sunset drink.
If you want a bit more adventure then add in a couple of days at the remote Jozibanini Camp.
Community led conservation in action. Imvelo Safari Lodges (they own Bomani & Jozibanini) are responsible for several initiatives which have created a very strong bond between their lodges and the local people.
Chobe NP is teeming with wildlife, and is one of the very best places to see vast herds of elephants and buffalo.
It also has lions, leopards, jackals, honey badgers and the gorgeous sable antelope.
Sitting on an escarpment within the Chobe Forest Reserve at the western end of Chobe NP, Muchenje enjoys a tranquil location far removed from the much busier eastern end of the park.
Great views and great game viewing make this a very special place to stay, even in the green season, and you can choose between game drives on land or game viewing by boat on the river.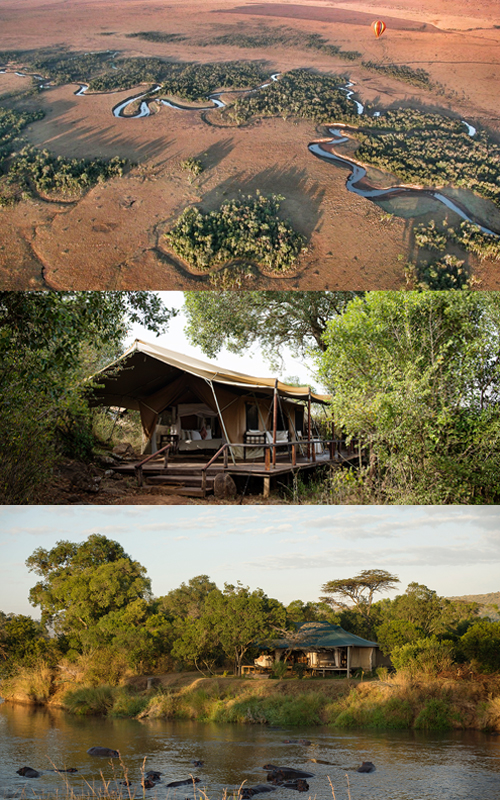 In our opinion, Alex Walker's camps set the benchmark for excellence when it comes to tented camps in Masai Mara and Serengeti.
The attention to detail and care that has gone into every aspect of the camps and the guest experience is phenomenal.
There are now a few Serian camps but for me The Original camp in Masai Mara is the one I would choose and in Serengeti I'd opt for the Serengeti North camp as it is ideally placed to witness the annual wildebeest migration.
That said, you'll be hard pressed to find fault with any of them.
Oh yes, I should also mention that Alex Walker's Serian camps are well set up for families, with plenty to keep young minds and bodies occupied.
Most visitors to Kenya head straight for the well known parks like Amboseli, Lake Nakuru and of course Masai Mara. Clearly they don't realise that by venturing a little bit further north they could put themselves in one of the most amazing game viewing areas in the whole country; Laikipia.
Amazing for the diversity of its wildlife, for the breathtaking scenery and for the fact that it is still possible to enjoy a safari here untroubled by the crowds that can spoil a safari in the more popular parks.
Laikipia Wilderness Camp is one of the smallest camps (just 5 guest tents) on my short list but for me that is a plus not a minus.
Because it is a small camp the programme can be tailored to guests wishes; game drives and walking safaris can be focussed on specific interests such as photography, tracking game on foot, following specific species and watching animal behaviour.
Laikipia is one of the most reliable places in Kenya to see the elusive wild dogs but visitors can also enjoy activities like walking, rafting, rock climbing, swimming, fishing and visits to local Samburu villages.
Laikipia Wilderness is also one of the most family friendly camps in Africa.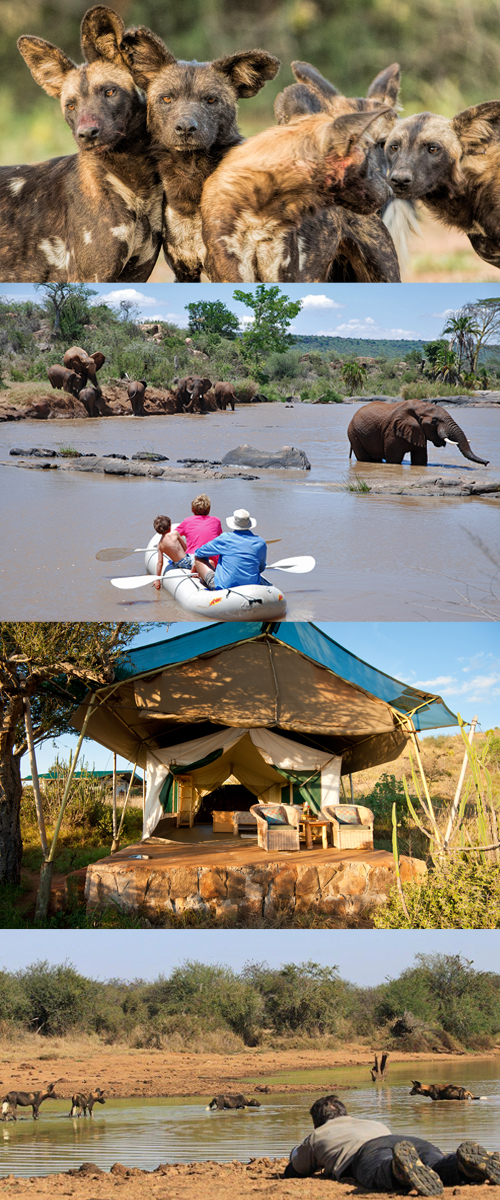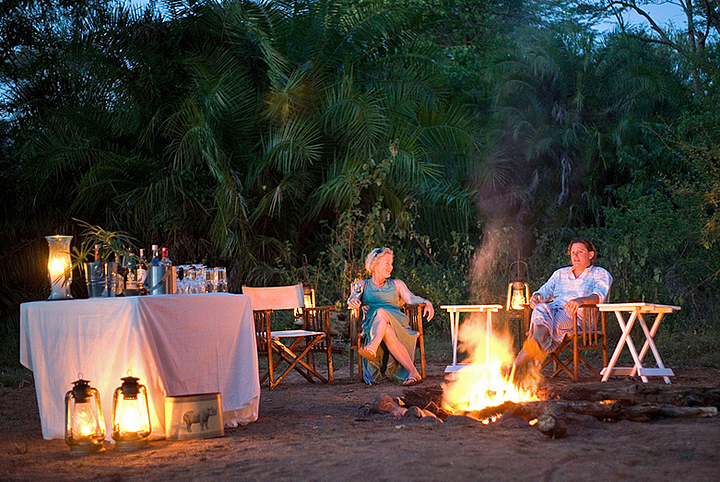 Offbeat Meru Camp would have definitely featured on our shortlist. Sadly the camp closed at the end of 2016 as too few people were prepared to break away from Kenya's more famous parks and visit this jewel of the north. It's a real shame as Offbeat Meru was a real gem. Luckily the Offbeat style continues at Offbeat Mara Camp and the lovely Sosian at Laikipia.