It's always a pleasure to share good news and even more so when it's about one of our favourite destinations.
After the tumultuous events of recent weeks, Zimbabwe has moved to the top of many peoples wish lists for 2018, so we thought that this would be a good time to draw your attention to the great work being done by one of our most popular partners there.
We are huge believers in, and supporters of, community led conservation and there are few organisations more proactive in this regard that Imvelo Safari Lodges.
Not only do they own some of our favourite lodges but they also do some amazing work in the local communities so we thought this would be a good time to highlight some of their initiatives.
The simplest way for us to do this is to share with you their Christmas Newsletter.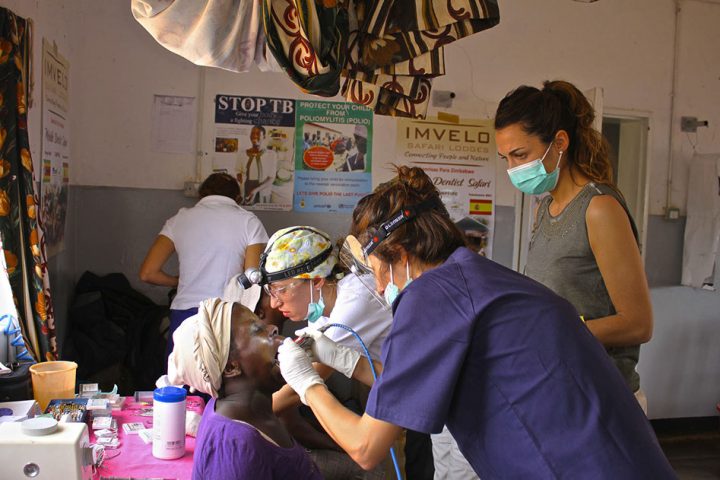 Community and conservation projects undertaken in 2017
None of this good work would have been possible without the enthusiastic involvement of our partners and supporters – Imvelo's role is facilitator and we provide all the logistical support without charge. We are proud to say that every cent raised by well-wishers is spent on materials and labour only, and Imvelo contributes the rest.
On behalf of the communities (and wildlife) we have helped this year, we say a very big thank you to all the individuals, groups and foundations who have partnered with us. Your kindness and generosity has helped change lives for the better.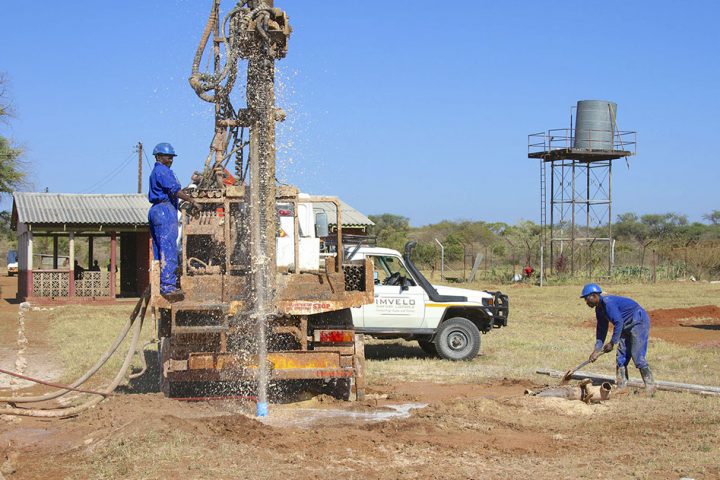 New clinic and borehole for Ngamo Village
Currently, for the 256 households of the Ngamo area, the nearest medical help is 40 kms away – and few of these households have access to a vehicle. That's quite a hike to attempt if you are unwell! Set to open in 2018, a clinic is being built to serve Ngamo with primary health care. It will comprise of 3 rooms, being a consultation room, treatment room and drug storage. In addition a 3 room cottage for staff accommodation will be constructed.
A new borehole has been drilled and equipped to supply water to the new clinic as well as the nearby Ngamo secondary school. The borehole now benefits 126 high school pupils as their primary water source and is a further back-up source for the Junior school which has approx. 260 children. Along with using the water for hygiene, cooking and drinking purposes, it is also planned to use the water for an agricultural project, which is a wonderful added benefit of the borehole project because it will provide a new source of income in the community. In addition the borehole supplies 74 households of Ngamo Village when their community borehole is down.
 The community and Imvelo are very grateful to our donors for their contributions towards various aspects of this project: D3 Foundation USA, $20,000; Bruce & Sara Williams, USA, $22,000; Saga UK, $16,500; Peter & Lena Spetz, Sweden, $9,800; Amanda Bennet & Machado, $1,700.
Peter & Lena Spetz also contributed another $2000 toward clean water projects at St Josephs, Emanaleni and Sodaka villages. Thanks also go to Deborah Starkey for school fees to the value of $1,300 for 8 students at Ngamo secondary school this year.
Mlevu Primary School & Kapane Secondary School
Imagine trying to learn your school lessons under a tree, exposed to hot, cold or wet weather, plus the teacher competing with all the distractions of village life around you. This project involved construction of a double classroom block which will house 80 children as well as renovations and rehabilitation of the borehole and its diesel engine providing water for 400 children and staff. ECD (early childhood development) school furniture was also sourced and supplied.
This project was made possible through the involvement of the children of Holy Cross School in Portland, Maine, USA of which a huge thank you must go to Chris L'Abbe for all her dedication to this project. These amazing kids raised $10,000 through many inventive schemes and another big thank you goes to our other partner on this project which was Bench Africa's 'Safari 4 Change' program which raised $7,500.
Until recently, the nearest source of water for Kapane Secondary school was nearly a kilometre distant. A desperately needed borehole was drilled, and a double classroom block was re-painted with the hard work of the volunteers from Bench Africa's 'Safari 4 Change' second program who together raised $9,500. Additional funds from this project is also being put into the construction of the Ngamo clinic already mentioned above.
Familiarisation trips bring agents to our properties to learn about them and gain an understanding on inter-camp logistics but Bench Africa in Australia took these trips to a new level when they created their innovative Safari 4 Change program, whereby agents who participate on the trip raise a prerequisite amount of money before arrival and this money is used on certain community projects near the lodges they stay at.
The agents themselves get involved in the project too and at the end of the stay they have the opportunity to experience our properties first-hand as well as contribute to the betterment of a local community. A very rewarding experience indeed!
Our first 2 Safari4change programs with Bench was a resounding success and we are looking forward to the next one in October/November 2018. Thank you Bench for facilitating this amazing initiative.
We are very excited to report that we will kick 2018 off with a bang at Mlevu Primary School – we have received $2000 from the Adventure Life Grant Program in America which will be used to install solar power facilities on the newly refurbished borehole at Mlevu School!
Ngamo Primary School
Teachers living and working at Ngamo primary school had no showers and shared the children's long-drop toilets. Those teachers will be forever grateful to the friends and students of Holy Cross School in Portland, Maine, for working so hard together to raise the $11,500 needed to build the new ablution block.
In addition, Norwegian school children from Rustad School in Oslo, worked just as hard to raise funds at their 2016 Christmas fair to raise the money to build a brand new kitchen where the school meals could be safely and hygienically prepared – instead of using a makeshift fireplace in the blazing sun. Thank you to Annette from Uhuru Travel for initiating the kitchen project.
Sidinda Clinic
For Sidinda clinic in the Gorges Lodge area, this year saw the provision of a new shelter for expecting mothers, a kitchen, new play centre equipment, the start of an orchard project, as well as drugs, school fees and uniforms for disadvantaged children, and last but not least, for electrification of the clinic and staff quarters. What a difference this has made to the lives of staff and patients! A huge thank you to Michelle Leishman from Australia who provides support for the Sidinda community every year – this year amounting to $10,700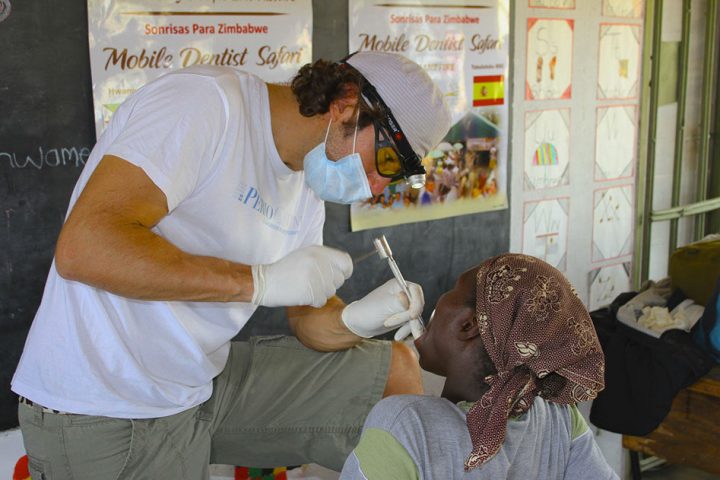 Annual Dental and Optical Safari
Elderly people were given the gift of sight again after years in blurred dimness. Children with new glasses are back in the schools they left because they could not see the writing in their books or on the blackboard. The reach of Imvelo's annual dental and optometry safari cannot be over-estimated. This year we provided critical care to 4 043 patients in six locations, bussing in people from 2-3 hours away from the remote rural communities around our lodges. Imvelo manages the logistics for these clinics, while donors assist with funding transport, air fares, medication, and equipment. A huge thank you to Higher Life Foundation for providing $67,000 which was used for airfares and transport. The D3 Foundation contributed $30,000 towards logistics, while Smile is a Foundation (Spain) donated optometric autorefractors, 2,000 spectacles, 10,000 anaesthetics and dental equipment including the suction and irrigation machine which made the volunteers' work much easier this year. Elke Kuepper from ITP Germany made it her mission to collect as many second hand spectacles she could and donated 1,000 pairs for the clinics.
You'll find much more about this life changing initiative on the Imvelo Facebook page
 A patient identified at one clinic as being in need of urgent surgery to save his sight was brought to Bulawayo and underwent a successful operation, paid for D3 Foundation. D3 also paid entry to the Victoria Falls Rainforest for 400 children and their teachers from nearby Chisuma primary school – who had never been to the Falls before, while Higher Life Foundation paid for the transport.
Meanwhile, earlier in the year Higher Life Foundation had already supported the building of a new double classroom block for victims of last year's flooding in Tsholotsho district, as well as a renovation of a double classroom block at Simakade primary school near Gorges Lodge, which was about to be condemned. At the same school, a new borehole was sited and is being drilled this month all amounting to a further $13900
An incredible achievement by all involved!
St Joseph's School
Tucker, Parker, and Cooper, three Americans with Africa in their hearts raised and donated $8000 for a solar powered borehole and water storage system for the remote St. Joseph's primary school in the Tsholotsho communal lands, south of Camelthorn.
Chisuma Primary School
This school near Gorges Lodges recently had a new double classroom block constructed with the kind help from Professor Colin & Jacquie Brown in the UK, valued at $13,700. Meanwhile, Sandra Cole provided support for a feeding program for the Chisuma schoolchildren to the value of $4400!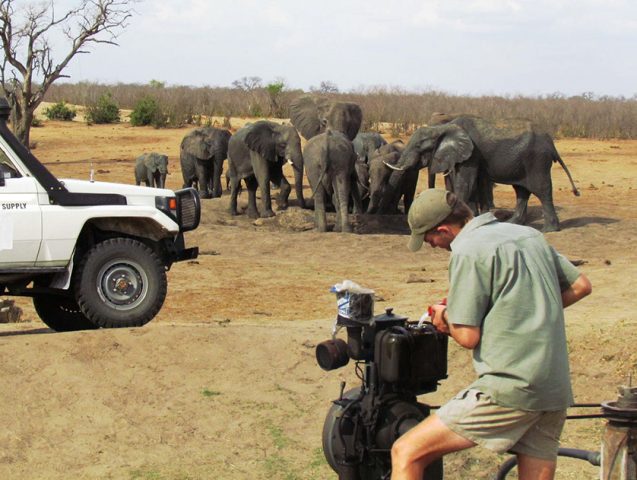 Community borehole maintenance
In our many communities, there are multiple boreholes that require maintenance. A special thanks to D3 Foundation and Bruce & Sara Williams who each provided a war chest of $2,000 to keep these vital water supplies running.
Teaching of English
Every year Hwange Schools Project runs a workshop on teaching English as a second language for teachers at 14 schools in the area – complete with donated materials and even specially written and illustrated storybooks set in the Ngamo area.
2017 kicked off with our fourth English language teacher training workshop and our fourth ECD classroom renovation in March. Over 20 primary and secondary teachers were given training in the interpretation of the new English curriculum and the ECD renovation was given to Mlevu Primary.
With the continued support of Ripley Court School, who raised an incredible $880, we were able to provide brand new brightly coloured furniture and to paint the classroom with what has now become our signature cheerful green! The classroom was stocked with loads of ECD equipment and toys. The Ripley school kids have been great supporters of Imvelo for many years and we so appreciate their ongoing contributions to the Imvelo community programmes. A big thank you to Sally Brunning, who facilitates and puts a lot of time and effort into keeping these fund raising efforts going for us!
This year the project also provided a truckload of school books suitable for the new government school curriculum, which was introduced without adequate supporting material.
Over $2600 was raised by Lindsay Norman and her team that conduct the annual Hwange Schools project. Lindsay and her team work tirelessly fundraising to better education in our communities every year, they are shining stars and we are so proud to have them as partners of ours! Thank you Lindsay, Isabel and the team that do so much behind the scenes! Plans for 2018 are in full swing!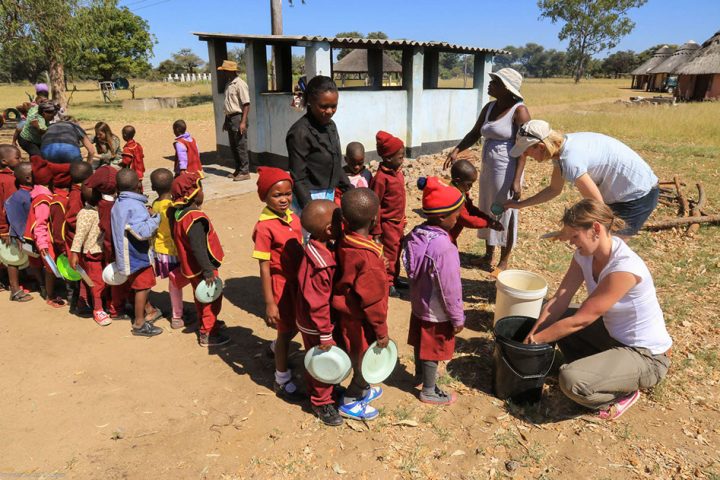 Hwange School Feeding Program
Imvelo's Hwange School Feeding Program has been running since September 2015. Western Zimbabwe, known as Matabeleland, is an area of unreliable rainfall, but life – human and animal – is dependent on this resource. In years of poor rainfall crops fail and this means no food for rural Zimbabweans or fodder for their livestock.
Many school children would arrive at school with empty tummies as there was no breakfast available at home. As a consequence their concentration and performance in the classroom was poor. After witnessing exhausted hungry children falling asleep in class and struggling to walk to and from school every day, we at Imvelo made it our mission to provide a cooked meal to every school child at the schools in the Hwange districts we support, and by the beginning of 2017, 617 children were receiving a daily meal!
Guests who stay at our southern lodges, Bomani and Camelthorn visit the nearby communities and meet the local people and the school children on our un-choreographed village and school visits. Here they learn about and see for themselves the school feeding program that we implemented. Most guests feel so moved by this amazing scheme that they immediately ask how they can help and contribute – the support we have received to date has been nothing short of astounding!
$3 is the cost to supply one meal per day to a school child and while every donated cent from guests and donors is used to purchase foodstuffs, Imvelo provides all the logistics including sourcing, storing and distributing tonnes of food. 
Many people have contributed towards this life changing initiative, but we must thank one of our guests, Ty Counts in USA,  who mobilised his friends to raise $3500 for the feeding program, which he then matched with an additional $3500, taking the total contributed to $7000 – enough for 21 000 meals!
In addition to contributions for the new kitchen at Ngamo School, students at Rustad school in Norway also raised funds for the Hwange School feeding program to provide meals for these children!
Wildlife Conservation
Poaching in national parks across Africa is a very real problem and requires constant patrols by well trained and equipped rangers. Imvelo have been instrumental in the development of the Scorpions and Cobras Anti-Poaching Units which operate in remote areas of Hwange. A massive thank you to Bruce & Sara Williams for the donation of $26,000 which was used to pay salaries, provide rations, fuel, maintenance and so on. Thanks to our brave rangers, poaching in south Hwange National Park is kept to a minimum.
Tucker & Cooper, our 2 American friends also raised funds and sponsored the installation of a state-of-the-art hybrid solar / diesel powered game water supply system at Jozibanini in a remote corner of Hwange National Park to the amount of just on $16000! A fantastic donation that will be of great assistance in this remote and wild area of Hwange.
 Throughout the 2017 dry season, Imvelo ran diesel pumps at six waterholes for wildlife. At another five locations our diesel pumps were replaced with solar systems mid-season, thanks to Forster Irrigation and WWF. In addition, we installed a solar system at Makona for both wildlife and the resident rangers' station, donated by the incredible D3 foundation to the value of over $20000 and installed by Chris Reese and Marthinus Nel.
Imvelo's mission is to create harmony between wildlife and the communities that border the national parks and we work hard to show the local communities the benefits that the wildlife has for their lives.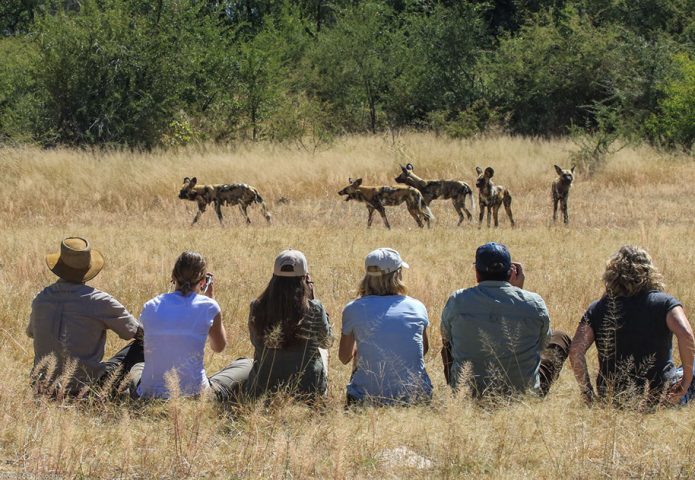 Finally last but definitely not least, we had so many of our valued guests donate small amounts while staying with us or on returning home. Absolutely every bit counts and we are extremely grateful for the generosity shown by so many! All these donations went to very worthwhile projects such as sponsoring children to be able to go to school, donating computers and ensuring schools have adequate supplies such as text books and also donating money towards sports equipment! We wish we could thank every individual personally here, but just know that every single cent has helped change a life and we sincerely thank everyone for their generosity of spirit!
As we bring to a close another year, we want to say an enormous thank you to everyone in the industry that has supported Imvelo and we look forward to continuing our mission to change lives for the better and of course sharing many magnificent safaris with our valued guests!
From everyone at Imvelo Safari Lodges and Wildlife Photography Africa we would like to wish you all a safe and happy Christmas and here's to a prosperous 2018 for all!