Safari Diary, Sabi Sands, Day 2 Afternoon drive
((Excuse the quality of the photographs. I'm still on safari and not able to process photos properly on my old Toshiba Portege. I'll re-do them all when I get back home))
The skies showed no sign of clearing as we headed out for our afternoon game drive.
In search of leopards
We'd set ourselves the goal of finding one of the male leopards that have territories in Sabi Sands.
Soon after we set out we got word via the radio that Dewane, one of the resident male leopards, had been sighted but he was on a neighbouring concession and, according to the park etiquette, we could not cross over to view him until at least half an hour after the official game drive start time.
With that in mind we began the search for other game.
We did reasonably well, finding elephants (including a mother with young calf), a male Kudu with impressive horns, nyala and vervet monkeys.
All the while Neil kept listening to the radio, monitoring the progress of the vehicles following Dewane. Apparently he wasn't making life easy for them and was walking through dense bush.
Xikavi
Eventually our meandering brought us near to the spot where we had seen Xikavi the previous day. Neil and Julius thought that we may as well have a look to see if we could find her as no-one had sighted yet today.
Amazingly, we'd only pushed about 15 metres into the bush when we saw her, sitting under a small tree.
Almost as soon as we saw her she got up and began moving.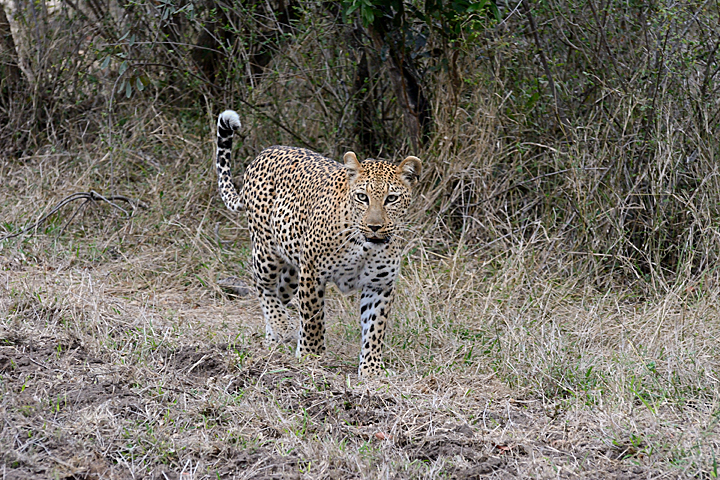 Neil told us that she was moving in the direction of Dewane. Although she still had young cubs to look after he said that she might be going to meet up with Dewane, maybe even mate with him, to ensure that he would not be a threat to her cubs. Apparently if Xikavi and Dewane mated, and he later came across the cubs he could think that they were his and leave them unharmed. It is common for a male leopard to kill cubs that are not his own.
True to her reputation, Xikavi did not make it easy for us to follow her; preferring to walk through thick bush rather than out in the open.
Eventually though, she did emerge onto the track where she emitted a deep throaty sound; calling to Dewane. We heard on the radio that he was responding to her calls. Xikavi walked up towards an old lodge that was now being used as staff quarters by two other lodges. When we caught up with her she was crouched drinking from the swimming pool.
It was a surreal sight to see this beautiful wild cat drinking from a bright blue pool.
Even though we were getting great pleasure from watching Xikavi, we still wanted to get sight of Dewane and so started to pull out. We didn't go far though. After a bit of radio chatter Neil told us that there were other vehicles on their way to see Xikavi and so we needed to keep track of her so that they could locate her in the fading light.
To our delight, instead of disappearing into the bush, Xikavi climbed a tree and posed for us, albeit briefly.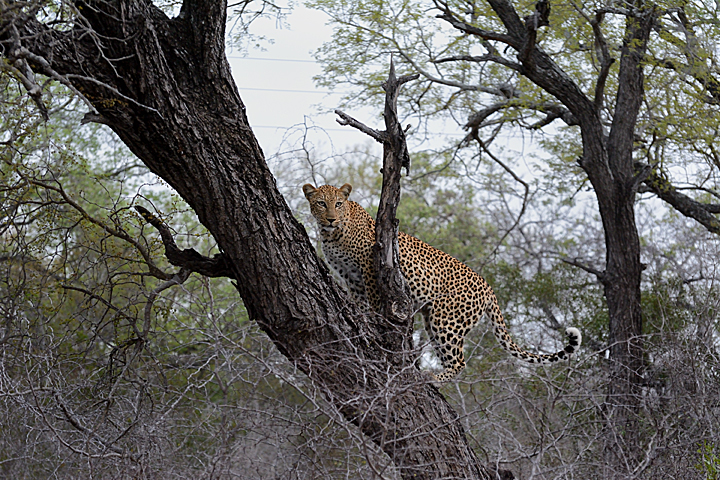 Despite the rapidly failing light it was a gorgeous sight.
Getting to know the Nikon D7100
If there was one bonus to the constant overcast conditions we had experienced on our game drives it was the opportunity for me to put the Nikon D7100 though its paces.
My old D300s does not perform particularly well at ISO settings above 800. At 1600 ISO the noise can be quite noticeable and right now almost everything I was shooting was at ISO800 or above.
Switching between the 2 bodies I could immediately appreciate the much brighter view the D7100 was giving me and I looked forward to seeing how it handled this dull light.
Dewane – at last!
By now, we were beginning to worry that we might not get away in time to find Dewane before dark but, at last, 2 other game vehicles arrived and we could move away.
As it turned out the delay worked in our favour because by the time we reached Dewane he had come out onto the track and was lying out in the open.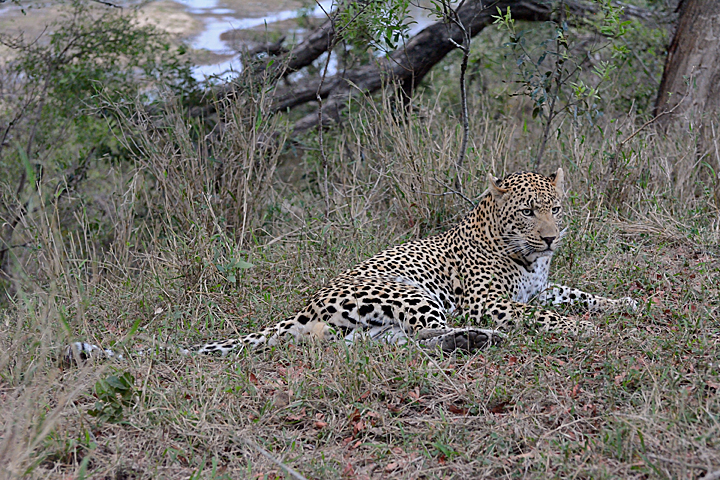 What an impressive looking leopard. The difference in size between Dewane and Xikavi was immediately noticeable and it was a real privilege to watch this male leopard in his prime strolling down the track.
The fading light meant that I had to wind the ISO up quite a bit but at least I did get some reasonable photos.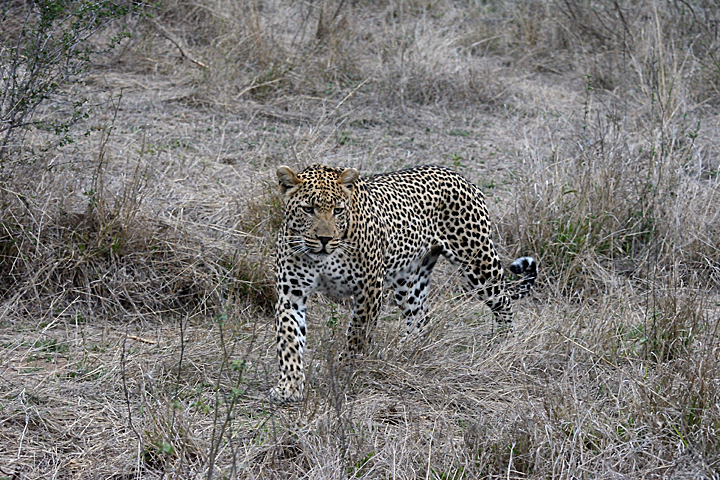 As had happened with Xikavi, we found ourselves having to stay with Dewane a bit longer than we had intended as there were still vehicles arriving with clients who had not yet seen leopard and we needed to keep track of his location for them.
By the time we were able to begin our drive back to the lodge it was dark but none of us were bothered; we'd had a magical afternoon.
Back at the lodge we discovered that tonight's dinner would be outside, in the boma.
An amazing choir
No sooner had our starters been served than we heard singing coming from outside the boma. I have to admit I cringed. I am not a huge fan of the song and dance shows put on for tourists.
But my cynicism was misplaced. These singers were magnificent. Neil told us that they were a local choir, organised by Julius, our tracker.
The harmonies of male and female voices were wonderful. They sang three songs then left, announcing that they would be back later.
When we'd finished eating they returned and sang three more songs, with the lyrics of one of them being altered to poke fun at the rangers and lodge management.
An unexpectedly enjoyable end to a great day.