My purchase of a Tamrac Expedition 6x photo backpack marks a transitions for me.
After 2 decades of Billingham bags and 5 years of Domke, I've decided that it's time to try out a different style of camera bag.
Ever since I started getting paid for taking photographs I've only ever owned 2 camera bags. (strictly speaking 3, but my second Billingham was a straight replacement for a bag that got kicked off a cliff in Yemen by a donkey – TRUE!)
For me the great thing about these bags is that they are chunky and they open from the top. That means it is easy to place them on the ground or on the car seat next to you and have quick access to the gear inside. When I'm on foot it is simple to just swing the bag around and grab whatever I need.
On the down side, whenever I've had to trek any distance having a bag that slings over one shoulder is not ideal. The weight is not evenly distributed and the bag has a life of its own when scrambling over rocks or uneven terrain.
Running out of space
The other negative point is one that has only recently started to become an issue. Capacity.
When I travelled with just 1 camera body and a couple of lenses I could easily pack everything in and have space left over.
Even when I started carrying 2 camera bodies I still had space for 3 or 4 lenses. But, when I upgraded my gear a few years ago and splashed out on some longer (and heavier) lenses I started experiencing space issues.
Bear in mind that the long lenses I'm talking about are a 120mm-400mm zoom and a 300mm f4 telephoto; so they're not excessively large but still too big fit comfortably into my current Domke bag.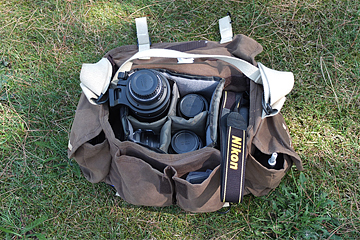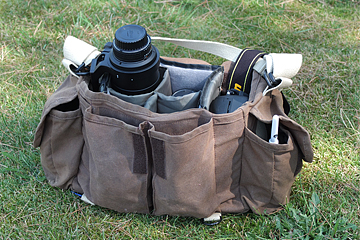 Up until now I have got around this problem by carrying one of the lenses in its own carry case, which has worked out fine; but even a small additional bag to carry is a nuisance.
Out with the old, in with the new
Well maybe. Time will tell.
Anyhow, after seeing that many of my colleagues now use, and swear by, camera backpacks I decided it was time to give one a try. The idea of being able to get all my gear into one bag and carry it comfortably certainly had appeal.
After a lot of research and discussion I opted for Tamrac Expedition 6x.
It came out top in a comparative review by Digital Camera magazine (July 2013) and was also voted best of the bunch by techradar.com (25 April 2012).
Having made my decision I was more than a little annoyed to find that the bag cost £50 more than the price quoted in both reviews. (Even at the higher price it still represents good value though.)
I did write to Digital Camera magazine to ask where they got their prices from, but got no reply. Typical.
First Impressions
What a brute!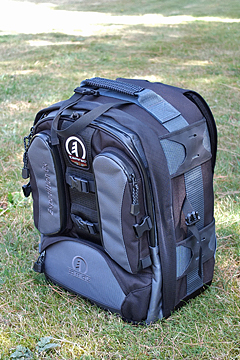 When you first unpack the Expedition 6x you can't help noticing that it is a real brick of a backpack. Chunky and solidly made.
Internal Dimensions
11 W x 5½ D x 14½ H
(28 x 14 x 37cm)
External Dimensions
13½ W x 10½ D x 17 H
(34 x 27 x 43 cm)
Weight
5 lbs. (2280g)
When you first unzip the main compartment you are faced with a whole array of pockets held in place by some of the most aggressive velcro I have ever encountered.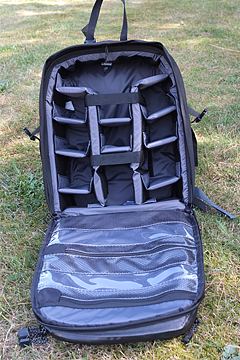 It only takes a couple of minutes to re-configure the pockets to get them into a layout that will accommodate my gear.
The capacity is impressive and I managed to find a place for everything I wanted with no problems.
This was a relief as although the various reviews I'd read said that the Tamrac could accommodate 2 bodies and 2 long lenses plus others It was good to see all my stuff nicely slotted in.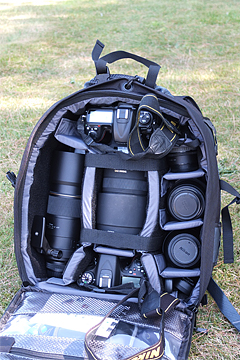 In the bag:
Nikon D300s with Sigma 120mm-400mm zoom attached
Nikon D7100 (body only)
Nikkor 300mm f4 telephoto
Nikkor 18-105mm zoom lens
Sigma 10-20mm wide angle lens
Nikon 1.4x TC
There are 3 zip up pockets on the front of the bag which I've used for spare batteries, spare memory cards and lens/body caps.
My Toshiba Portege laptop fits easily into its own pocket in the front flap and there are see through pockets in the front flap that have space for notebooks, pens, travel documents or whatever.
So far I'm impressed.
The real test of course will come when I take the bag on safari.
That comes in October when I'm off to Kruger and Madikwe in South Africa.
Once I've had a chance to use the Expedition 6x in real safari situations I'll be posting my impressions.