Looking down as I flew over the Okavango Delta from Khwai Community Concession (just outside Moremi Game Reserve) to Oddballs on Chief's Island brought home to me just how dry the Delta can be.
The Okavango is the jewel in Botswana's tourism crown, offering a wildlife experience that cannot be found anywhere else.
Seasonal variations
Most of us have a mental image of the Delta as being a vast network of waterways winding through dense papyrus; dotted with small wooded islands.
And, for much of the year, that's exactly how it is; but in the months after the floods have receded and before the rains begin,this incredible habitat becomes very dry, with animals staying close to the remaining narrow waterways.
This means that your wildlife viewing experience will vary a lot according to the time of year you visit. Luckily, there isn't really a bad time to visit, just different times.
But, no sooner have the first rains fallen, freed from the need to stay close to the permanent water, the animals disappear into the bush; often walking miles in search of more lush vegetation.
And so it was. Even though there had only been a few showers so far, it was enough to get the animals moving; away from the heavily foraged vegetation by the water's edge and off into wooded areas where the rains would soon deliver pools of fresh water and fresh foliage.
When the Okavango is in flood, guests at both Delta Camp and its sister camp Oddballs, will find the waters right up to the deck of their rooms. In the dry season, the water is little more than a stream and the rooms lookout, instead, on a wide flood plain. Which is how it was for my visit in December.
Even though it is called Delta Camp, guests do not stay in tents. The rooms are all constructed of local materials and, with each one constructed around natural features, no two rooms are the same.
Rooms with attitude
Mine was a tree house, perched on a platform high above the ground. The views were wonderful.
The Tree House

The Tree House

The Tree House

A room with a view

From the balcony

stunning sunrise views
Several of the rooms were open-sided, so you could lie in bed and gaze out over the flood plain.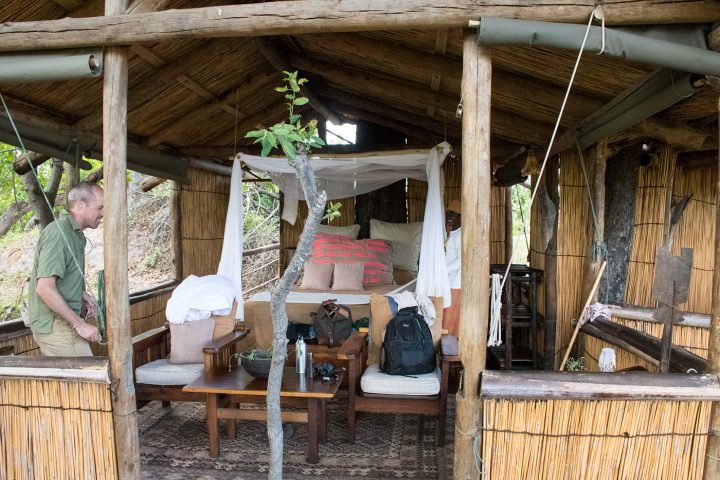 The camp is quite spread out, so each room has a good degree of privacy. Although the local wildlife tends to go wherever they please.
The communal areas are spacious and designed to allow you to sit and watch the wildlife while you relax.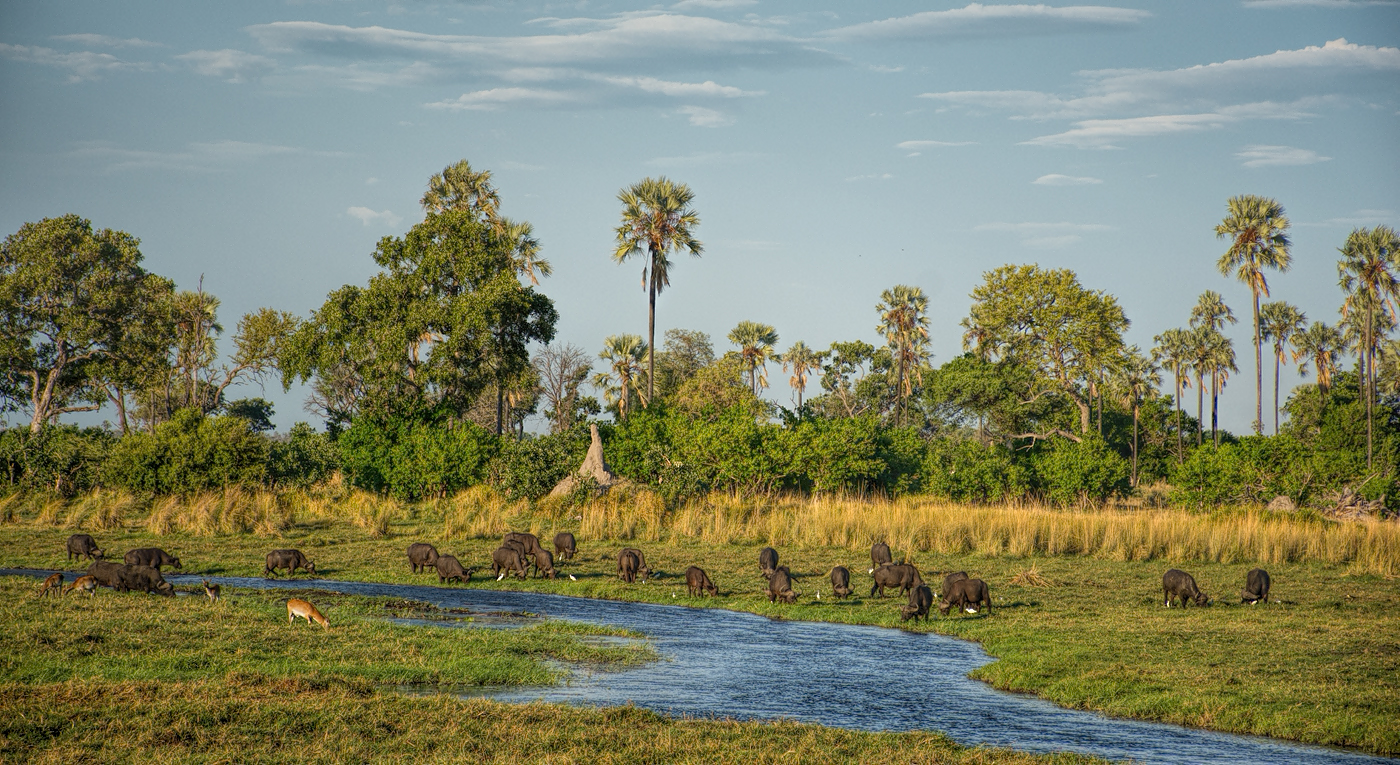 One of the dilemmas often faced by people booking a safari in Africa is whether to splash out for a private vehicle or hope that you end up sharing your game drives with good people.
This is not a problem at Delta Camp (or Oddballs).
Firstly, there are no game drives, the activities are walking and mokoro rides. The mokoros are traditionally made wooden ones, not the plastic or fibreglass canoes used by some lodges.
Traditionlal wooden mokoros

It doesn't get more peaceful than this
Secondly, the camp provides one guide for every 2 guests. So if you book as a couple you will have your own private guide; no sharing with other guests. This means that your walking safari can travel at your pace and go where you want. Brilliant.
All the guides I met at Delta Camp were knowledgeable and polite. All the staff at Delta Camp (and Oddballs) are drawn from the local community. The advantage of this is that they know the area and its wildlife very well indeed.
Adventure Trails
If you want a slightly wilder experience, then you can take advantage of the camp's adventure trails. (You will need to make arrangements for this in advance.)
After spending a night in the lodge to acclimatise, you will set out with all your equipment, guides and camp hands by mokoro into the Okavango for a minimum of two nights, camping as the whim takes you, steeping yourself in one of the world's last great wildernesses.
If you really want to get close the Africa's wilderness, you won't find better than this.
There is a significant difference in rates between Delta Camp and Oddballs but staying at either place will give you access to an unspoilt area of the Okavango Delta and Moremi Game Reserve where you'll rarely meet another traveller.
If you think that Delta Camp or Oddballs is the sort of place you'd like to include in your Botswana safari, just get in touch, wither by phone or by email. We look forward to hearing from you.