Madikwe Safari Diary
Day 1 – Morning drive
After a whole day of travelling yesterday – we'd driven over hours to get from Karongwe, in the North East, to Madikwe in the North West – it was great to be back out amongst the wildlife.
After the dull, overcast conditions at Sabi Sands it was also great to see the sun shining again.
As usual, when leaving the lodge, one of the first thing the ranger does is to get on the radio to get an update on the morning's sightings. JP, our ranger at Madikwe was no exception.
Buffalo Herd
Almost straight away we heard that a big herd of buffalo were moving through the bush and they were thought to be heading for Tshukudu Dam, one of the larger dams in the reserve.
We were very close to the dam so JP called in to say that we were on our way there. We weren't sure what to expect as whilst we were making our way there the radio chatter announced that the buffalo had changed direction and may not be going to the dam after all.
We decided it was worth a look anyway and drove up onto the dam wall. JP switched off the engine and we sat to wait.
I was dearly hoping that they did show up because the early morning light was fabulous.
Patience pays off
After about 10 minutes we saw movement in the trees at the far side of the dam. The movement soon transformed itself into the recognisable dark shapes of Cape Buffalo as they surged towards the water's edge.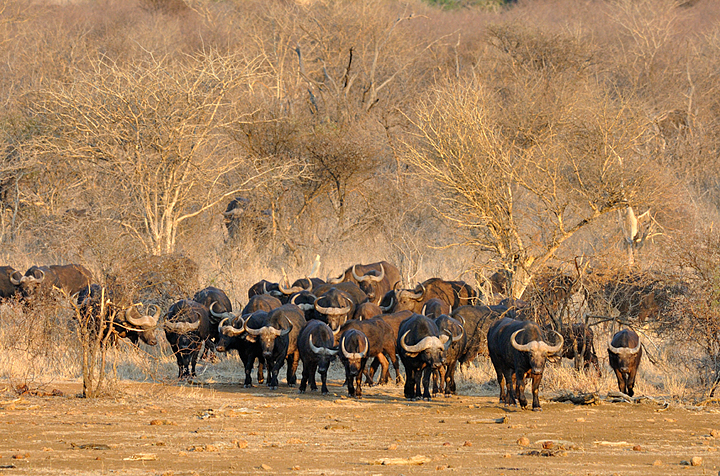 Within minutes they were lined up along the water. Wow, there must have been around 100 of them. And the light was wonderful.
Our patience had paid off and we had a great viewing position, even though they were on the far side of the dam.
The buffalo stayed drinking for a surprisingly short time. First one, then the others walked back in among the trees and disappeared. Within minutes there was only one old bull left out in the open and he didn't remain for long.
What a great way to start our time in Madikwe.
Killed by Poachers!
From Tshukudu drove south to where JP told us a black rhino had been killed by poachers a day earlier. He wanted to see if scavengers like hyena and jackal were feeding on the carcass.
To our shock when we found the carcass we saw that it was less than 300 metres from the NW parks headquarters building. How can that happen?
How can they let one of the world's rarest mammals get killed within sight of their HQ?
There was no activity around the carcass and, to be honest, none of us particularly wanted to look at a dead rhinoceros so we moved away.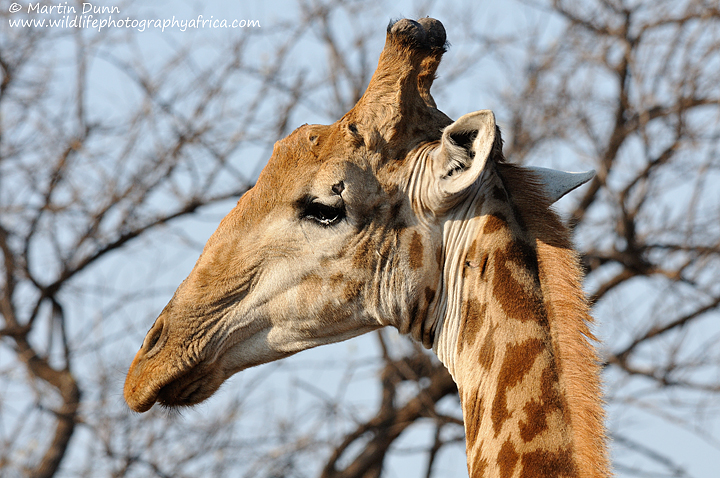 Vlei Pan – A busy waterhole
Our next stop was Vlei Pan, one of the parks busiest waterholes. JP told us that there were animals coming and going from here throughout the day.
We arrived to find zebras, red hartebeest with babies and wildebeest all milling around.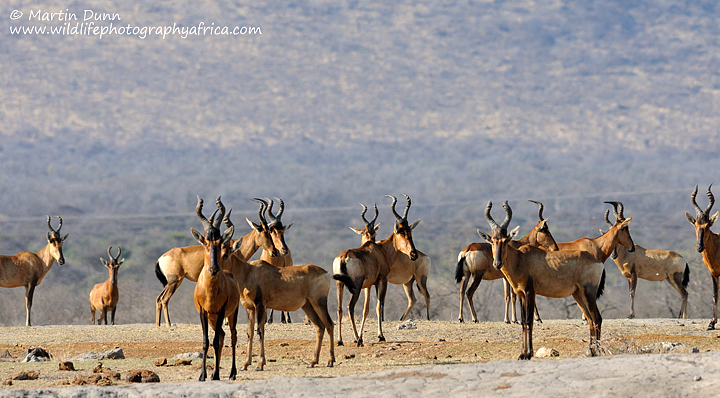 We watched for a while and were just about to leave when I spotted a brown hyena making its way through the trees towards the waterhole.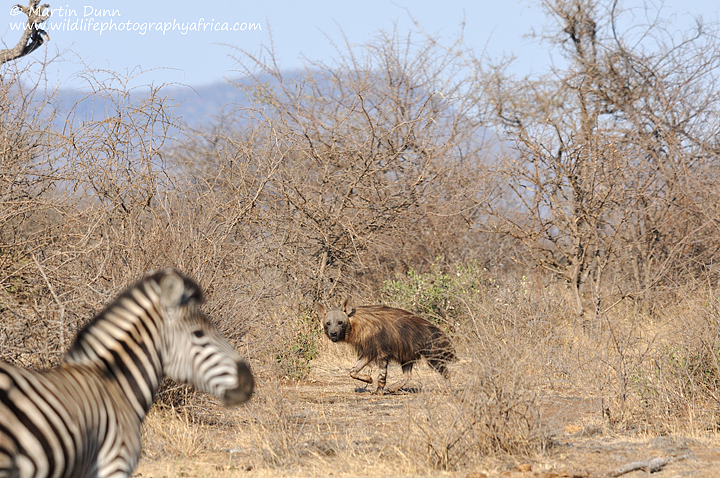 It was a Brown Hyena, not the more common Spotted Hyena. Brown Hyena are smaller, with shaggy fur and they are solitary animals.
When they first sighted the hyena the other animals panicked and scattered but as soon as they saw what it was they soon returned to the water, not threatened by this particular predator.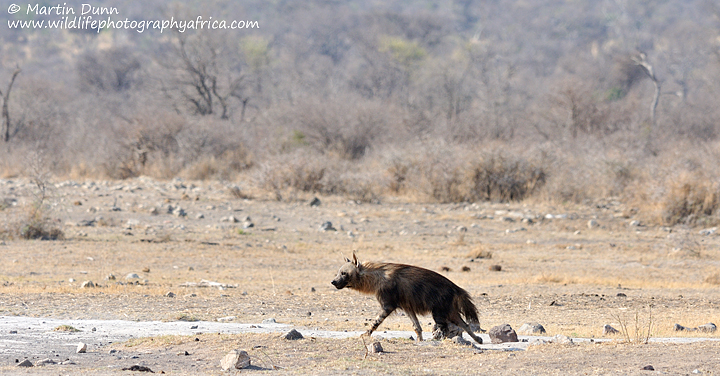 What was very apparent was that game viewing Madikwe is a very different experience than game viewing in Sabi Sands or Timbavati.
In Sabi Sands there are very few open plains vistas and much of the game drive is spent weaving in and out of dense bush. You do get very close to the Big 5, and this is one of the real selling points of private concessions like Sabi Sands and Timbavati, but sightings of more general game are mostly uninspiring.
At Madikwe the experience is much closer to the sort of game drive you might experience in Kenya or Tanzania. At 75,000 hectares it is a fairly large park and there are plenty of places for the animals to roam. The landscapes are varied and interesting.
Most of all though, I didn't get the feeling that the animals were being served to us on a plate, we had to go and find them.
By now the sun was getting quite high and the light was becoming very harsh and glaring so we began making our way back to the lodge.
Along the way we saw three beautiful male kudu, but not much else.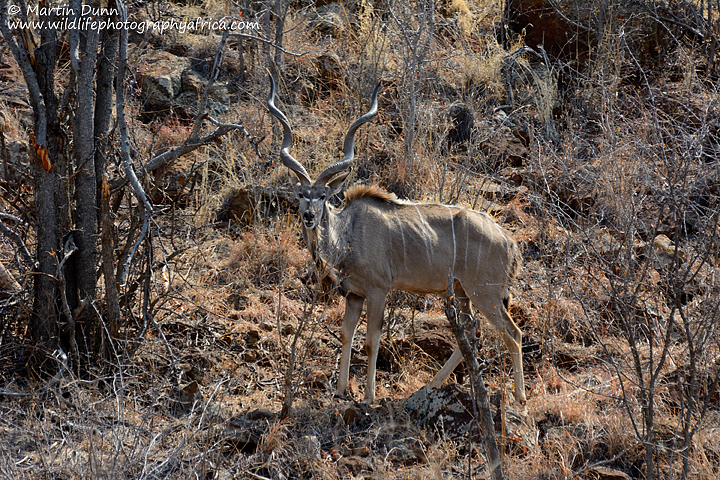 Day 1 – Afternoon drive
We quickly learned that at this time of year the afternoon game drives at Madikwe are short. Due to the heat we don't set out much before 4:45 and the sun sets at around 6:00, so there isn't a lot of time to go in search of animals.
We found that even if we set out with a specific target in mind, once we had made a couple of short stops, there was not enough time to reach our original destination and we had to revise our plan.
This afternoon we set off in search of lions or wild dogs or cheetahs but didn't manage to find any of them. Instead we ended up quite far from the lodge at a large dam.
We had stopped on the dam wall to watch the sunset when JP drew our attention to a group of elephants moving through the trees towards the dam.
We followed their progress until they emerged from the trees and began running towards the water.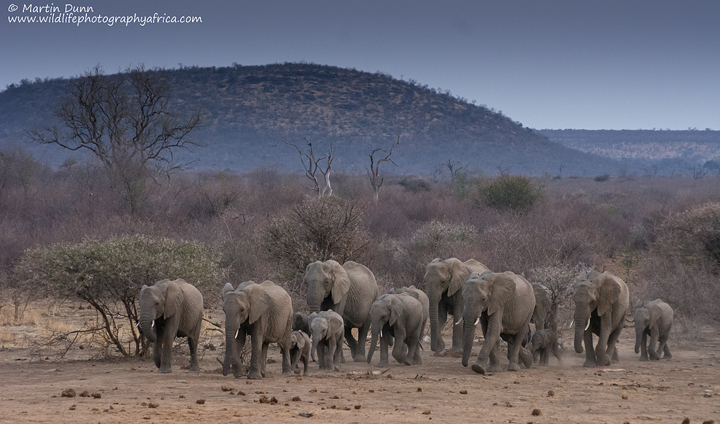 They weren't running towards the dam itself but rather to where a pump was gushing fresh water into a channel that fed the dam.
Soon they were all gathered around the pump, trunks probing for a taste of the water. The young calves couldn't reach down to the water and stumbled about trying to find a place where they could get close enough.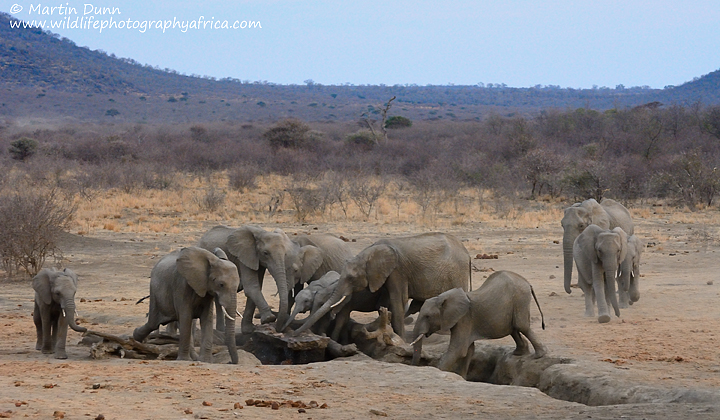 It was a lovely scene but the light soon faded and we moved away to find a spot for sundowners.
As darkness descended we were treated to a super lightening show in the north and eastern skies. Far away though, because we didn't hear the thunder at all.
Driving back in the dark we had to wait for giraffes to clear the road and proceed with great caution past a group of feeding elephants.