Bomani Tented Lodge and Camelthorn Lodge
On my recent visit to Hwange I stayed in both Bomani Tented Lodge and Camelthorn Lodge. Although both are part of the Imvelo safari lodges portfolio, they could not be more different.
Both camps are constructed on community land close to Hwange's Ngamo gate, in the south east corner of the park.
Where Bomani is a tented lodge that sits looking out onto open plains, Camelthorn is a much more substantial, stone built affair nestled in a forest of acacia trees.
Bomani Tented Lodge
Bomani has 9 guest rooms and 1 family room.
The guest rooms come in 2 different styles: The earlier Hornbill tents are raised off the ground on stilts and have solid wood floorboards whilst the newer Spurwing tents are set on concrete bases at ground level. All the guest rooms have views out over the plains and both styles have their champions.
Whilst the Spurwing tents look out onto the camp waterhole, the Hornbills, being elevated, give a better all around view of the surrounding plains and do enjoy slightly better ventilation.
Guests who might be nervous at having just a sheet of canvas between them and wildlife will appreciate the elevated Hornbill rooms.
There is a large central building which contains the dining room, bar and lounge.
Camelthorn Lodge
Camelthorn has 8 guest rooms, all of which are stone built and referred to as Forest Villas.
Something for my children
The reason for Camelthorn's sturdy construction is because when the local chief was approached for permission to build the lodge he said he would agree as long as it was something that would stand the test of time so that his children and his children's children could see it.
Although it's location denies Camelthorn guests the same kind of views as those enjoyed at Bomani it does have some distinct advantages. At the hottest times of the year the surrounding forest provides shade that keeps the lodge cool and in winter, when sleeping in a tent can be pretty cold, the solid Camelthorn rooms each have their own fireplace to keep guests cosy and warm.
Great Food
On balance I would say that the food at Camelthorn is of a higher standard than that at Bomani. The food at Bomani is plentiful and excellent but at Camethorn it more closely resembles fine dining.
Both lodges draw their staff – as much as possible – from the local community and Imvelo's ties to the local community are very strong indeed.
A Tough Choice
I've stayed at both lodges and would be more than happy to stay at either of them again. They both traverse the same part of Hwange and so the game drives are generally excellent with the ubiquitous elephants augmented by regular sightings of lions, cheetahs, buffaloes, zebras, elands, sable antelope.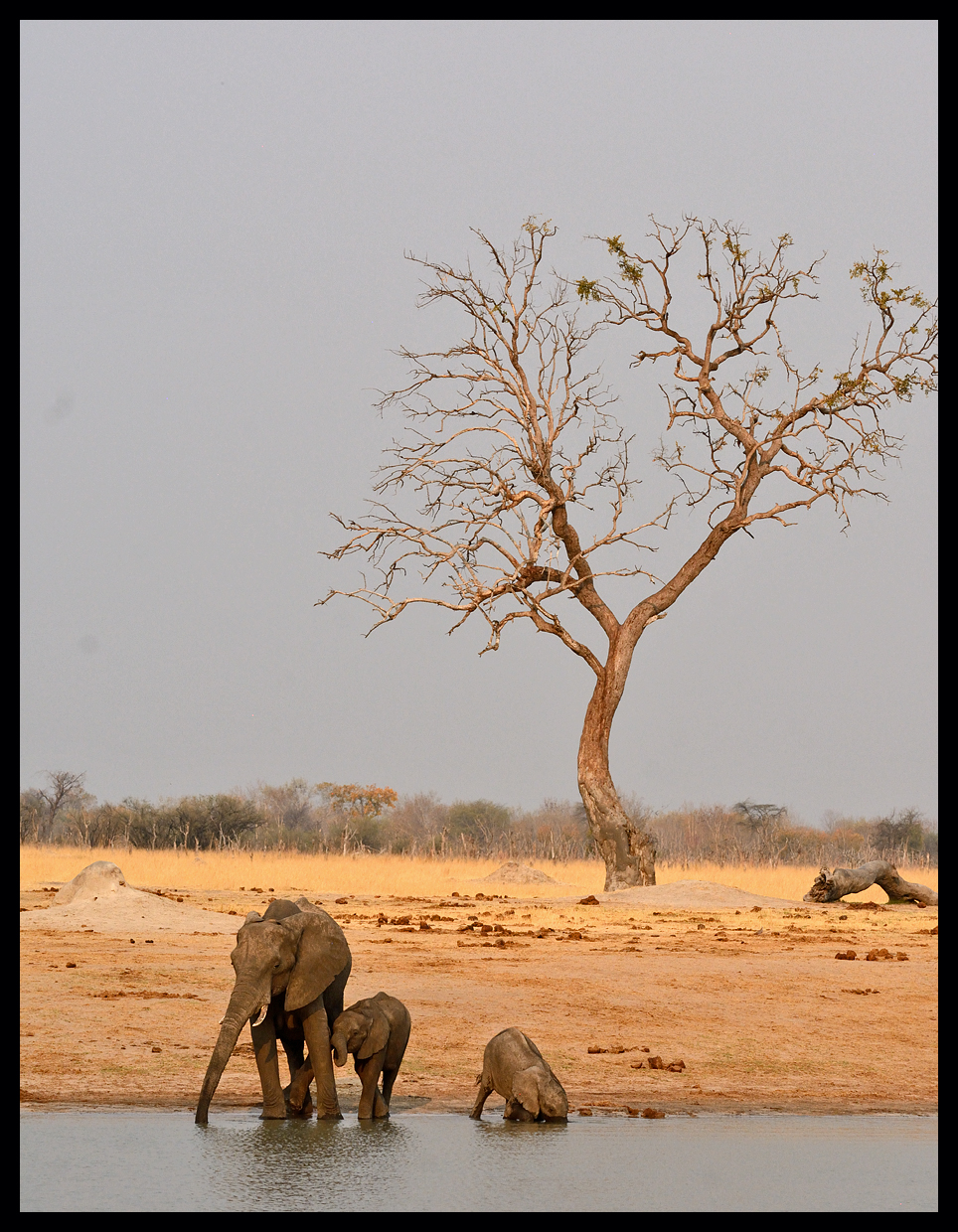 Choosing between them depends entirely on what your own individual priorities are.
For me, the biggest draw card at Bomani is its location and the fact that when you are not on game drives the waterhole provides constant activity.
The single biggest draw at Camelthorn, for me at least, is the head guide Sibs.
Sibahle Sibanda, to give him his full name, is quite simply one of the most exceptional guides I have ever had the pleasure of working with.
That is not to diminish in any way the other fine guides working at Camelthorn and Bomani – we've never had a bad review about any of them – Zimbabwean guides have a reputation for being amongst the best in Africa and Imvelo have a reputation for attracting the best of them.
Please remember that these are just my opinions and, as such, they are subjective.
The Elephant Express
Those of you that have visited Hwange will be familiar with the drive out from Victoria Falls. To reach the turn-off for Main Camp and properties like The Hide takes about 2 hours.
To reach Bomani and Camelthorn takes longer. It's about 2 hours to Halfway House where guests would swap their road car for a game vehicle and embark on a drive through the community land that takes just under 2 hours.
It is the sort of journey you don't want to do twice in 1 safari so many people opt to drive in and fly out. There is an airstrip about 300 metres from Bomani.
Now there is another choice – the Elephant Express.

Because the main Victoria Falls – Bulawayo railway line runs along the park boundary and right through Ngamo, Imvelo have built their own railway tram to bring guests to their lodges.
Now, instead of the long drive guests will only drive as far as Impofu Siding, just beside Main Camp. There they board the Elephant Express for the journey to the lodge.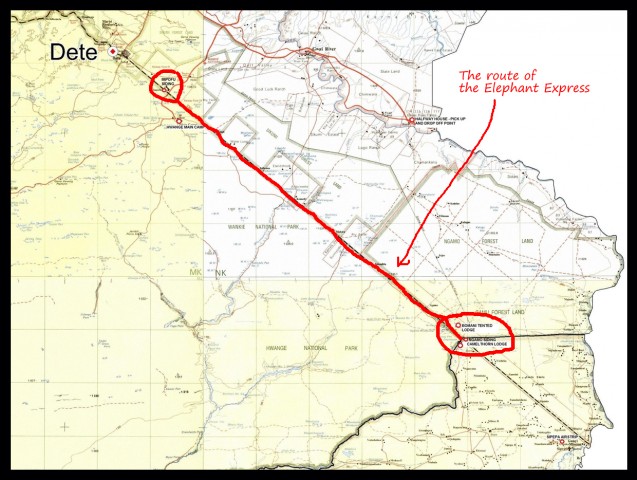 It has literally transformed a rather tedious drive (one Aussie client called it 'boring as batshit') into a very enjoyable and worthwhile game viewing ride, complete with refreshments.
It really does add an extra dimension to the safari. So much so that a ride on the Elephant Express between Ngamo and Impofu is now being offered as an alternative activity to a game drive if the schedule allows.
Try them for yourself
If you'd like to ride on the Elephant Express and stay at either Bomani Tented Lodge or Camelthorn Lodge we'd love to help you arrange it.
These lodges already feature in some of our safari suggestions but best of all would be for you to suggest your own ideas so that we can make your safari really unique.