Safari Diary, Sabi Sands, Day 3 Morning drive
((Excuse the quality of the photographs. I'm still on safari and not able to process photos properly on my old Toshiba Portege. I'll re-do them all when I get back home))
As promised I have had a go at re-working the photos and you can find them in the African Wild Dog Hunt Photo Album.
Setting out from the lodge we were feeling optimistic as the sun was trying to poke through the cloud cover and we dared hope that today we'd get some decent light. It didn't happen. The sun soon gave up its efforts and retreated behind the clouds.
Hyena Den
We'd decided to begin the day by visiting a spotted hyena den close to the western border of the concession. On our way there Neil was monitoring the radio and commented on how quiet it was. Either nobody had found anything or they were on sightings and had switched channels.
We reached the site to find the four pups and an adult female moving about outside the den.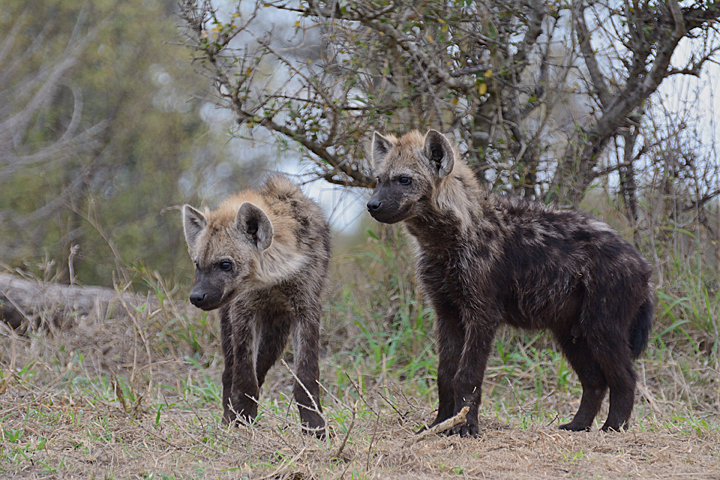 Adult spotted hyenas tend to look scruffy and unattractive but the young ones were actually quite cute.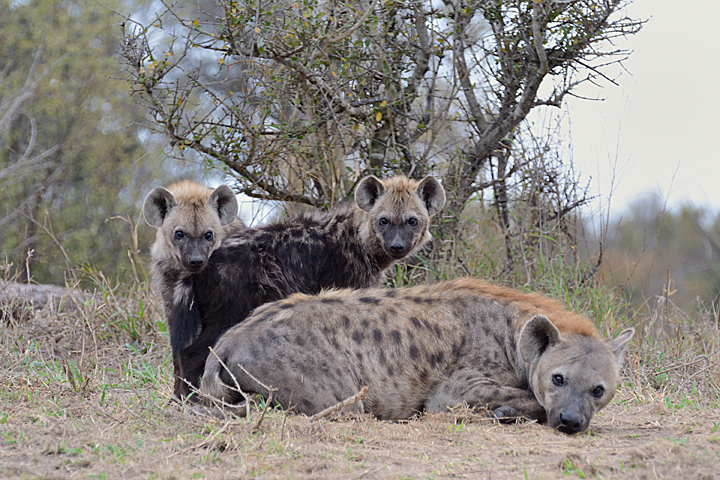 We had the luxury of being the only vehicle at the location and enjoyed watching the youngsters play.
We'd still not had a rhino sighting, so that was our next goal and we began to make our way to the vicinity of where one had last been seen.
"DOG!"
A familiar shape trotted around a bend in front of us and simultaneously 3 voices shouted out "DOG".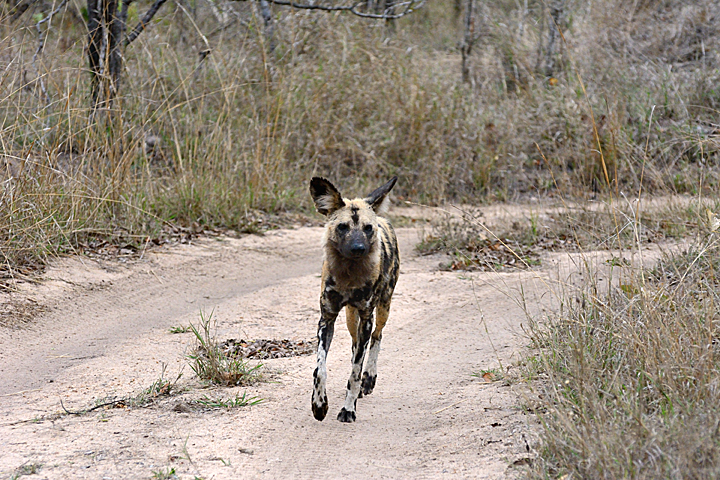 We quickly stopped and watched as four African Wild Dogs trotted purposefully past us. They were clearly hunting. Once we'd satisfied ourselves that there were no more coming, we turned to follow the dogs.
Sods law being what it is, just as the dogs turned to the right at the first intersection we saw another familiar shape up ahead of us "RHINO". Sure enough there was a rhinoceros partially visible amongst the bushes.
A quick (very quick, and unanimous) decision was made; we were going to stick with the dogs. As we followed them Neil put out a call on the radio asking if any other vehicles were in the vicinity. Following wild dogs on a hunt is not an easy task and if we wanted to keep track of them more than one game vehicle would be needed.
We guessed that they had scented or sighted a small group of impala that we'd seen earlier and it soon became clear that this was the case. We watched as the 4 dogs spread out into a hunting formation and moved closer to the impala.
Suddenly the impala became aware of the dogs and bolted. The wild dogs immediately gave chase, settling into an effortless easy stride that they could maintain for as long as needed.
Unlike lions which will work as a group to pursue and bring down one prey animal, the dogs spread out, each one chasing a specific impala.
We watched in awe as they raced through the grass and bush covering the ground with speed. It was not an easy task keeping track of them but somehow Neil and Julius managed it.
One after another, three of them came to a halt having failed to catch their quarry.
Reunited
After getting their bearings they located each other and began searching around for the fourth dog which we believed must have been successful.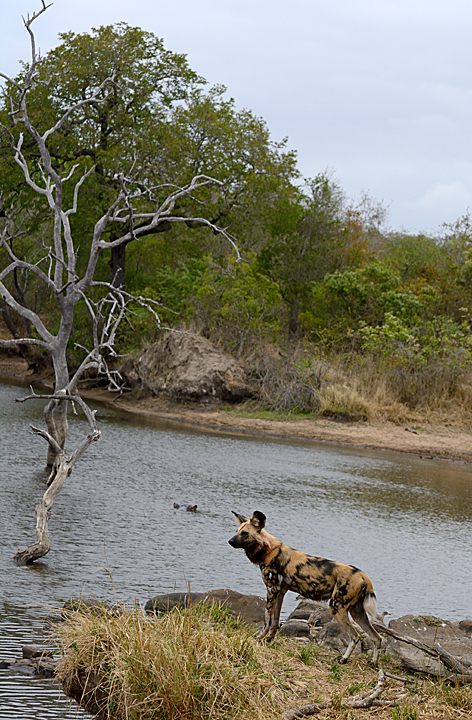 This went on for around 5-10 minutes then suddenly we noticed that one of the dogs had blood on his face and we realised that the fourth dog was with them again. He'd come to lead the others to where he'd made the kill. We marvelled at the ability of these dogs to locate each other.
When wild dogs make a kill the scene is brutal. They will immediately eat as much as they possibly can until the kill is completely devoured. Then they will return to the den to regurgitate the food for the rest of the pack.
We could tell from his bulging stomach that the dog that had made the kill had already gorged himself before going to fetch the other three.
We did our best to keep up with them as they ran quickly to where the kill had been left.
On the kill, not for the faint hearted
We arrived only seconds after the dogs but already they were tearing at the still warm impala carcass in a frenzy.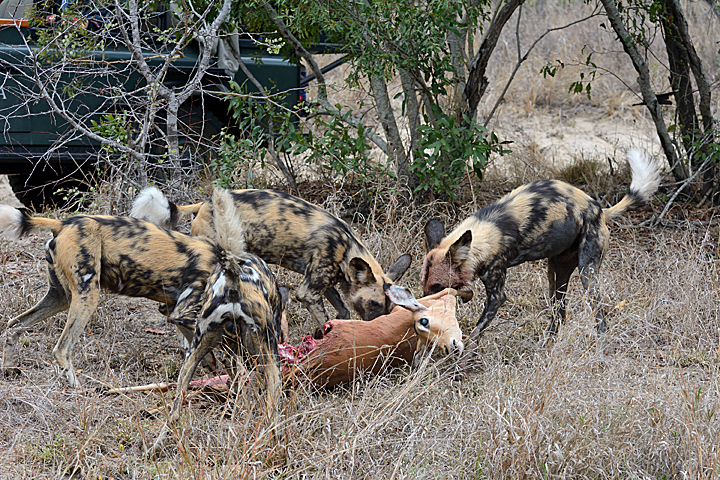 There was a stream of blood on the track and we realised that the dog had actually begun eating the impala before it was even dead. We also saw a foetus on the ground which meant that the impala had been a pregnant female.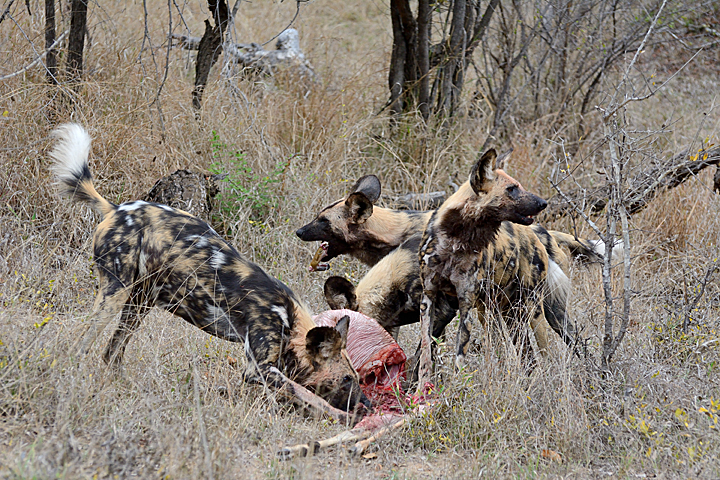 It took barely ten minutes for the four dogs to strip all the meat until there was little left apart from bones and hooves.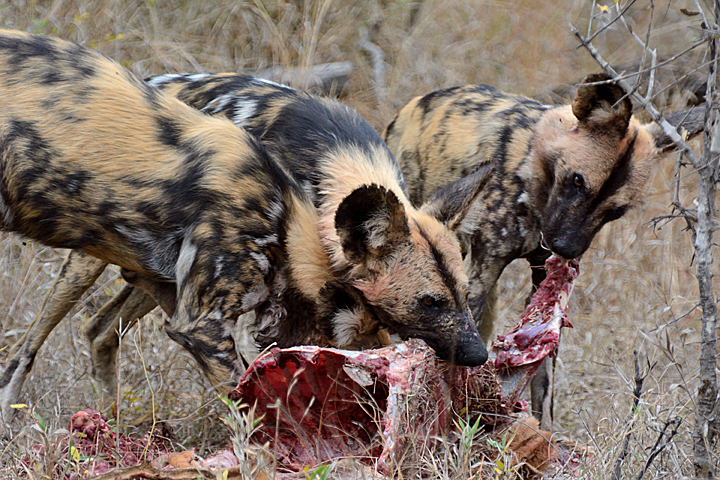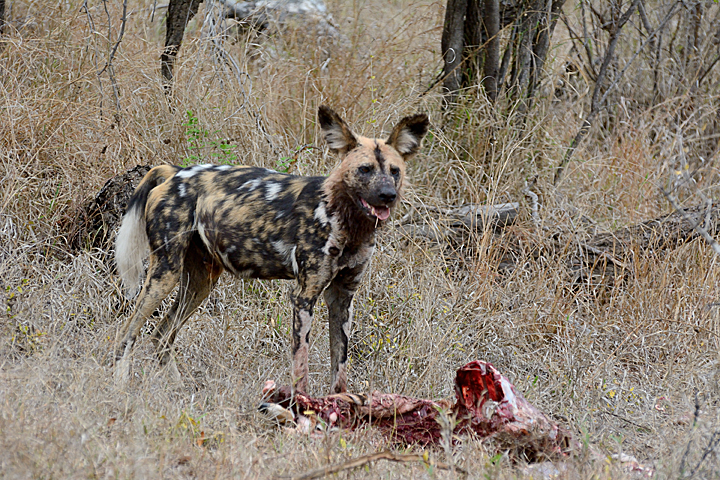 One by one the dogs made sure that there was nothing left worth eating and trotted off in the direction of their den.
WOW! What an experience. To witness a wild dog hunt from start to finish.
We were all still buzzing as we began the journey back to camp.
On our way back we made a short diversion to look at a pride of lions that was resting by a buffalo carcass. This was the same group of lions that had cornered the buffalo in a dam 2 days earlier. These must be seriously good hunters as it is no mean feat for 3 lionesses to bring down a large buffalo bull. We found them all resting under a tree, the cubs bellies were round as footballs.
Nice to see them but hey, we've just seen a wild dog hunt.
What a brilliant game drive to end our stay at Sabi Sands.