There's something special about a mobile tented camp. It's much nicer (sooo much nicer) to come home to than a boring old lodge.
This is the real safari experience.

Instead of a lobby with souvenir shops we are in the wild, surrounded by the flora and fauna of the African bush. At night we hear the lions roar and the hyenas whine. Over breakfast there are stories about how the askaris had to chase an old bull buffalo from the camp during the night.
Just 12 tents placed discreetly among the trees. We call them tents because they are constructed from canvas but there's no roughing it involved.
There's a spacious lounge/dining tent with sofas and armchairs and each guest tent has wooden floorboards, two double beds, a private bathroom with shower and flushing WC and your own private veranda.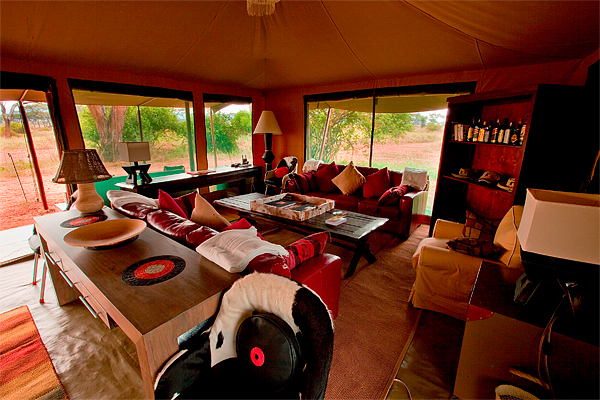 (It takes 7 trucks to transport the camp from location to location and days to set it up.)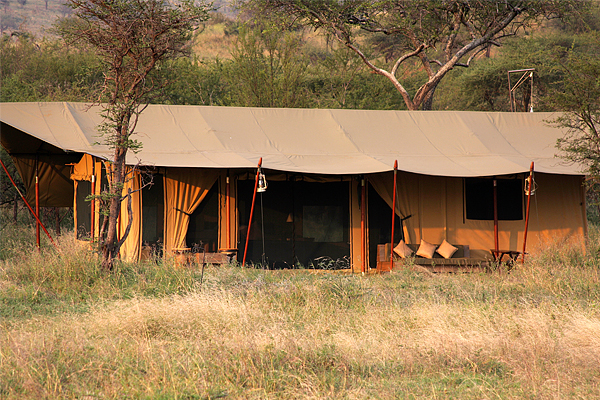 Because there are no fences or barriers to keep the wildlife out of camp, Maasai 'askaris' (literally guards or watchmen) are on hand to escort you between the main lounge/dining tent and your own accommodation.
In between game drives some people snooze in their tents, others spend their time scouring the trees for the birds that provide the continuous soundtrack during our stay.
We're welcomed back from our game drives by a smiling steward who hands us cold towels and takes our drinks orders.
In the evening, after a shower and a sumptuous 3 course dinner we retire to the bush TV, otherwise known as a crackling log fire, where we sit and swap stories, look at the days photos and enjoy a few more cold beers or G&Ts.
As often as not our group is the only one there and then it becomes even more special, our own private camp.
Sometimes guests are a bit apprehensive about sleeping under canvas in the middle of a game park, but after their first night everyone is addicted to the experience.
A mobile tented camp is our accommodation of choice whilst on safari and with camps in Serengeti (3), Ngorongoro, Tarangire, Lake Manyara and Maasai Mara, Lemala Camps do it better than most.
If you'd like to experience it for yourself, then join us on safari.
If you'd like to know more about Lemala Camps, visit their website.  https://www.lemalacamp.com/