Winter Time Blues
With daylight diminishing daily and glimpses of the sun a rarity, I've been starting to suffer from log cabin fever so when the opportunity came up to fly over to Fes for a wekend I jumped at the chance.

I'm never at my best when the weather is wet and miserable; I struggle for inspiration when the sky is the perfect shade of grey for calibrating my light meter.
The invitation to spend a weekend in Fes could not have been more timely. For me, Morocco has always appealed as one of Africa's most photogenic countries and I had fond memories of Fes' intricate and bewildering alleyways.
Although I'd been to Morocco just a couple of years ago, that trip concentrated on Mt Toubkal and the southern part of the country so I was curious to see how much Fes had changed over the past 2 decades.
Fes Sais
After a surprisingly painless flight on Ryanair, we landed at Fes Sais airport. Ours was the only plane on the tarmac and the border officials seemed positively pleased to see us.
The journey from the airport to our Riad took us through the Ville Nouvelle (new city) and then up Rue de L'Unesco between between Fes el Jedid and Fes el Bali. Through the open gates we could see our first glimpses inside the walled medina.
There's always a moment of uncertainty when you arrive at a hotel you've never used before as you wonder what it will be like.
In Fes, and many other Moroccan cities, the suspense is maintained right up until the last moment. We walked along a narrow alleyway until we reached a door that had a small sign above it marked Riad Ahlam. It looked little different than any of the other doors along that alleyway but we hoped that looks would be decieiving.
We were admitted into the downstairs courtyard of the Riad.
Riads are a bit like the TARDIS. They look incredibly ordinary on the outside but when you get inside you are amazed at how much space there is.
After dumping bags in our room we ascended to the roof to check out the view. And were delighted to discover that we had a great view over the Medina and also across to the 14th century Merinid tombs.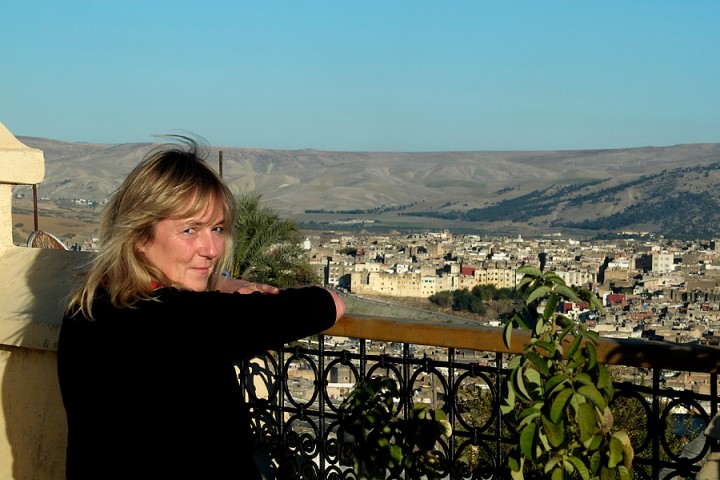 It was only a 5 minute walk from our Riad to the Tala'a Kbira, the main street that runs the length of Fes el Bali so we decided to take a stroll in search of dinner.
Tala'a Kbira
We entered Tala'a Kbira quite close to Bab Boujloud, the gate at the western end of the street so we headed in that direction.
The souks in Fes are laid out in a very traditional fashion with areas dedicated to specific trades or crafts. It didn't take us long to realise that the first section we were walking through was the butchers section and in preparation for the weekend holiday (it was a Thursday evening) all sorts of stuff was on display. Strings of bright red merguez sausages hung next to chunks of meat and various animal internal organs. There were skewers of chicken, mince and liver. Chickens squawked from cages on the street and one butcher was in the process of slitting chickens throats for a customer.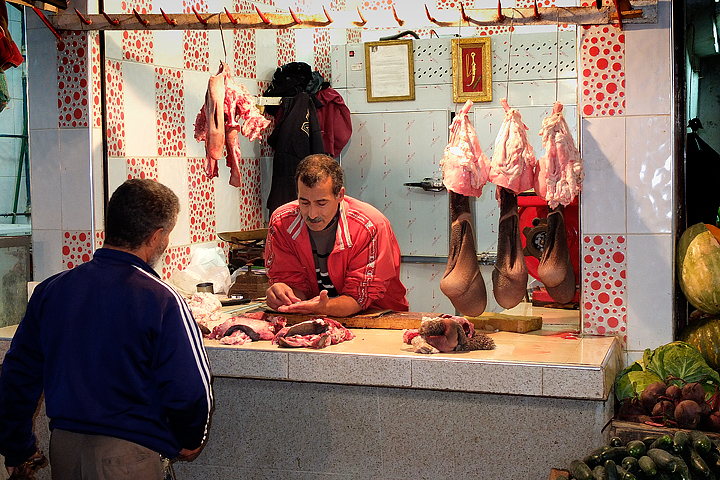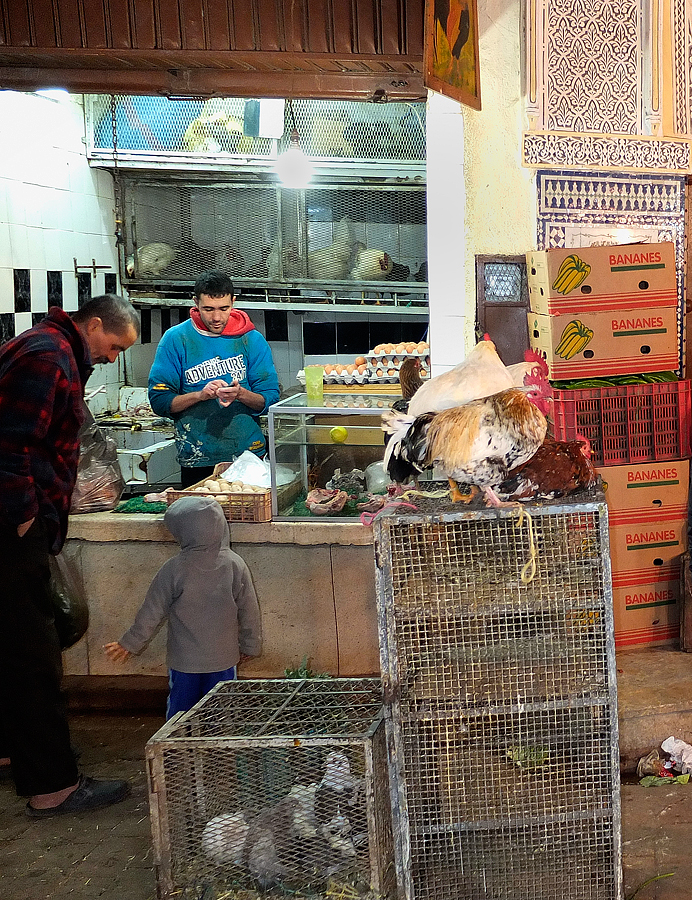 Just what we needed to whet our appetites.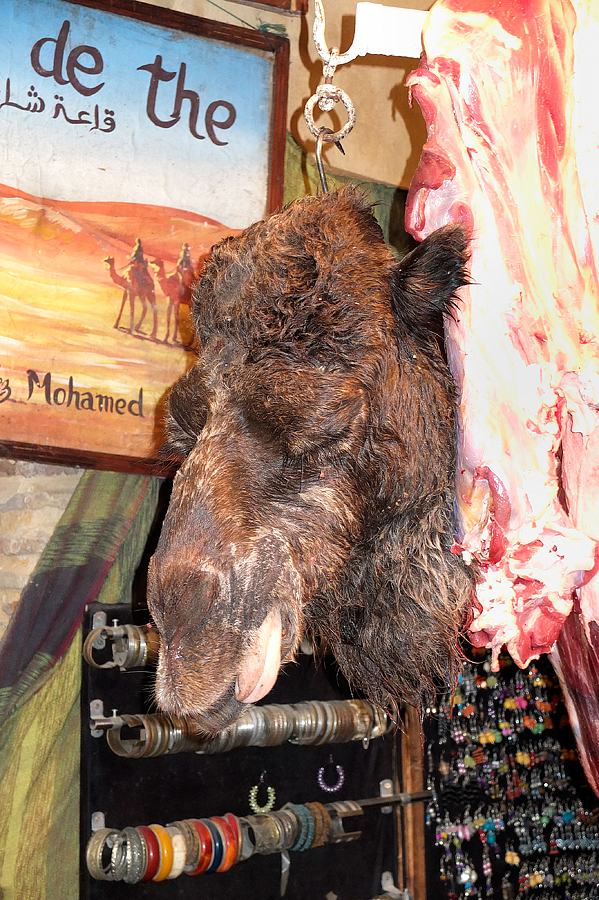 After walking back and forth trying to choose between restaurants that all seemed to be selling exactly the same menu, we picked one simply because it had blue chairs. Not very scientific.
After an obligatory glass of mint tea, we walked back to our Riad and planned what we'd do for the next couple of days.
Friday
Breakfast was amazing. Fathia had excelled herself. There would be no need for lunch today.
In Moslem countries Friday is the main religious day and so we were not too surprised to find that the majority of shops were shut as we walked down Tala'a Kbira towards the Qaraouiyine Mosque.
One of the changes I noticed since my last visit was that there are now signs hung above the street directing tourists to the Eastern and Western end points of the street. Hopefully this would prevent me getting as badly disorientated as on my previous visit.
Our walk took us past the shoemakers area and the carpet sellers area until we reached the mosque. It was approaching midday and the doors were open for worshippers.
Unfortunately non moslems are not welcome in the mosques of Fes and so all we could do was admire the wonderful architecture from the doorway.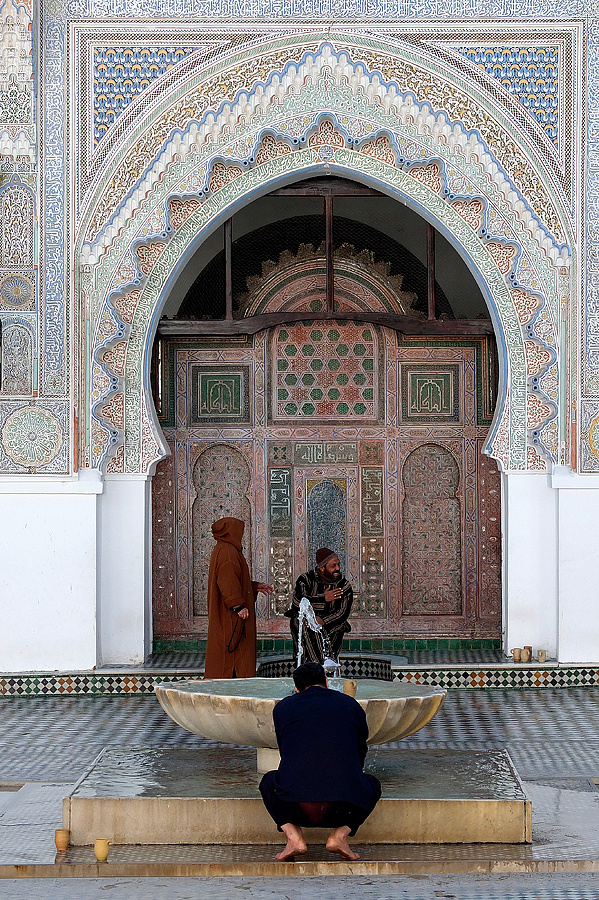 Our goal was the Chouwara tanneries so we continued around the Qaraouiyine mosque until we reached Place Seffarine.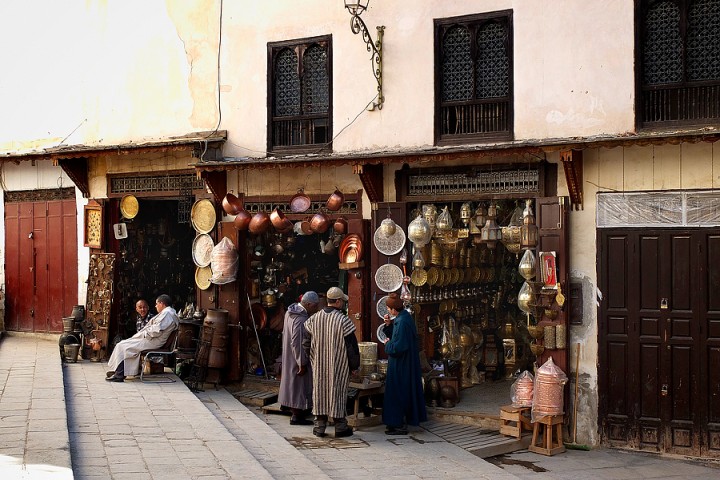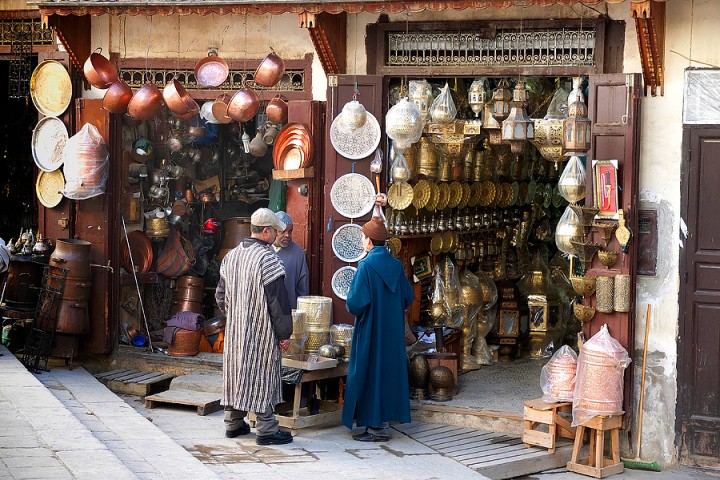 From there we branched off and walked down a quiet alleyway until we found ourselves accosted by an increasing number of youths, all wanting to show us the tanneries.
Chouwara Tanneries
You can enter the tanneries and the dye pits for free, but the best vantage points are on the terraces or balconies of shops and houses overlooking the area. Since we were not going to be invited into anyone's house we let ourselves be led into one of the leather shops.
A winding staircase led us to a room full of leather jackets and coats. Whilst Rena showed genuine interest in the leather goods I had time to take in the view below.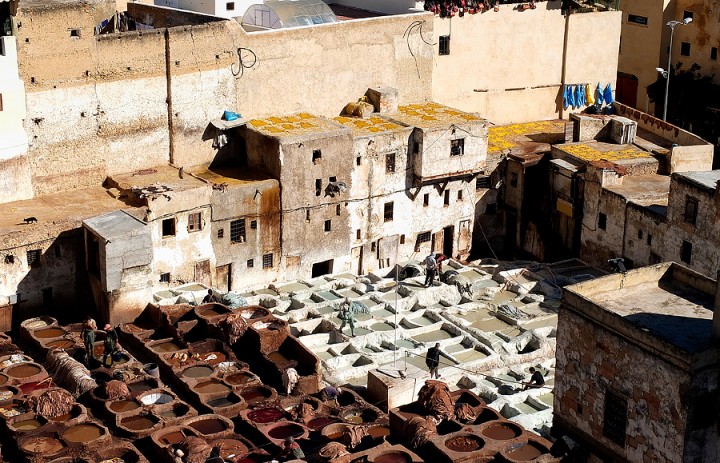 Although everyone talks about the tanneries, it is actually the dye pits that are the spectacle.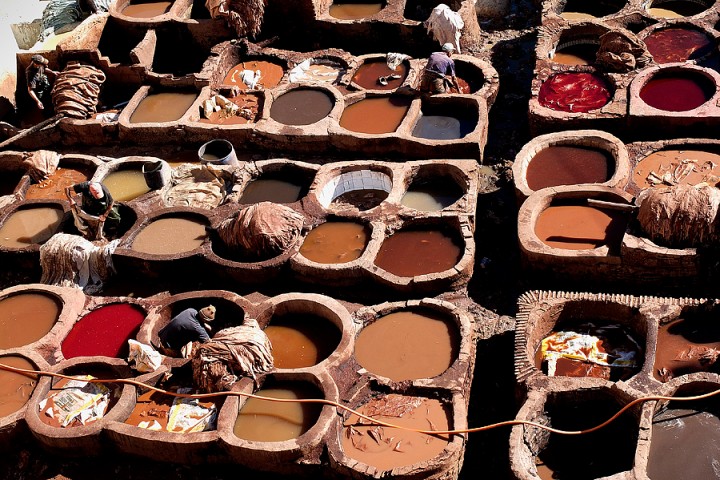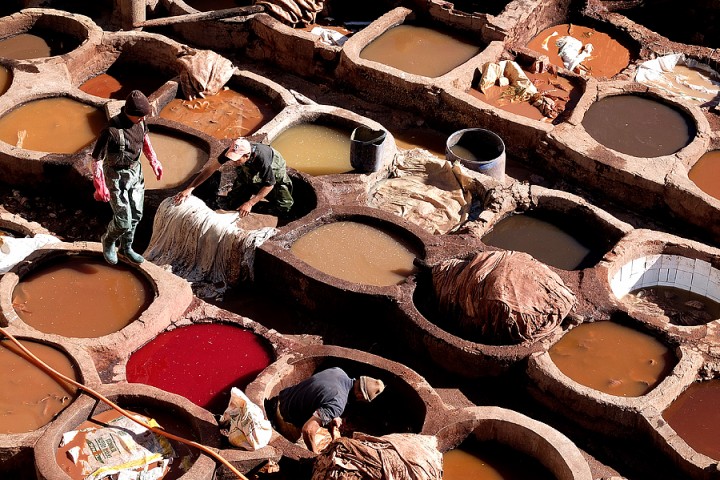 The tanneries themselves are not attractive. This is where the skins are brought to have the wool or hair scraped off using chalk and lime. Once they have been cleaned they are then taken to the dye pits for colouring.
Apparently there is a fear that the art of leather tanning and dying will be lost in the near future as more processes are mechanised and the younger generation show little interest in learning or pursuing the skills.Hardly surprising really; who'd want to spend their day waist deep in urine and guano infused water.
This was just one of at least three tanneries in Fes el Bali and it seemed as though every roof top and hill side was littered with coloured hides laid out to dry.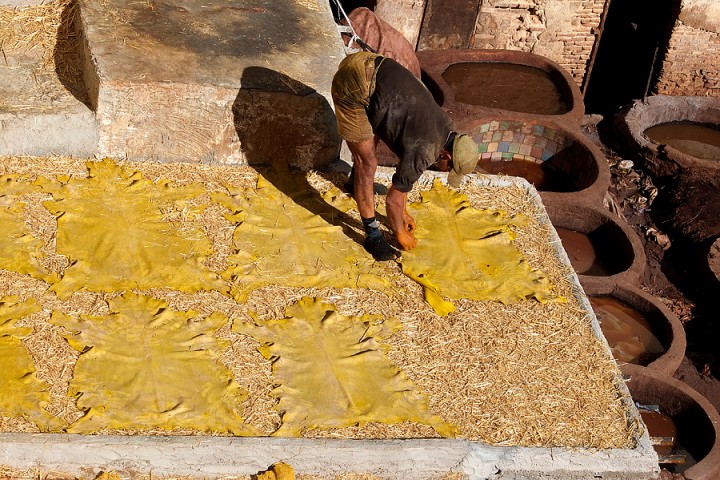 Refreshed by – another – glass of mint tea, we set off for the hills overlooking the Medina, the location of the 14th Century Merinid tombs. The tombs themselves are not much to look at these days but the hillside makes a terrific vantage point from which to view the whole of Fes el Bali and in summer one can get great shots of the old city as the sun sets.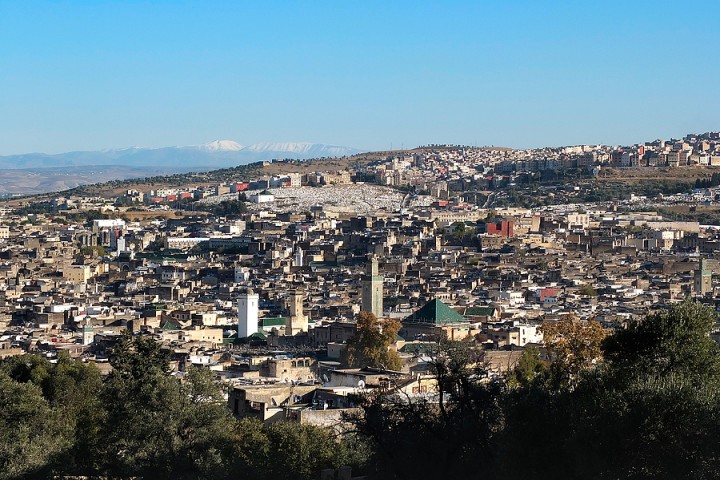 One of the most memorable moments was when the evening call to prayer sounded and we heard muezzins from minarets all over the city calling. Not in synch but a hauntingly beautiful sound that rolled from one side to the city to the other and back again.
Saturday
Fuelled by another of Fathia's magnificent breakfasts we walked up Tala'a Kbira to Bab Boujloud and then past the tranquil gardens of Jnane Sbil to Fes el Jedid.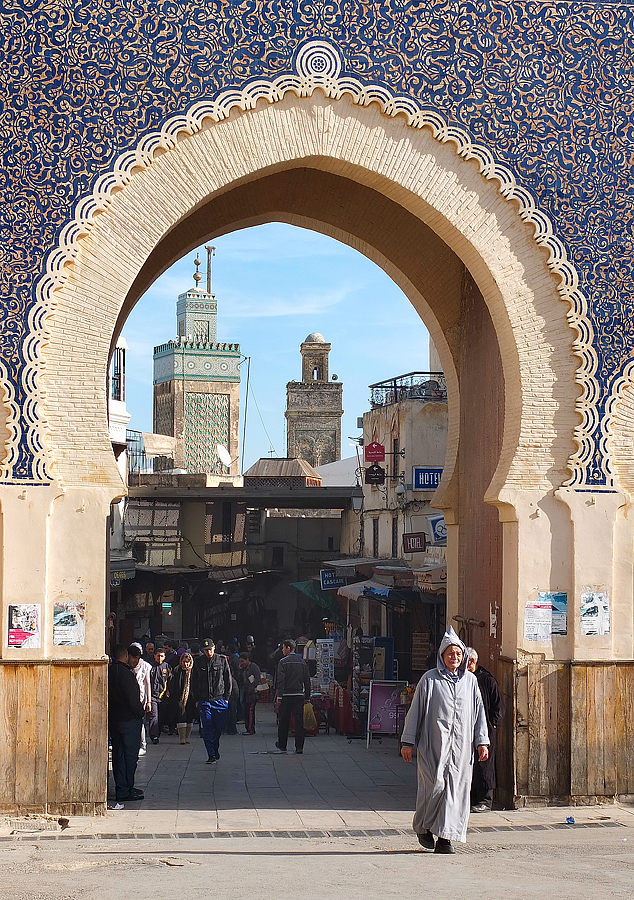 Fes el Jedid
Once the Merinid capital, Fes el Jedid is home to the Royal Palace (Dar al Makhzen) and the old Jewish quarter.
Walking down Avenue Moulay Sulimane, also known as La Grande rue de Fes Jedid, is an entirely different experience than walking in Fes el Bali.
Where Fes el Bali is teeming with tourists and shops catering for tourists, the shops in Fes el Jedid are far more mundane, selling everyday items for local Moroccans.
By comparison it was very peaceful but rather dull with rows of stalls selling kaftans and jelabas, women's underwear, shoes etc.
Tala'a Kbira again
It didn't take us long to decide to return to the more vibrant streets of Fes el Bali.
Back on Tala'a Kbira; with all the shops open it had a quite different atmosphere from yesterday.
We had a mission, to track down an old friend who owned a carpet shop in the Ain Allou section. When we used to run groups to Morocco, Ghali had been our contact in Fes, someone the group leaders could turn to if they needed assistance. Of course he would sell the occasional carpet if the opportunity arose but at least they were of top quality and we knew they would be shipped home safely.
After all the pokey little shops, entering Dar Zarbia was like walking into Aladdin's cave. It is not even on the main street, but hidden down a narrow alleyway, and the entrance is modest. But inside, wow!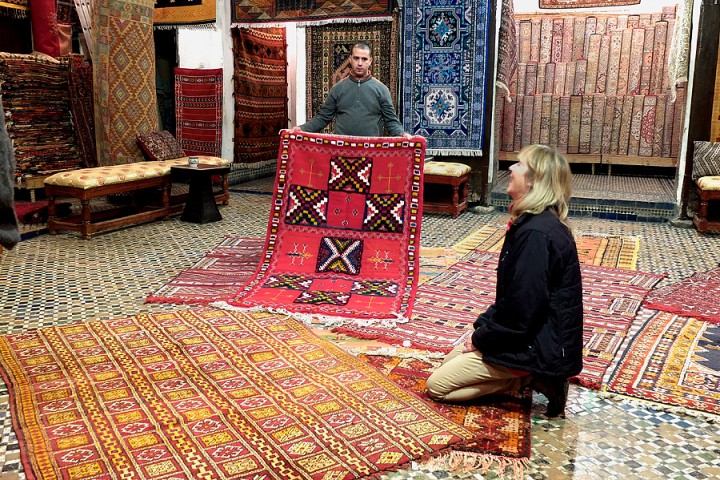 We had to wait until the manager returned from midday prayers to learn that our friend Ghali was overseas in Vancouver, but his brother insisted that we stay for tea (surprise) and a chat. And to make sure we didn't get bored he started hauling out an array of carpets for us to admire. Many of them very old and valuable; museum quality stuff.
All very tempting but thanks to Ryanair baggage restrictions any thought of buying were soon forgotten and we eventually escaped, without buying anything.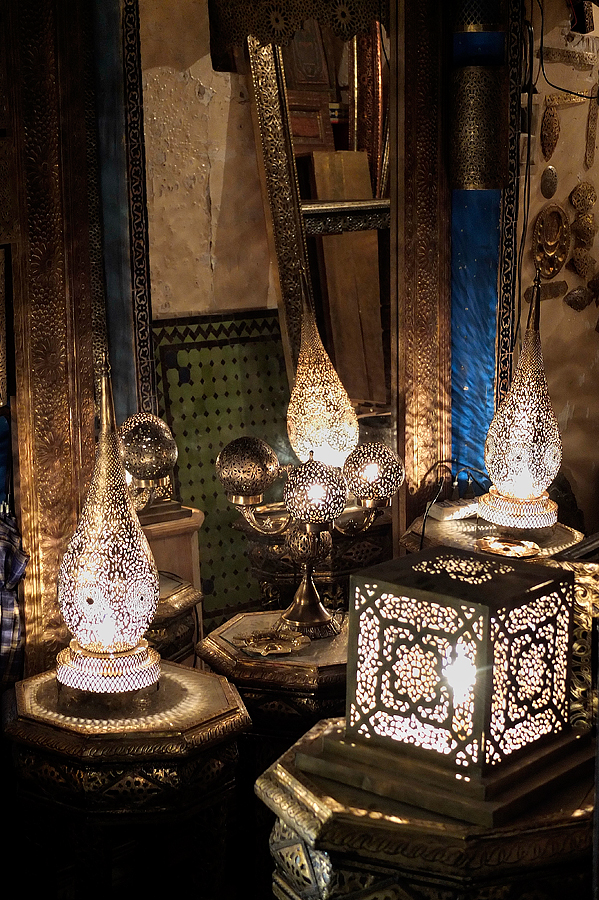 Frustratingly, there were several photos that I wanted to take but each time I lined up the camera my potential subject would shake his head or wag a finger to tell me that he wanted no photos. Rats!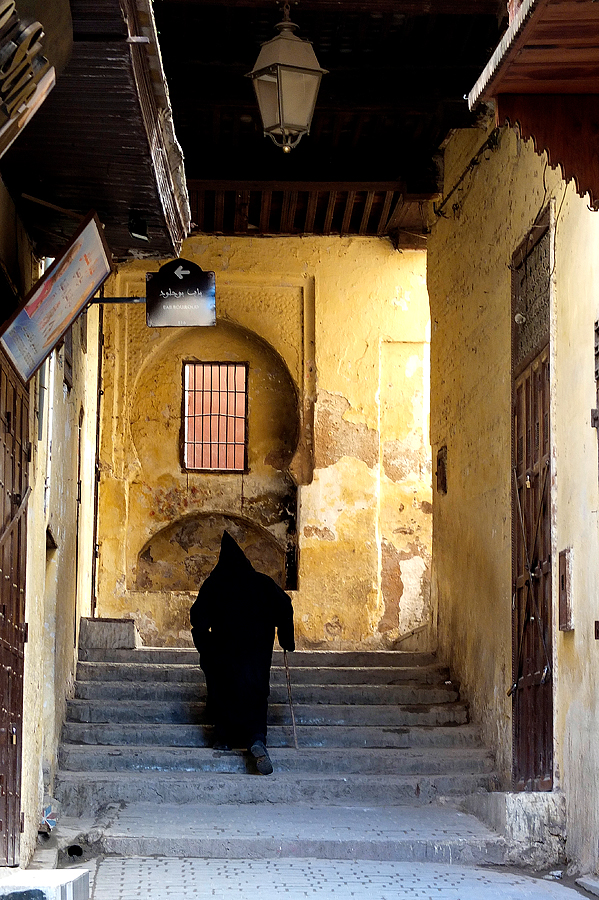 On our way back up to Bab Boujloud for an evening meal we stopped to look at the Bou Inania Medersa, a beautiful 14th Century Merinid building.
Last thoughts
As we sat that evening at one of the restaurants just inside Bab Boujloud we compared notes on our brief stay in Fes.
Just about right
We both thought that Fes was a great place to visit as an escape from the English winter. We had been incredibly lucky with the weather, 16 degrees and blue skies on both days.
Two days was enough though and if we planned a longer visit we would definitely venture out of Fes to Meknes and the ancient site of Volubilis, possibly even as far as Tangier.
One of the reasons why we felt we'd been here long enough was that we found very few places where we could simply sit and relax.
Food and drink
The food, apart from Fathia's splendid breakfasts was ordinary. We searched in vain for places that offered something different and found that the places recommended by our guide book fell far short of the glowing descriptions.
Even typical Moroccan dishes like tajines and couscous were disappointing; cooked earlier and kept warm. The only thing we ate that was really fresh was some kofte, which was super.
None of the establishments we visited served alcohol. It wasn't a major problem but I did find myself longing for a beer; just one. There is only so much mint tea a man can drink.