Hwange's Dilemma
(Please excuse the fact that this is a terrible over-simplification of the issue, but I've strived to keep it concise)
Hwange is the largest Park in Zimbabwe occupying roughly 14 650 square kilometers. It is one of THE places to see elephants in Africa. According to a 2015 pan-African census it is home to 44,000 elephants, roughly 50% of Zimbabwe's elephant population. If you want to see elephants, then Zimbabwe's Hwange NP is a great place to visit.
And therein lies the dilemma.
Actually it is not Hwange's dilemma. What to do about Hwange is a dilemma for the Zimbabwe Parks and Wildlife Management Authority (ZPWMA).
On their website they set out their Vision and Mission Statement:
VISION

TO BE THE WORLD LEADER IN SUSTAINABLE CONSERVATION

MISSION

To conserve Zimbabwe's wildlife heritage through effective, efficient and sustainable utilisation of natural resources for the benefit of present and future generations and stakeholders.
It sounds good but is that really what they are doing?
effective, efficient and sustainable utilisation of natural resources
In the case of Hwange I think not.
From its inception, Hwange (then called Wankie) was established on land not suitable for agriculture because it had no reliable source of year round water.
The reserve's first warden – Ted Davison – found that in the dry season his new domain had few animals. Those that frequented the area in the wet season departed as soon as the waterholes dried up. If his new reserve was going to attract visitors it needed animals, throughout the year.
Davison saw that the only way to entice animals in and to persuade them to remain through the dry season was to provide permanent water.
To achieve this Davison created a series of pump driven boreholes.
His strategy worked. Animal numbers rose steadily; elephants and buffaloes in particular.
"In 1960 it was estimated by the then Department of National Parks and the Game Department of Rhodesia that there were 32,000 elephants n the country. In 1989 the Department of Wildlife and National Parks Management of Zimbabwe estimated that there were between 40,000 and 60,000 elephants, and in 1996 it was judged that their numbers had increased to between 60,000 and 73,000. At this time of writing (mid 1998) the Department estimates that there are 80,000 elephants in Zimbabwe.

Elephant populations increase at between 4% and 5% per year, with a calving interval of 4.3 years (In Hwange / BR Williamson 1976). In 1997, by way of an aerial survey carried out for the Department of National Parks and Wildlife Management by World Wildlife Fund, paid for by USAID, it was estimated that Hwange National Park carried an elephant population of 31,613 animals (In fact between 24,651 and 38,575 with a confidence limit of 22%). In 1987 it was estimated that there were 19,264 elephants, whilst a decade earlier it was estimated that there were 10,563 (Bulawayo Chronicle, 23 December 1979, quoting the late Basil Williamson, Wankie NP ecologist). Researchers and biologists judge that Hwange can hold, in terms of vegetation food source and destruction, and water supplies, about 14,000 elephants. At this time of writing (1998), 45% of the country's elephant population is within the Hwange and neighbouring Matetsi region, this also taking into account the cross-border movement with Botswana.
The 'islands' of protection show signs of bursting at the seams."
(source Keith Meadows – Afterword in Ted Davison's book "Wankie – The Story of a Great Game Reserve)
In earlier times, the way that this burgeoning elephant population was kept under control was through culling.
"The first organised culls of family breeding units took place in Wankie National Park in 1966, whilst sporadic population reduction had already been taking place, focussing essentially on bulls, since 1960.

After the Wankie '66 operation, other culls followed,in Mana Pools in 1969, 1970 and 1972, and subsequently in the Sebungwe and Gonarezhou areas. Since 1960 culling, together with elephants killed in the course of day to day business for a variety of reasons, notably via tsetse control, sport hunting, problem animal control, crop protection, ration provisions, etc, some 50,000 have been killed within Zimbabwe. 20,322 of that figure were killed within Hwange and its environs.

There has been no culling since 1987. This is because the relevant Management Unit had its hands full with the capture and trans-location of black rhino out of poacher-threatened areas, for almost five years, and then, from 1992 up until this time of writing the Department of National Parks and Wildlife Management has simply not had the funds, leadership or infrastructure to continue with culling tasks, along with many other duties."
(source Keith Meadows – Afterword in Ted Davison's book "Wankie – The Story of a Great Game Reserve)
Unsurprisingly, once the culling had ceased, the elephant population grew unhindered and the food supply became more depleted each year, with animals having to walk further and further between food and water as the vegetation was pushed further and further from the water holes.
As large mammals, the elephants can move with relative ease over the increasingly large distances between food and water, but other, smaller, animals cannot.
Even when they can get to the waterholes they do not have free access as the elephants keep other species away until they have drunk their fill.
Consequently, species diversity is declining in Hwange.
What to do?
To answer that we must first decide what we want Hwange to be.
Do we want a natural sustainable habitat for animals or do we want a national park where the animals are a spectacle for tourists?
(This of course begs the question of whether tourists really want to see elephants clustered around a pumped waterhole that sits in the middle of a desert?)
Start (resume) culling?
The situation has been allowed to slide for so long that, right now, the number of elephants that would need to be culled to achieve a sustainable population is huge. The international outcry would be deafening and it is hard to see this happening.
So what else could be done?
A decision could be made to turn off some or all pumps? This would force the elephants to move elsewhere and allow time for the vegetation to recover. Certainly elephants would die as a result, but other species would benefit.
Kavango Zambezi Transfrontier Conservation Area
Hwange is part of the massive Kavango Zambezi Transfrontier Conservation Area – a Peace Parks Foundation initiative.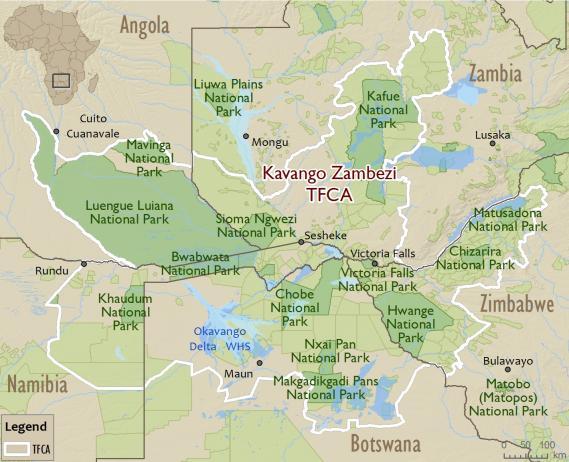 Can elephants be enticed to move elsewhere within the park? Or have their migration routes been effectively blocked by human settlement? There are certainly areas within the KZTP that could accommodate more elephants. But although the KAZA TFCA looks great on paper, has it actually achieved anything?
Here's what their website says:
The Kavango Zambezi (KAZA) Transfrontier Conservation Area is situated in the Okavango and Zambezi river basins where the borders of Angola, Botswana, Namibia, Zambia and Zimbabwe converge. It is the world's largest transfrontier conservation area, spanning approximately 520 000 km2 (similar in size to France).
It includes 36 national parks, game reserves, community conservancies and game management areas. Most notably, the area includes the Zambezi Region, Chobe National Park, the Okavango Delta (the largest Ramsar Site in the World) and the Victoria Falls (a World Heritage Site and one of the Seven Natural Wonders of the World).
Kavango Zambezi promises to be southern Africa's premier tourist destination with the largest contiguous population of the African elephant (approximately 250 000) on the continent. Conservation and tourism will be the vehicle for socio-economic development in the region.
There are certainly areas within the KAZA TFCA that could accommodate more elephants but although it encompasses 36 National Parks across 5 countries these parks are separated by large areas of human settlement that prevent any significant animal movement between them.
Doing nothing is not an option
One thing seems certain – if we do nothing, the elephants will eat Hwange out of existence.
Once they have devoured the food supply to a point where it is unable to regenerate during the wet season they will either die or move elsewhere. If we let that happen Hwange will be finished as a viable National Park.
The question for the cash strapped ZPWMA is whether to take action now and risk alienating tourists to save their resource or do nothing and watch their National Park decline until tourists no longer find it attractive; at which point it will cease to be a source of revenue.
The problem is exacerbated by the fact that many businesses and communities are dependent on Hwange's continued existence for their livelihoods – not because of handouts but as a source of employment and education. Many of the communities around Hwange NP are models of how communities can become involved in and benefit from their country's wildlife and tourism.
If the tourists stop coming then the lodges and safari operators will go out of business and then all the local communities that rely on their support will suffer too.
And that will create yet another problem for Zimbabwe's already beleaguered government.
What do you think should/can be done to ensure that we preserve Ted Davison's legacy and ensure this iconic African park is still there for future generations to enjoy?