This is part 7 of the Chobe and Zimbabwe Safari Diary and follows on from – Elephants, more elephants and a lion
22 September 2014
One of the things that I'd been asked to arrange for this group was a visit to a local school.
They had brought with them some children's clothes and boxes of school materials (books, pens etc) and were keen to hand them over and see how a local school operated.
Bomani was our only real chance of doing this as we would be leaving in light aircraft and our baggage restrictions wouldn't allow us to take the stuff any further.
Fortunately Imvelo Safari Lodges run several community initiatives, one of which is "Driving ecotourism through providing education."
>>
Providing much needed support to the teachers and schools that educate the young people living on the frontline of our wildlife areas is a primary goal for Imvelo and we provide direct support to 9 different schools around our lodges.
Two examples are Ziga and Ngamo Primary School on the edge of Hwange National Park. By 2010 through a combination of donated funds from visiting tourists, revenues from safari camp lease fees and funds by the local safari operators, these schools went from being the worst primary schools in the district to the best. Nearly 500 students all have safe clean classrooms, including 3 complete new classroom blocks built by Imvelo, with furniture, electricity and water. The teachers are all now also housed in comfortable cottages, receive salary initiatives and training support. The schools have become the pride of the community and are a show case for the success of the program.<<
We had let Daniel know that some of the group were keen to visit one of the schools and so this morning, instead of a game drive, they would be visiting a nearby school that Imvelo sponsored.
I'll own up. I didn't join them on the visit. Over the years I have taken so many groups to visit schools and villages in various parts of Africa that I find it hard to maintain my enthusiasm. I felt it was far better for them to go and enjoy their visit without me than have me standing there looking bored.
As it was I had plenty to keep me occupied checking through our arrangements for the next week of our trip and seeing what turned up at the camp waterhole.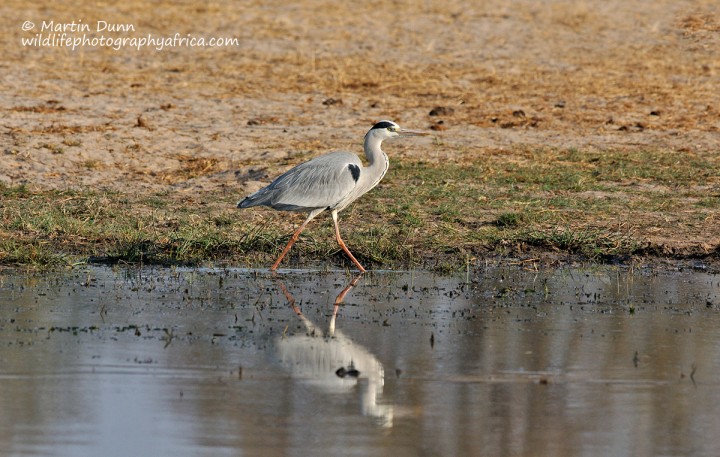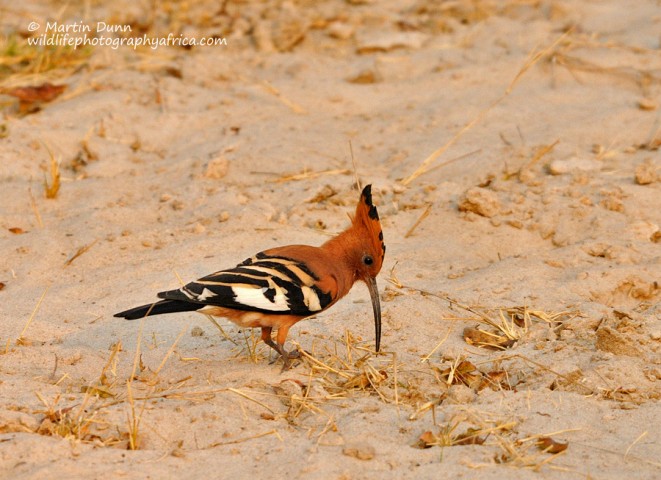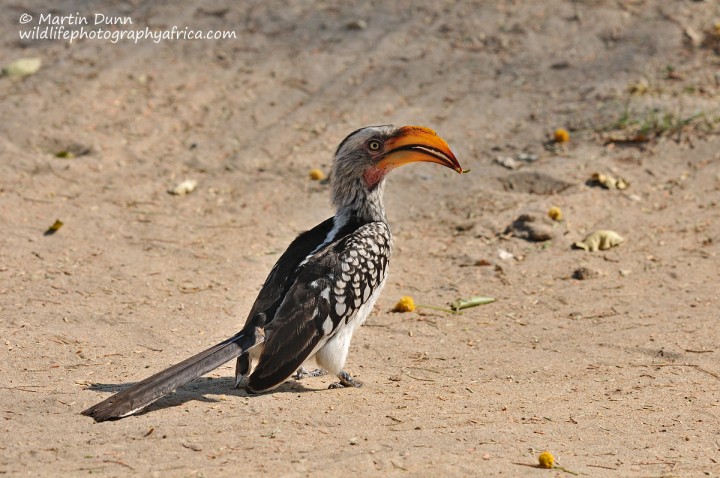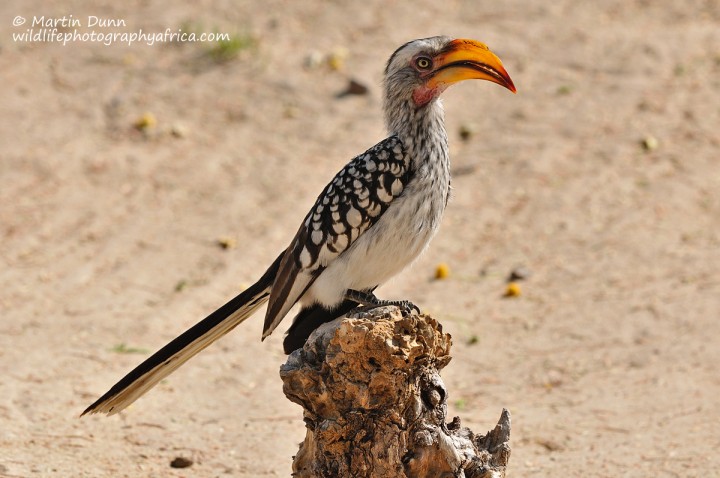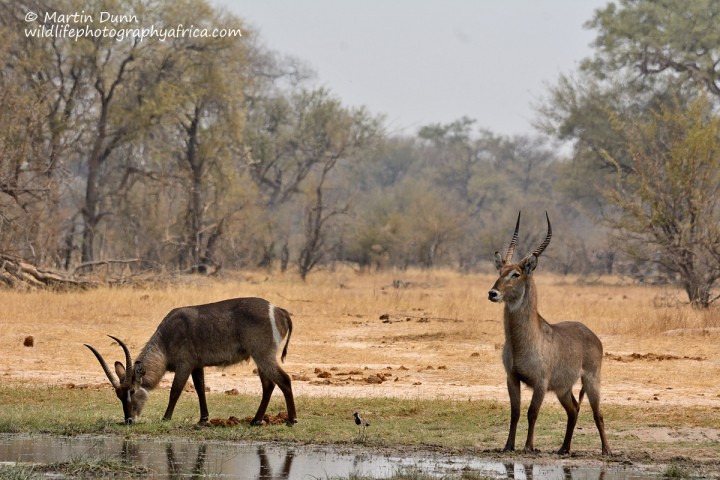 They returned 3 hours later very impressed with what they had seen and Iain, who had travelled with me in Tanzania & Kenya in January 2013 said that this school was far more impressive than the 2 we had visited in those countries. What made the biggest impression was the importance the children themselves put on their education and the lengths they went to just to attend.
Our afternoon drive
Setting out for our afternoon game drive we were all pleased to see that the wind had abated and the sky was much clearer than on the previous 2 afternoons.
We hoped that the wildlife had noticed too and come out to play.
We could see from their tracks on the road into the park that there was a large herd of buffalo in the area and it wasn't long before we found them.
There must have been 500+ animals in the herd. They were approaching the waterhole where we'd seen the elephants yesterday but they were very spread out and in no hurry to get there. We waited for about 15 minutes but they were content to just loiter.
From the opposite direction a group of old bulls, dagga boys, appeared and ambled unhurriedly to the waterhole.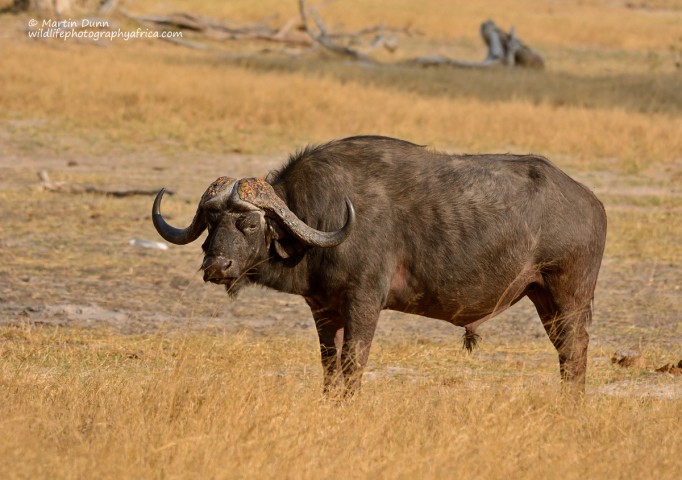 I had hoped that we might see some more action here as the light was so much better this afternoon than yesterday. Sadly not. We made our way to the wide open plains without seeing anything memorable on the way.
At one of the other pans a small group of elephants were drinking. Even though we kept our distance they didn't seem to like having us behind them and so they moved off – one of the young males taking time out to mock charge us.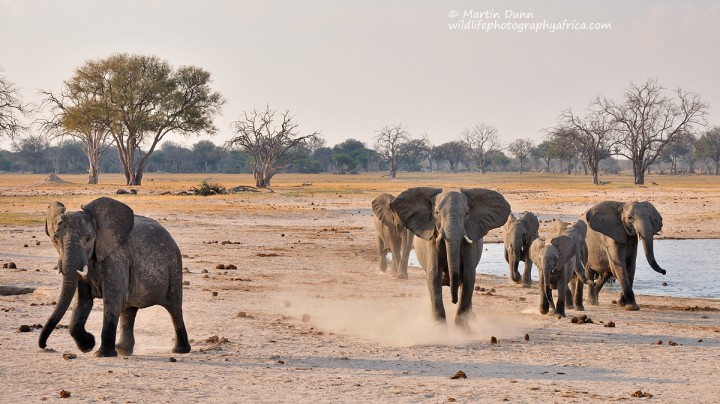 Just as we'd seen on previous drives there were a lot of jackals in the area and they seemed pretty relaxed.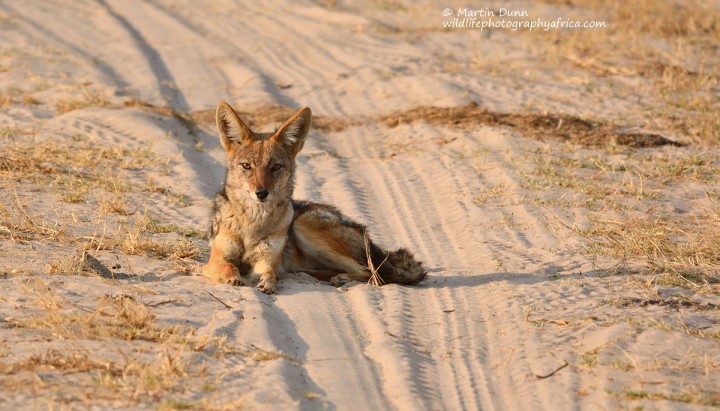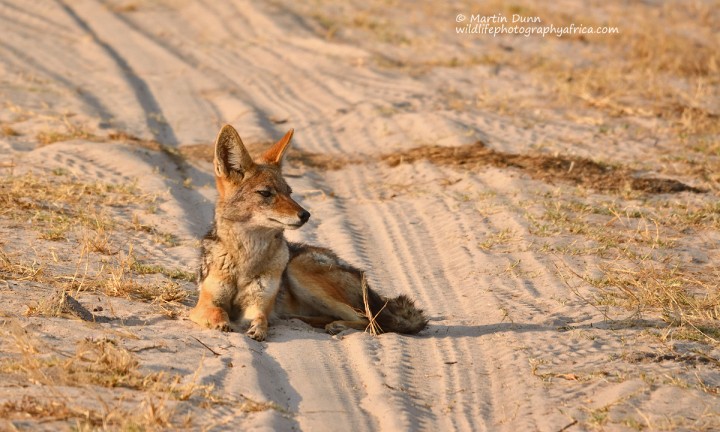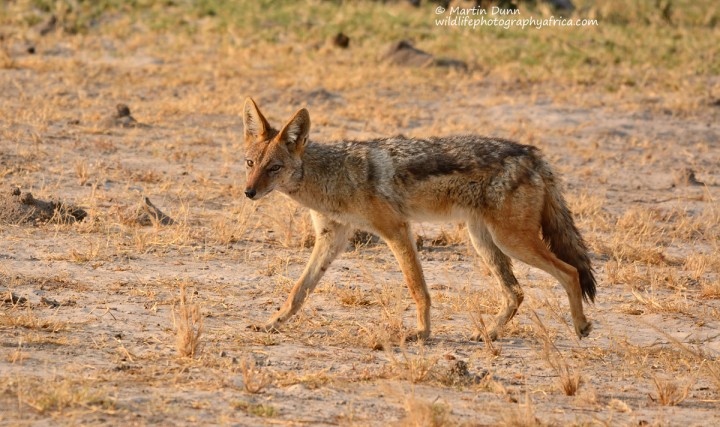 We found the same pair of Saddle Billed Storks as we'd seen yesterday. There were also a couple of large juveniles up in a tree.
Unfortunately they were not as accommodating as the jackal had been and would not stick around for a photo call.
This is the female (yellow eye)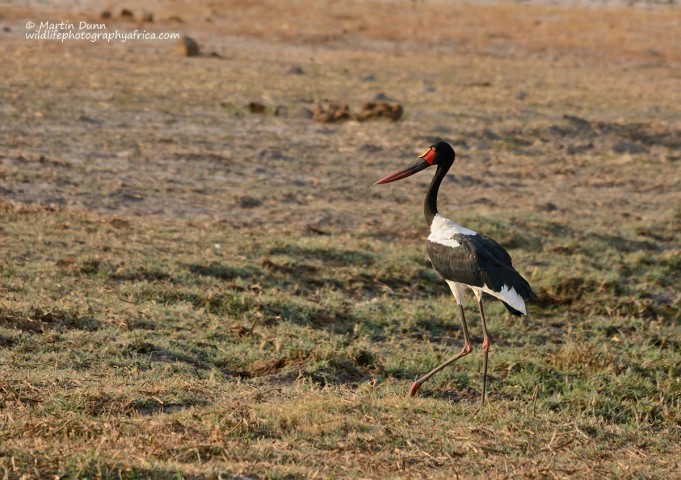 The Kori Bustard we'd seen yesterday was still strutting his stuff in full courting regalia.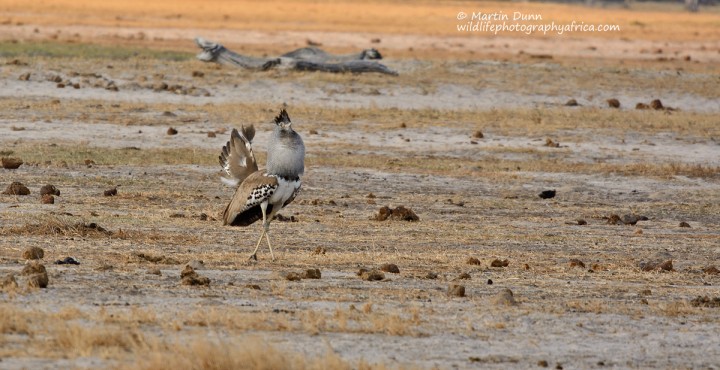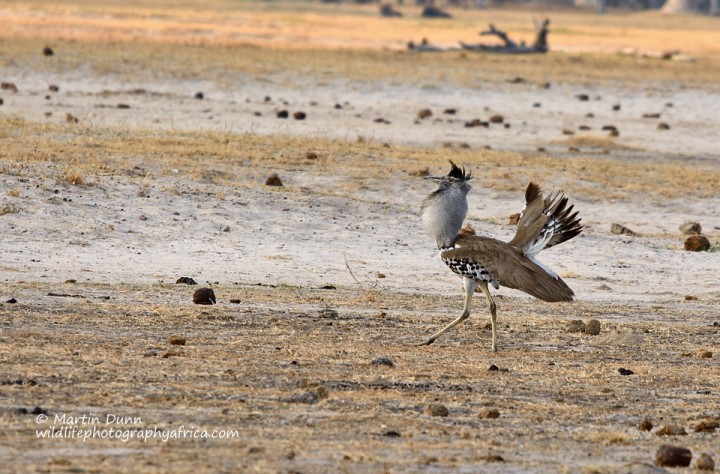 Daniel took us to see where a Giant Eagle Owl had its nest with a chick.
The owl flew off as we approached and light was terrible – with the sun right behind the nest – but we could just about make out the silhouette of the chick. We agreed to return tomorrow to see if we might have better luck.
We spent some time circling around in search of lions as we had seen so many fresh tracks. Once again our quest proved fruitless.
We saw a pair of secretary birds. Daniel told us that they were nesting in the top of a nearby bush. Sure enough one of them flew up onto the nest as we watched. Of course I had been tracking the other one at that moment and missed most of the action.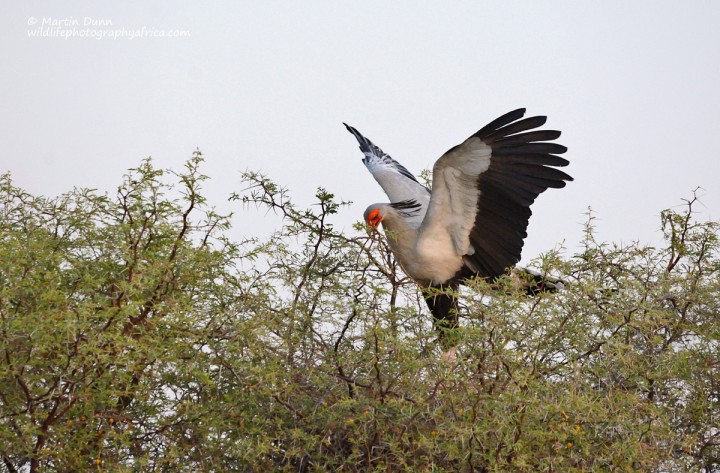 We had our sundowners by the pan where we'd seen so many elephants the day before. It was deserted, but we did get a sunset; the first one we'd seen since we arrived in Zimbabwe.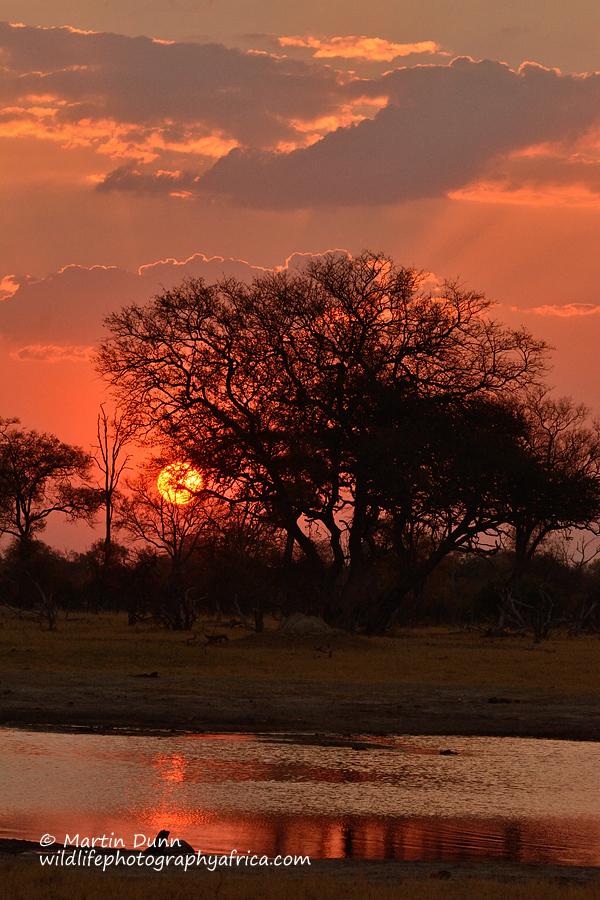 Overall it was a disappointingly uneventful game drive. Even so, it was almost dark by the time we reached the gate – with 2 minutes to spare before closing time.
Using the spotlight on the way back to camp we saw a White Tailed Mongoose bustling across the road. A first for me.