I touched down early on Sunday morning at OR Tambo International airport after a long – long and boring -flight from London via Abu Dhabi.
I was very pleased to see from the arrivals screen that Pat's flight from Perth had landed half an hour early so I wouldn't have to wait around too long.  Thanks for the fact that it was early on a Sunday, the drive to Sabi Sands was a breeze.
By the time we climbed out of the car at  Savanna the temperature had risen significantly.
After a cold drink we took a wander around.
Just outside the perimeter a group of buffalo bulls was lazing around the small waterhole, a bit further away we could see a couple of male elephants browsing but the light was horribly harsh so I wasn't even tempted to pick up a camera.
What I really wanted after the long flight and drive was a shower.
After a magnificent lunch I gathered my gear together for the afternoon game drive.
In anticipation of a hot afternoon game drive I covered myself in sun block but by the time we walked out to the game vehicles the sky had clouded over completely and the temperature had dropped by at least 10 degrees. The forecast was for rain.
About 100 metres from the camp gate we found buffalo bulls and elephant bulls feeding.
Lions at the waterhole
At a small waterhole we found a group of lions – 3 females and 5 cubs.
The females were not doing much but the cubs were full of energy and spent the time practising their hunting skills on each other; stalking, chasing, tripping and wrestling. They were completely unbothered by the vehicles.
((Excuse the quality of the photographs. I'm travelling with an old Toshiba laptop and the screen is poor. I'll process the images properly when I get home))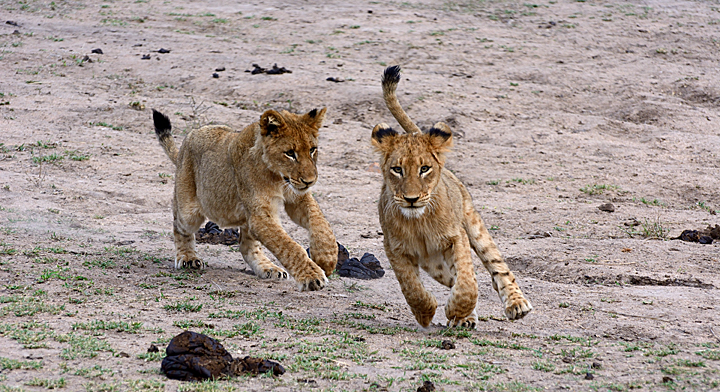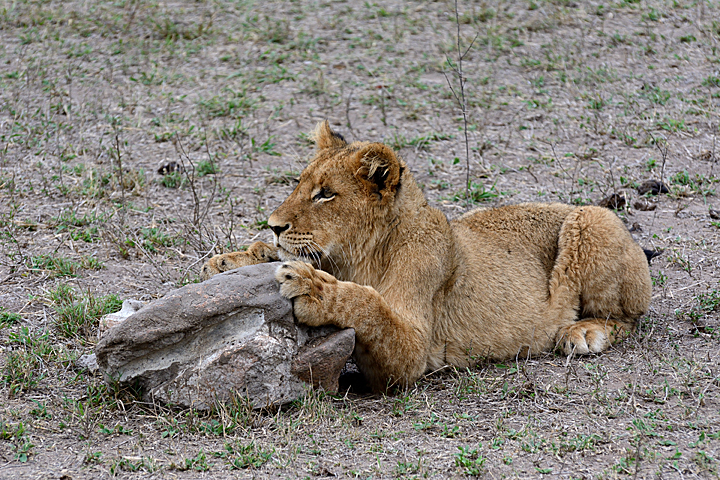 Whilst the lions were fun to watch there were other vehicles waiting to take a turn so we moved on.
Wild Dog Den
Our next target was a family of wild dogs that have a den on a neighbouring concession.
At the moment they have young pups so we wanted to find them.
As we got close Neil got word that they were active outside the den and it looked as though they were getting ready to move. Sure enough we found them milling about near the den and within a minute or so of our arrival they were on the move.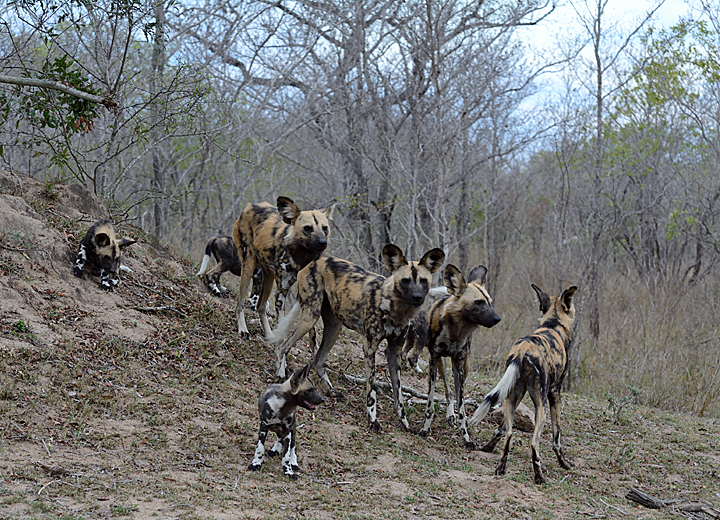 For the next half an hour we followed them through dense bush. Visibility was not always great but it was a terrific sighting. Absolutely brilliant to see these tiny pups following the older dogs through the bush, unable to resist the urge to play with each other. Every time a couple of the pups became too involved in their play one of the adults would come and discipline them.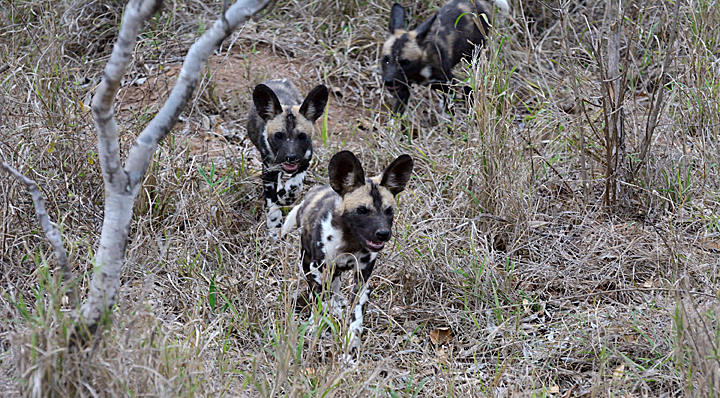 This pack of dogs was clearly in demand because the radio was constantly alive with other guides asking if they could join us at the sighting.
Other vehicles began to arrive and we spotted the familiar face of Sir Richard Branson in one of them. He owns one of the neighbouring concessions and was stopping off before attending a conference in Cape Town.
One of the things that greatly assists game viewing in the concessions around Kruger Park is the way all the guides keep in touch with each other by radio.
Leopard at a waterhole
No sooner had we left the dogs than we got word that a young leopard had been sighted, drinking at a nearby waterhole.
We arrived just in time to see this beautiful young cat at the water's edge.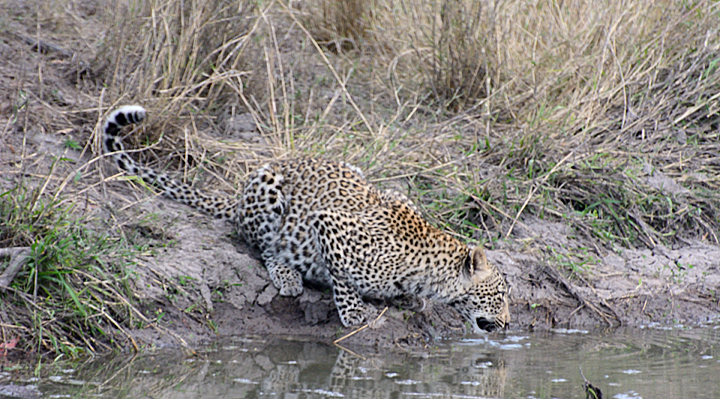 At just one year old she was not old enough to hunt for herself but old enough for her mother to leave unattended for long periods.
Although it wasn't late, courtesy of the heavily overcast skies the light was very dim and fading fast.
Lions hunting
Leaving the young leopard we went in search of new sightings and found a buffalo sitting in a waterhole, taking refuge from a pride of lions. The buffalo was a safe distance in the water and the lions were in the grass nearby.
The stand-off didn't last long.
The lions got bored and started to wander off. As they did so we saw that there were 3 lionesses and 8 young cubs.
By now the light was almost completely gone and even cranking up the ISO to 2000 was not enough so we followed them for a while, just enjoying the spectacle, until they flopped down to rest in the grass.
As we watched the lions we spotted a female rhino (white) with a young calf moving slowly away from the lions, the mother putting herself between the lions and her offspring.
With very little warning the wind suddenly picked up and became quite fierce. Rain had been forecast and, with visibility practically zero, we decided to return to camp.
Not a bad tally for our first game drive in Sabi Sands; the Big 5 and African Wild Dogs.
In good company for dinner
To round off wonderful afternoon I found myself sitting down to dinner next to Paddy Hagelthorn, one of the resident guides at Savanna and a renowned photographer whose work I had long admired.