The variety and quality of safari experiences we offer in Botswana is better than ever. Although the mainstay of what we do is still tailor made safaris we're excited to be offering a selection of brilliant scheduled small group safaris that will show you the full diversity of what Botswana has to offer.
The addition of some outstanding self-drive safaris for 2020 makes the choice even greater.
What about walking?
Why not? Two of our favourite camps in the Delta are located on Chief's Island. From here you can enjoy guided walking within the Moremi Game Reserve. You won't see any vehicles, in fact you're unlikely to see anyone else as you explore this pristine wilderness on foot.
If you want a bit more adventure then why not try one of our Adventure Trails. Accompanied by your guide, and carrying all equipment with you, you'll set off by mokoro. Each day you'll make camp beside one of the waterways and use that as your base for guided walks.
The sensation of sleeping out in your own private little camp is magical.
Photographic Safaris
Don't worry, we haven't forgotten our photographers.
We are thrilled to be working together with Letaka Safaris to bring you some dedicated photographic safaris, escorted by renowned Botswana photographer James Gifford.
Specially adapted vehicles for photographic safaris
If you prefer a private mobile photographic safari we can arrange that too. Using specially adapted game vehicles you'll have all the flexibility and exclusivity you could desire with your own private photographic guide.
Custom built photographic boats on the Chobe river
The Chobe river is an absolute delight for photographing both mammals and birds and we're delighted to be working with Pangolin Photo Safaris to offer you specialist photographic safaris by boat and on land in the Chobe area.
Botswana has international airports at Gabarone, Maun and Kasane.

Planning your safari in Botswana involves quite a few decisions, but perhaps the first one you'll need to make is to decide whether you'd like to travel on your own tailor made itinerary, in the company of your friends and family, whether you'd prefer to join one of our carefully selected and recommended small group trips or take complete control and drive yourself.

The big advantage of a tailor made itinerary is that you get what you want, or as close to it as your budget will allow.
You choose the places you will visit, where you will stay and for how long. You also get to choose exactly who you'll be travelling with.
The main factor you need to weigh against those advantages is the cost. Because your itinerary will be designed according to your specifications all the bookings must be made exclusively for you and this is generally a bit more expensive.
If you want your safari to be really private then you'll probably wish to book a private vehicle and guide; there is almost always an extra charge for this.
Click here to see some of the places we think you should consider including in your tailor made safari.
The main attraction of joining a scheduled small safari is the cost. 
Because they are following a regular set itinerary and accommodating up to 8 guests, these safaris are simply more cost effective to run.
If you are a single traveller this is a huge advantage; not only are you able to avoid the often prohibitive costs of travelling alone, but you also get some ready made travelling companions.
The itineraries these scheduled groups follow are tried and tested, visiting the best reserves at the best times of year.
The main disadvantages is that you won't have as much flexibility with your travel dates.

As well as being home to some of Africa's most iconic wildlife areas, Botswana also has many areas of pristine wilderness where you can find yourself completely alone, surrounded by Africa's natural beauty.
Without doubt to best way to experience such places is to drive yourself.
Driving yourself gives you the complete freedom to go where you please and stay as long as you please.
At the wheel of your own fully equipped private vehicle, you can visit areas that are beyond the regular traffic of escorted safaris.
Areas of breathtaking beauty like the Makgadikgadi Pans or the Greater Kalahari Reserve are there to be explored. Here you can stay in wonderful wilderness campsites or choose from a small number of exclusive lodges; better still why not combine the two.
We'll give you all the help you need with planning your itinerary and arranging your overnight stops.
Click here to look at some suggested routes for your adventure in Botswana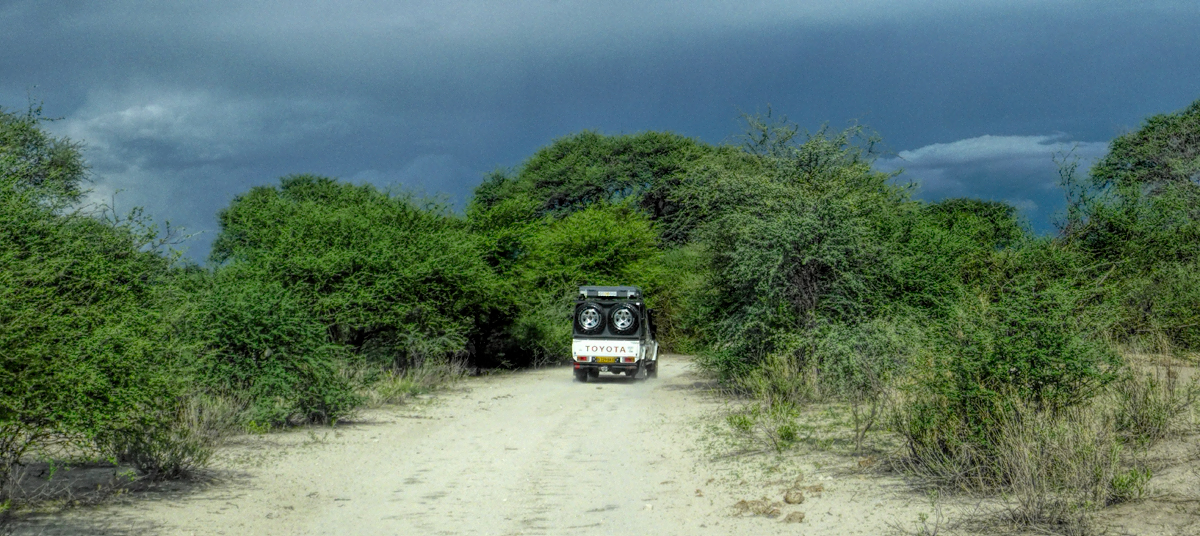 If you'd like to discuss ideas for your safari in Africa we'd love you to get in touch; either by email or by telephone.
or give us a call on    +44 7918162984