Long renowned as THE safari destination, Kenya remains a place that will consistently deliver a rewarding safari experience.
There is much more to Kenya than the legendary Masai Mara and Amboseli with its panoramic views of Mt Kilimanjaro.
The Rift Valley lakes, Naivasha, Nakuru, Bogoria and Baringo are a mecca for birders and the conservancies in the Laikipia area are an outstanding example of how local communities can be at the heart of wildlife conservation, whilst Meru NP is ideal for those who like their safari a little more on the wild side.
To get the best from Kenya be selective and avoid the mass market offerings.
Private conservancies adjoining Masai Mara and Amboseli can offer a much more personal experience as well as terrific game viewing.
Kenya has international airports at Nairobi and Mombasa.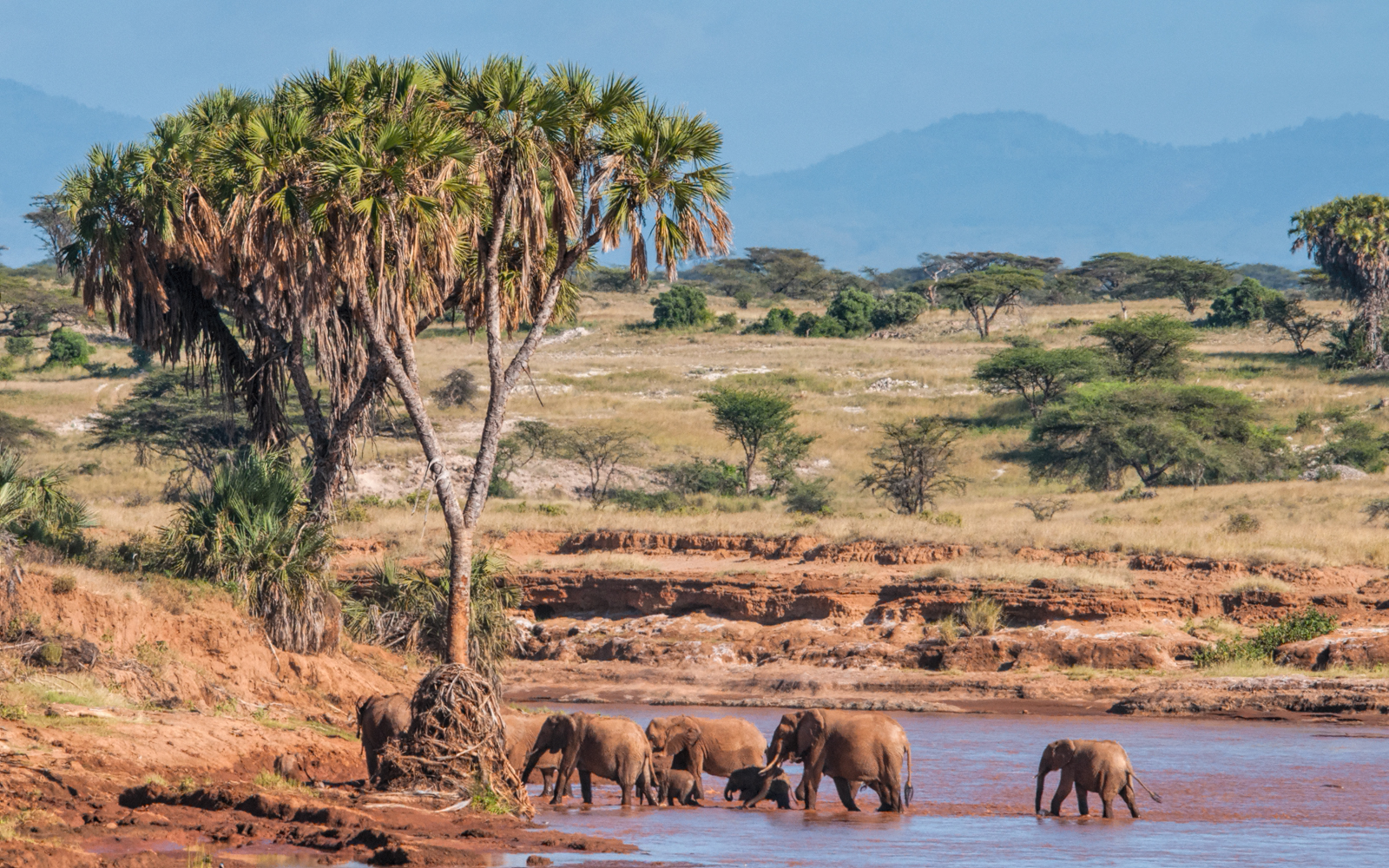 Masai Mara
Situated in the Great Rift Valley in the southwest of Kenya, Masai Mara is Kenya's most famous and most popular reserve. It is not a National Park and as such is not administered by the Kenya Wildlife Service (KWS) but by the Narok county council.
The reserve is home to one of Africa's richest concentrations of wildlife, including: elephants, lions, leopards, buffalo, zebras, antelope, wildebeest, hyenas, giraffes, warthogs, gazelles, hartebeests, hippos, crocodiles and others. The park also has the largest concentration of African lions.
Rhino sightings used to be a common occurrence but years of poaching have taken their toll and what rhino remain in the park are very elusive.
Masai Mara is the best place to witness the annual wildebeest migration and some of the most compelling wildlife photography is of wildebeest braving the crocodile infested Mara river to reach the grasslands of the Masai Mara plains.
There is a wide selection of accommodation to choose from both within the park and in the immediate surrounds.
Private Concessions
With such an abundance of wildlife throughout the year the Masai Mara is a very busy park, especially the central areas, with sightings of key species attracting tourist vehicles like flies.
All is not lost though, because bordering the north and west of the Masai Mara itself are a number of private concessions which have been created by purchasing land from local tribes and returning it to a wilderness state. The camps on these concessions are usually quite small and exclusive, and offer splendid game viewing with only vehicles from the camps allowed to do game drives within the concession. In many cases guests see no need to enter the main park at all though of course they can do so at any time.
Amboseli
Located about 150 mile south of Nairobi, Amboseli is the second most popular game park in Kenya after Maasai Mara.
Its magnificent situation at the foot of Mount Kilimanjaro, combined with its proximity to Nairobi and excellent opportunities to view wildlife mean that Amboseli is a very busy park and game drives can sometimes resemble rush hour traffic.
Amboseli is renowned for its large herds of free-ranging African elephants. There are over 900 African elephants in Amboseli, as well as huge herds of wildebeests and many other animals including giraffes, lions, monkeys, zebras, hyenas and antelope.
Amboseli has been a National Park since 1974, but in 2005 President Mwai Kibaki transferred control from the Kenya Wildlife Service to the Olkejuedo County Council and its residents, the Maasai tribe. This was a very controversial move which is still being contested in the courts because of its implications for Kenya's other national parks.
Amboseli has a range of habitats: plains, acacia woodland, rocky thorn bush, swamps and marshes. This diversity, along with a long dry season, ensures excellent viewing of the large concentrations of animals. When the conditions are right Mount Kilimanjaro (Africa's highest mountain at 5,895m) makes magnificent backdrop for the parks wildlife.
Although it sounds like a great place to visit, and it often is, game drives in Amboseli NP are often spoiled by the sheer volume of visitors. At certain times of the year it resembles a dust bowl where minibuses queue four deep to view the animals.
Private Concessions
BUT.. adjacent to the National Park are a couple of private concessions that offer an entirely different experience. In these concessions you will still be able to see all the game against the towering backdrop of Mt Kilimanjaro, but because they are private you probably won't see any other vehicles.
Because of its location close to the border, Amboseli is easily combined with parks in northern Tanzania like Tarangire, Ngorongoro or Serengeti.
Samburu
The three National Reserves of Samburu, Buffalo Springs and Shaba straddle the Ewaso Nyiro river.
Lined with doum palms and riverine forest, the river is a natural focal point for animal life in the reserve.
Amongst the wide variety of animals to be seen at Samburu are several species considered unique to the region (Reticulated Giraffe, Grevy's zebra, Beisa Oryx, Somali Ostrich and Gerenuk) as well as all three big  cats (lion cheetah and leopard) and elephants, buffalo and hippos. Rhinos are no longer present in the park due to heavy poaching.  There are also over 350 species of bird.
Samburu is one of our favourite Kenyan reserves and game viewing has rarely disappointed. Although it does attract a healthy number of visitors, Samburu is rarely crowded and gives an opportunity to get really close to nature. 
Many of the camps are situated on the banks of the river and often you'll get fantastic game viewing from the comfort of the lounge.
Meru
Largely thanks to George and Joy Adamson, and a lioness called Elsa, Meru is one of Kenya's most famous parks.
In 2000 the park was in a terrible state, with its animal population decimated by poaching. Since then, a concerted effort by the Kenya Wildlife Service (KWS) and the International Fund for Animal Welfare (IFAW) has gone a long way to restoring Meru to its former status as a leading tourist destination.
The park now has a healthy animal population that includes elephants, lions, leopards, cheetah and many species of antelope.
With a mixture of open grasslands and riverine forest the park is also a haven for birdlife with over 400 recorded species.
Meru NP is terrific for second time visitors or anyone for whom the quality of the overall experience is more important than the volume of animals seen.
Lake Nakuru
Lake Nakuru is a large, shallow lake surrounded by marshes, woodland and grassland with rocky outcrops and the largest euphorbia forest in Africa on the lake's eastern side.
Thanks to an abundance of Cyanophyte Spiruline Platensis (CSP) in its waters, the lake attracts huge numbers of flamingos. At times there are up to two million Greater and Lesser Flamingoes together with thousands of other birds.
Lake Nakuru NP also has a healthy population of mammals including: waterbuck, impala, warthog, lion, buffalo, white rhino, Rothschild giraffes, eland, hyenas and hippos. There are also leopard and black rhino here.
A day at Lake Nakuru is almost mandatory for anyone with an interest in birdwatching.
Laikipia
Lewa Downs and Ol Pejeta are private conservancies that work very closely with local communities to secure the future of both the wildlife and the habitat. 
Over a number of years former farm and ranch land has been given over to wildlife conservation.
The game viewing experience here is very different to that found in national parks; here you'll see few other vehicles, if any and the there are extensive opportunities for walking and hiking, often accompanied by local tribespeople.
Ol Pejeta is noted as one of the few remaining places in Kenya where you can see the endangered black rhino and Laikipia is renowned for the reliability of its wild dog sightings.
Well worth including if you want to get away from the routine game drive experience.
Tsavo, East & West
Tab Content
Aberdares
Tab Content
Here are just a few suggestions, based on safaris that have worked well for past clients. They are not set in stone and can be easily amended to suit your requirements; changing lodges or duration. Or we can just start with a clean sheet pf paper.
Why not get in touch to discuss your ideas with us, there's nothing we enjoy more than talking about Africa.
Then we can get to work on designing a very special safari just for you.
Kenya Family Safari
Bush & Beach

Masai Mara & the Indian Ocean
9 nights / 10 days
starts Nairobi / ends Mombasa
Prices range from £2,080 to £2,845 depending on the season, per person for a family of 2 adults & 2 children. (excluding international flights)
Combining Kenya's most famous wildlife reserve with time to relax by the warm waters of the Indian Ocean, this will keep the whole family happy.
1 night  Nairobi
4 nights Masai Mara
4 nights Indian Ocean Coast
Kenya Family Safari
Wilderness, Wildlife & Water
9 nights / 10 days
starts Nairobi / ends Mombasa
Prices range from £3,040 to £3,370 depending on the season, per person for a family of 2 adults & 2 children. (excluding international flights)
Combining an activity packed stay amid the spectacular landscapes of Laikipia with time to relax by the warm waters of the Indian Ocean, this family adventure is perfect for those wanting to avoid the crowds and try something a bit different.
1 night  Nairobi
4 nights Laikipia
4 nights Indian Ocean Coast
Kenya – a wildlife photographer's paradise
8 nights / 9 days
starts and ends in Nairobi
Prices from US$3,300 / GB£2,560 per person (excluding international flights)
Perfect for those who want to see the full gamut of Kenya's wildlife; animals and birds.
Masai Mara is renowned as one of the best game reserves in Africa while Lake Nakuru is famous for its concentration of waders and water birds; in particular the vast numbers of flamingos. A little further up the Rift Valley, Lake Baringo is also a birder's paradise.
4 nights Entim Camp – Masai Mara
2 nights The Cliff – Lake Nakuru
2 nights Tumbili Cliff Lodge – Lake Baringo
Remember
These are just suggestions based on what has worked well for previous guests, you may wish to do something different. In which case you could use our suggestions as a starting point and then make your alterations, or we could simply start with a clean slate. It is entirely up to you.
If you'd like to discuss ideas for your safari in Africa we'd love you to get in touch; either by email or by telephone.
or give us a call
+44 7918162984