Botswana - Tailor Made Safaris
With such a vast diversity of landscapes and habitats, planning your safari in Botswana can be great fun.
There is a huge variety of accommodation for you to choose from and several different ways for you to get from place to place.
It all comes down to your budget and how much time you have available.
Light aircraft flights are the norm for covering longer distances, so you don't need to restrict your itinerary to places that are close together or easy to drive between.
To help you get started, we've featured here a selection of lodges and camps that we are happy to recommend, based on our own visits and feedback from clients.
Maun is Botswana's safari capital and the entry point for the majority of international visitors heading to the Okavango Delta, Mkgadikgadi Salt Pans  or Central Kalahari, yet very few travellers actually stay in Maun itself, preferring to head straight out on safari.
If you'd like to slow down the pace a bit and freshen up from your long flight before you head out on your safari, there are few better places to do it than Royal Tree Lodge.
It's not just about luxurious accommodation and old world hospitality. Marked walking trails invite guests to create their own adventure allowing safe, intimate interaction with wildlife. 
The lodge has an abundance of wildlife including giraffe, zebra, springbok, ostrich, eland, gemsbok and kudu as well as an extensive variety of bird life.
Rates:
Green season special – US$ 190pp, dinner, bed & breakfast, valid until 31 March
Low season – US$ 314pp, dinner, bed & breakfast; valid from 01 April to 30 June & 01 November to 31 December
High season – US$ 364pp dinner, bed & breakfast; valid from 01 July to 31 October 
Thamalakane River Lodge has a lovely location on the banks of the Thamalakane River, just 19kms from Maun, and en route to the famous Moremi Game Reserve.
En-suite stone chalets, some with private splash pools are positioned in the shade of the riverine forest, overlooking the river. Chalets and our swimming pool take advantage of the 180 degree view of the riverbanks lined with fluttering reeds visited by an ever changing array of water fowl, and birds and the occasional hippo. It is a delightful place to come home to after a day spent exploring.
All accommodation types feature free wi-fi mosquito nets, ceiling fans, tea and coffee station and 2 bottles of mineral water daily.
US$ 265 per person sharing a chalet
With a brand new International airport, Kasane is an ideal gateway for your safari into Chobe NP or the Okavango Delta.
It is also just a short drive from Botswana's borders with Zimbabwe and Zambia, so you can also use it as a base for visiting the incredible Victoria Falls or as a link between the Botswana section of your safari and the Zimbabwe or Zambia section.
There are several large lodges in Kasane but we tend to prefer smaller more intimate places to stay.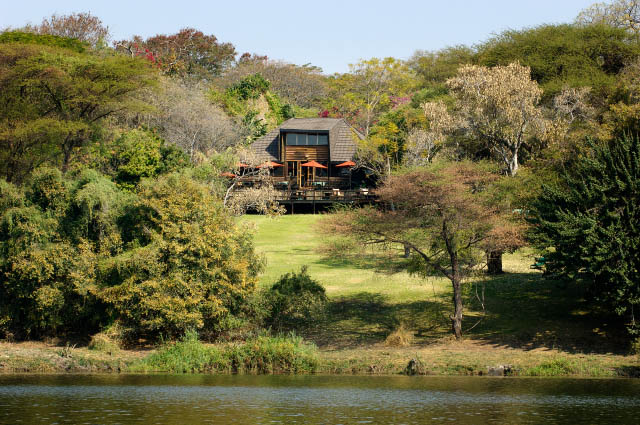 Kubu Lodge, on the banks of the Chobe River just outside the town of Kasane, is a small privately owned and run Lodge. No radio's, no television and no 5* prices, just the beauty of the Chobe River, the Tree's and the Birdlife for company.
With just 11 guest chalets, Kubu Lodge is a wonderfully tranquil place to stay and makes an ideal base for safaris into Chobe NP, boat trips on the Chobe river, or for an excursion across the border into Zimbabwe to visit Victoria Falls.
Rates:
US$465 for 2 people sharing a chalet, Full Board.
This rate includes 3 meals per day, laundry and 2 activities per day (game drive or boat cruise)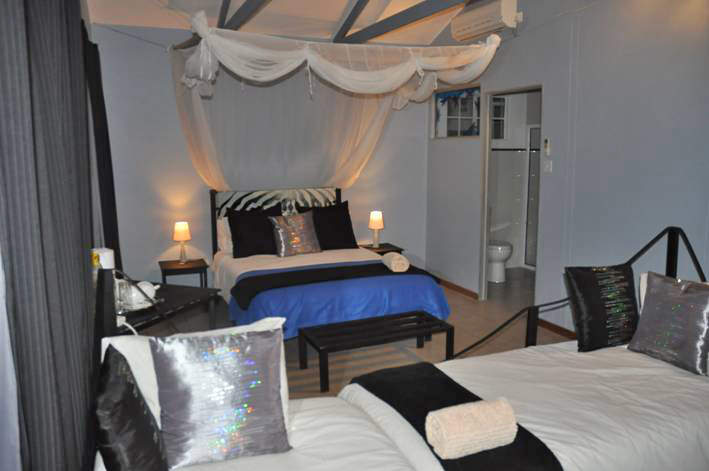 If you are want to make your safari budget stretch as far as possible, then The Old House represents great value for money and could be just the place you are looking for. 
The Old House is a small family owned and run guest lodge overlooking the Chobe River and within a short walk of the town centre. 
It's just a 10 minute boat cruise from the entrance to the Chobe National Park.
Offering 3 family rooms, 4 double rooms and 3 twin rooms.; The Old House has a restaurant and a bar and is a favourite spot for travellers to gather for a chat.
Rates:
US$95 per person sharing on a bed & breakfast basis.
The Okavango Panhandle is the main watercourse supplying the Okavango Delta. The Panhandle is the stretch of approximately 70km of the Okavango River, from where the river enters Botswana until it fans out into the alluvial plain of The Delta.
This area is wonderfully peaceful and is a great place to chill out. It is terrific for birders too.
Shakawe village and the nearby lodges can be reached by air or by road from Maun.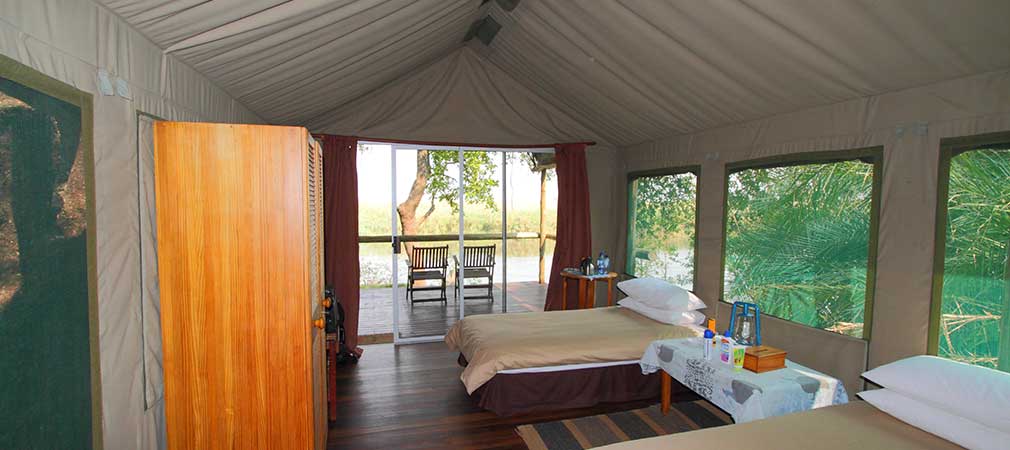 Xaro Lodge is located a few miles outside the village of of Shakawe, in north western Botswana and on the tranquil banks of the Okavango River.
Xaro is an 18-bed luxury Meru tented lodge. Nestling amongst giant Mangosteen trees and accessible only by boat, the lodge is home to a myriad of birds and makes a great base for a visit to the Tsodilo Hills.
Rates:
US$395 for 2 people sharing a room/tent on full board. Activities are not included.
A full day excursion to the Tsodilo Hills is US$120 per person.
A 3 hour boat cruise is US$35 per person.

Shakawe River Lodge is a privately owned luxury lodge, set on the banks of the Okavango River in North Western Botswana.
Shakawe River Lodge has ten air conditioned, luxury suites comprising three double suites with king size beds and seven twin bedded suites.
Rates:
3 night stay including all meals and boat trips on the river – US$750 per person sharing
3 night stay including all meals, boat trips and visit to Tsodilo Hills – US$830 per person sharing
Tsodilo Hills
A visit to the Panhandle would not be complete without an excursion to Tsodilo Hills,  a rocky outcrop about 40km to the west of the Panhandle.
The area is little visited and boasts fascinating cave paintings and walking trails.
Both Xaro Lodge and Shakawe River Lodge can arrange excursions to visit the Tsodilo Hills.
This is a mobile camping safari with a difference.
Embark on a journey by boat through the Okavango Delta from the Panhandle in the north down to Moremi in the south.
Spend your days exploring the Okavango channels and waterways by boat and on foot with our experienced professional guides and discovering the abundance of birds and wildlife this area has to offer.
During the day you'll be travelling by boat, stopping to explore areas of interest on foot, before ending the day in your camp on a private island whilst our friendly staff prepare a hearty dinner. The camp has all the creature comforts you'd expect – bucket shower, toilet, hot water and much more to make it a comfortable stay.
We use specially designed boats for travelling through the vast water world of the Okavango Delta. The Trans Okavango is fully serviced and includes all meals.
This unique Okavango journey is only available at certain times due to water levels.
Our suggested itinerary includes a visit to the remarkable bushman art at Tsodilo Hills and a full day game drive in Moremi Game Reserve.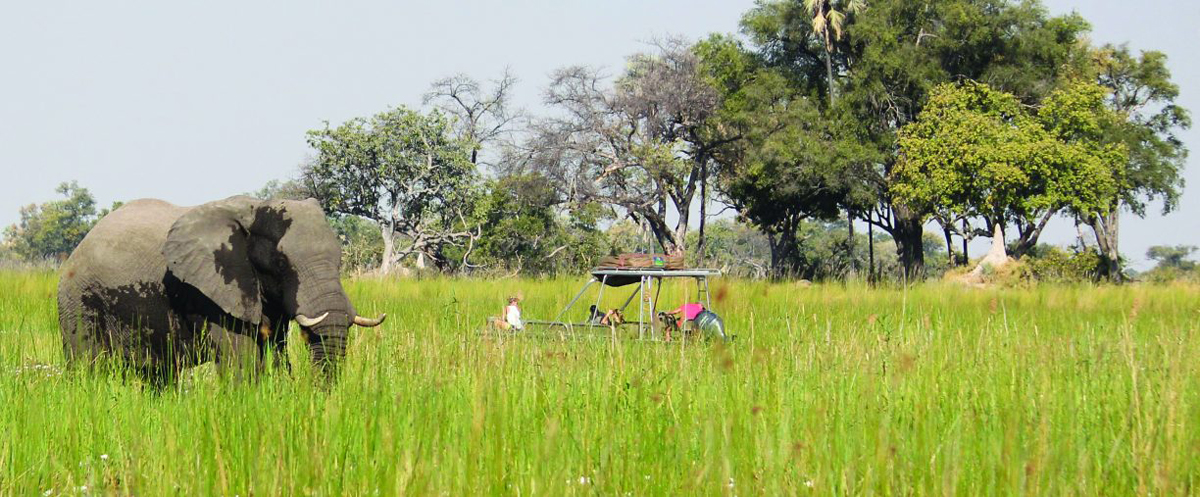 Suggested itinerary in brief
Day 1 – Upon arrival in Maun you will be met and transferred to Shakawe.
Day 2 – Visit Tsodilo Hills to see the amazing Bushman art.
Day 3 – Set off by boat on trans-Okavango expedition.
Days 4-6 – Trans-Okavango – boat trip and game walks.
Day 7 – Arrive at Thamalakane River Lodge
Day 8 – Full day game drive in Moremi Game Reserve
Day 9 – Safari ends after breakfast
Price:
US$4,360 per person sharing based upon the itinerary shown.
Of course it is possible to stay longer at Shakawe, extend the boat trip or add days on at the end.
Accommodation: 2 nights lodge or houseboat at Shakawe, 4 nights mobile camping in Delta, 2 nights Thamalakane River Lodge.
If you like the sound of this adventure but are not keen on camping we can replace the 4 nights camping with 4 nights in lodges, at extra cost.
If this kind of adventure appeals to you, then get in touch for more details.
Click here to 
or give us a call on    +44 7918162984
The waterways and islands of the Okavango Delta are one of the prime attractions for visitors to Botswana. 
The Okavango is produced by seasonal flooding. The Okavango River drains the summer (January–February) rainfall from the Angola highlands and the surge flows 1,200km (750mi) in around one month. The waters then spread over the Delta over the next four months (March–June).
The flood peaks between June and August, during Botswana's dry winter months, when the Delta swells to three times its permanent size, attracting animals from miles around and creating one of Africa's greatest concentrations of wildlife.
Camps in the Okavango Delta are referred to as either water based or land based. This is to differentiate between those that offer traditional game drives and those that concentrate on water based activities like mokoro rides and boat trips.  Both are likely to offer walking as one of the available activities.
To get the best from your visit to the delta we recommend that you stay at at least 2 camps; one water based and 1 land based. By doing this you will be able to enjoy the full delta experience.
There are lots of camps to choose from in the delta, with a wide range of prices. Here are a few of our favourites.

Chief's Island
Chief's Island, the largest island in the delta, was formed by a fault line which uplifted an area over 70 km long (43 mi) and 15 km wide (9.3 mi). Historically, it was reserved as an exclusive hunting area for the chief. It now provides the core area for much of the resident wildlife when the waters rise.
Chief's island is home to two of our favourite camps, Oddballs and Delta Camp. Located within walking distance of each other, these two camps are part of the same family.
A short flight from either Maun or Kasane will take you over the Delta to a private air strip on Chief's Island. From here it is just a short walk to Oddballs or a short mokoro ride to Delta Camp.
Which one you choose will probably depend on your budget, though each camp has a distinctive character of its own.
Accommodation is in large tents set on elevated wooden decks, and shaded by shelters or trees. Each tent is equipped with bedding, a storage trunk and a light. Beautiful outdoor showers and ablutions are en-suite. The central bar and lounge area has comfortable chairs and sofas, a selection of books and games, and raised viewing decks overlooking the sweep of the delta – the perfect place to sip a sundowner and watch the sun set over the palm trees, and view whatever wildlife may be visiting.
More upmarket than Oddballs, the guest rooms at Delta Camp are quirky to say the least.
Scattered in the forest of a large, beautiful and palm-studded island deep in the Okavango Delta, Delta Camp's chalets are designed and built to take advantage of the many indigenous, old-growth trees of the island forest. Built of natural materials and elevated off the forest floor, each chalet has hot and cold running water, a shower with a view, a variety of beds and areas in which to relax, mosquito netting and solar-powered electric lighting. Each chalet is individually designed and decorated to fit unobtrusively into its setting and to take advantage of the views of the surrounding bush and flood-plains, and each features the work of an indigenous artist
Game viewing on foot
The main activities at these 2 camps is walking and game viewing by mokoro; there are no game drives but the thrill of seeing game whilst on foot is very special indeed.
One thing that we really like about these camps is that they have a policy of 1 guide for every 2 guests. That means that you won't be grouped together with other guests, your walks will be private, just you and your guide.
Game of all sorts abounds: lion, leopard, buffalo, elephant, hippopotamus, crocodile, giraffe, all manner of antelope including the rare lechwe, tsessebe and sitatunga, otters, honey-badgers, the shy pangolin, and a variety of the smaller wild cats such as civets, servals and genets are amongst the many mammal species you may see.
A real wilderness experience
Something else that we love about these 2 camps is the option to head out on Adventure Trails. If you feel like a true wilderness experience this will appeal to you. Essentially a short expedition by mokoro into the further reaches of the Delta. All equipment and provisions are packed into your mokoro as you set off with your guide for an unforgettable wilderness experience. Your overnight camp will be your base for exploring the area on foot; your nights will be spent under the stars. You won't get closer to nature than this.
The standard or equipment provided for these trails varies depending on whether you are staying at Oddballs or Delta Camp; Oddballs is a bit more basic, Delta Camp more luxurious.

Green Season
01 Dec – 31 Mar
US$315 per person
Shoulder Season
01 Apr – 30 Jun & all of November
US$385 per person
High Season
01 Jul- 31 Oct
US$476 per person 
Green Season
01 Jul- 31 Oct
US$505 per person 
Shoulder Season
01 Apr – 30 Jun & all of November
US$745 per person
High Season
01 Jul- 31 Oct
US$900 per person 
Khwai Community Concession
Khwai Tented Camp
Perched on a raised deck, within the Okavango's community-run Khwai Concession, the camp has a beautiful lagoon front setting. With sweeping lagoon views connecting to the Khwai River, this beautiful camp seamlessly blends into the surrounding woodland area. Simple yet elegant, Khwai Tented Camp strikes the perfect balance between homely touches whilst not detracting from the wild environment.
The camp consists of six en suite tents all dotted along the lagoon for the utmost privacy. The camp preserves the romance of yester-year, a simpler life in harmony with nature. There are no permanent structures; everything can be removed to leave the wilderness exactly as we found it, minimizing our impact on the environment. As Khwai is a community-run concession all proceeds from tourism go directly to help the local people and projects through the Khwai Community Trust.
Besides the day-time drives which can feature Africa's big attractions – lion, cheetah, leopard, wild dog, elephant, buffalo, hippo and giraffe – you will be able to explore nature after sunset with a night drive.
Prices:
Green Season – Jan, Feb, Mar, Dec – US$ 580 per person sharing
Shoulder Season – Apr, May, Nov – US$ 685 per person sharing
High Season – 01 Jun – 31 Oct – US$ 970 per person sharing
Stays of 6 nights or more in a combination of African Bush Camps properties are entitled to discounts.
Rates include: all meals, drinks, game activities, laundry, transfers from airstrip
Khwai Bush Camp
Located on the eastern edge of Botswana's Okavango Delta, Khwai Bush Camp traces the border of the Moremi Game Reserve. A truly magical setting ideal for year-round wildlife encounters, the lodge is nestled amongst a forest of sycamore figs and leadwood trees on the banks of the Khwai River. The camp itself consists of four standard and two-family chalets dotted along the Khwai River where, from the sanctuary of a cool thatched interior and a veranda that overlooks the richest game viewing area in Botswana, you will be able to watch the magic of Africa unfold.
From the enchanting forests and undulating grasslands to lush floodplains and meandering lagoon, the varied ecosystems mean this is one of the most consistent areas for wildlife encounters year-round. Spend your days floating through the shallow waters of the Delta as the locals have done for centuries in a traditional mokoro or dugout canoe. Savour the utter tranquillity, only broken by the call of wildlife.
Prices:
Green Season – Jan, Feb, Mar, Dec – US$ 580 per person sharing
Shoulder Season – Apr, May, Nov – US$ 685 per person sharing
High Season – 01 Jun – 31 Oct – US$ 970 per person sharing
Stays of 6 nights or more in a combination of African Bush Camps properties are entitled to discounts.
Rates include: all meals, drinks, game activities, laundry, transfers from airstrip
Not as well known, or as frequently visited, as the Okavango Delta or Chobe National Park, the Central Kalahari is well worth including in your Botswana safari.
The landscapes here are completely different, much drier and more wide open; this is the home of the famous black-maned Kalahari lions and the San Bushmen.
This owner run lodge is located on the northern border of the Central Kalahari Game Reserve in Botswana. Classically African, relaxed and informal accommodation is offered in both Luxury & Superior tents; accommodating a maximum of 20 guests in 9 spacious tents. (1 is a family unit accommodation 4 people)
Here you can enjoy guided game drives or explore the area on foot in the company of San bushmen.
Prices
Low Season – 01 Nov – 30 Jun – US$458 for adults / US$229 for children
High Season – 01 Jul – 31 Oct – US$556 for adults / US$278 for children
Don't forget to talk to us about including Central Kalahari in your Botswana safari.
Tau Pan is the first semi-permanent camp inside the Central Kalahari Game Reserve and offers truly incredible views from the elevated ridge of an ancient sand dune, an unusual experience in a land as flat as Botswana, and overlooks the famous Tau Pan – recognised for its stark beauty and remoteness.
Activities offered at Tau Pan are game drives, day trips to the well-known Deception Valley, Sunday, Piper and Passarge Pans, star gazing, and nature walks with Bushman trackers.
Prices
US$ 577 per person sharing
US$ 220 single room supplement
US$ 288 children under 16 years of age
Prices are the same throughout the year, except at Christmas when there is a US$ 88 per night supplement between 20 Dec – 04 January.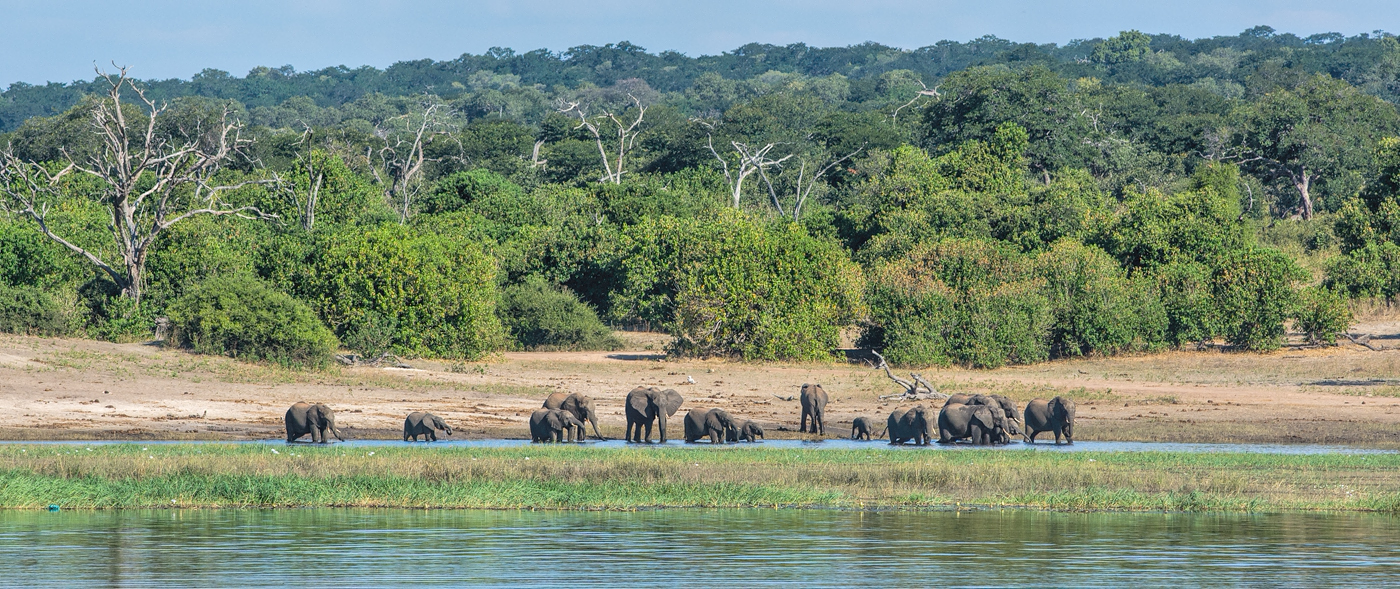 This is the real deal, your own private mobile camp in the African bush; and there's no better place to experience it than Botswana.
Because Botswana has designated 'wilderness campsites' set aside for local safari operators, you can be sure that your camps will be exclusively for you.
A fully serviced mobile safari means that everything is done for you. Our camp crew travel ahead in a separate vehicle and erect the camp ready for our arrival; they also prepare all the meals.  You'll travel with your guide in a custom built game vehicle.
Our tents are large, with proper beds and private WC and shower facilities.
Because it is your safari, you can choose how long you want it to be, where you'd like to go and how many nights you'd like to stay.
Our most popular itinerary starts in Maun and ends in Kasane, visiting Moremi, Savute and Chobe National Park. Because of the work involved in moving and setting up camp, we strongly recommend staying at least 2 nights in each place; if you want to stay longer that is no problem.
Prices
A sample price for an 8 night safari, based on 3 nights Khwai (Moremi), 3 nights Savute and 2 nights Chobe is $3,780 per person.
Get in touch
If any of our suggestions or itineraries stimulate the travel bug in you and get your feet itching then just drop us an email or give us a call.  We look forward to hearing from you.
or give us a call on 
+44 7918162984