Zimbabwe has long regarded as one of the best destinations in Africa for lovers of wildlife and wilderness. Even though for a number of years, for political reasons, many people were reluctant to visit it remained a firm favourite with those seeking an authentic African wilderness experience.
The political situation has improved significantly and Zimbabwe now finds itself at the top of many people's wish list.
The diversity of National Parks is perhaps unmatched by any other destination. In addition to game viewing by vehicle walking safaris are possible in most parks and in Matobo NP you can track rhino on foot.
The Zambezi river offers a wide choice water based activities with canoeing, white water rafting or maybe a relaxing sunset cruise.
Matusadona NP, on the shores of Lake Kariba, is great for both walking and game viewing by boat, whilst Gonarezhou NP, on the border with Mozambique, is one of the very best places to immerse yourself in the bush, combining remoteness with spectacular scenery.
With so much else to talk about, we almost forgot to mention the awe inspiring Victoria Falls. Almost.
Zimbabwe has international airports at Harare and Victoria Falls.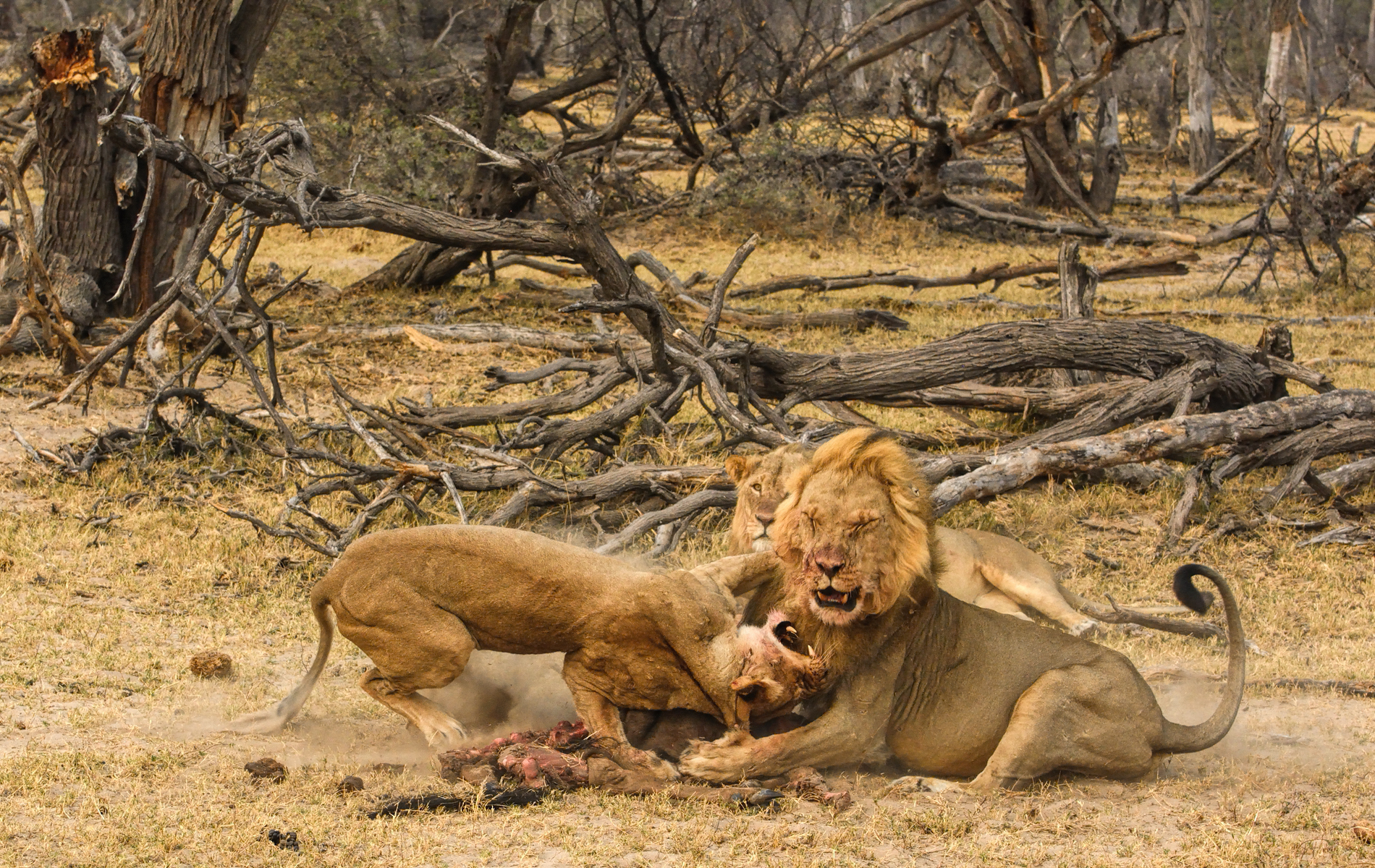 Hwange
Matobo
Mana Pools
Victoria Falls
Matusadona
Gonarezhou
Hwange
Hwange National Park (formerly Wankie Game Reserve) is the largest game reserve in Zimbabwe and lies in the west, between Bulawayo and Victoria Falls.
Hwange National Park hosts over 100 mammal and 400 bird species and is one of Africa's finest havens for wildlife and is home to vast herds of elephant, buffalo, zebra and has a very large concentration of giraffe.
All Zimbabwe's specially protected animals can be found in Hwange and it is the only protected area where gemsbok and brown hyena occur in reasonable numbers.
The population of African wild dogs to be found in Hwange is thought to be of one of the larger surviving groups in Africa today, along with that of Kruger National Park and Selous Game Reserve. Other major predators include lion, leopard, spotted hyena and cheetah.
There is no natural year round permanent source of water in Hwange and the park and its wildlife depend on a system of pumps and pans for their water during the dry season. These pans are the focal point for large congregations of animals and provide many outstanding opportunities for photography.
Due its size, Hwange has many varied landscapes and habitats and it is well worth dividing your stay between 2 camps or lodges located in different areas of the park.
Hwange is easily accessible by road from Victoria Falls and Bulawayo (journey time approx 4 hours). Alternatively there are a number of airstrips for those who prefer to fly in.
An excellent network of internal flights – both scheduled and chartered – makes it easy to combine Hwange with other parks. 
It's proximity to Victoria Falls and Bulawayo means that Hwange can easily be combined with accommodation in Victoria Falls, Zambezi NP and Matobo NP; Chobe NP in Botswana is also easily combined with Hwange.
If you are flying from overseas to visit Hwange the most convenient airport to use is Victoria Falls.
Matobo
Mana Pools
Victoria Falls
Matusadona
Gonarezhou
Recommended lodges & camps
Gorges and Little Gorges is a mere 30 minute drive from Victoria Falls town and offers a unique Victoria Falls experience from a peaceful and idyllic base on the edge of the Batoka Gorge – a great place to stay for visiting Victoria Falls and as the start point for your safari adventure.
Gorges is famous for its spectacular views, described by some as the best in southern Africa; whether you are enjoying a cup of coffee at sunrise on your private veranda or a cool refreshment by the pool at sunset, you will be constantly drawn to the stunning vistas provided by the Batoka Gorge and the rushing waters of the Zambezi River below.
Victoria Falls Safari Lodge
The sunset-facing Victoria Falls Safari Lodge overlooks the African bushveld, which includes a waterhole frequented by elephants, buffalo and kudu. Guests may enjoy the breath-taking view from their rooms, MaKuwa-Kuwa Restaurant, The Buffalo Bar or the swimming pool.
Victoria Falls Safari Lodge is built of thatch and timber and rises several levels, giving the impression of a vast open-plan tree house, with all rooms facing out towards the Zambezi National Park. All rooms have sliding glass doors opening onto a private balcony.
Note: this is a large lodge with 72 rooms.
Buffalo Bar
Included on Heineken's "Great Bars of the World" list, it is the best spot in Victoria Falls to enjoy a sundowner as you soak up the spectacular views of an African sunset and the lodge's wildlife-rich waterhole.
Amalinda Lodge
Seamlessly integrated into the rocks and kopjes of of the Maotobo Hills, Amalinda Lodge has to be one of the most unique places you can stay in Africa. This exclusive, privately owned safari lodge is located in the UNESCO World Heritage Site of the Matobo Hills, the oldest National Park in Zimbabwe, tucked away into an ancient Bushman's shelter.
The granite domes and castle kopjes echo the essence of tranquillity and majesty of untamed Africa, where wildlife and birdlife species thrive in prolific numbers.
Famous for its healthy population of endangered rhino – which you can experience the thrill of tracking on foot –  the area is one of the most sought after destinations within Zimbabwe.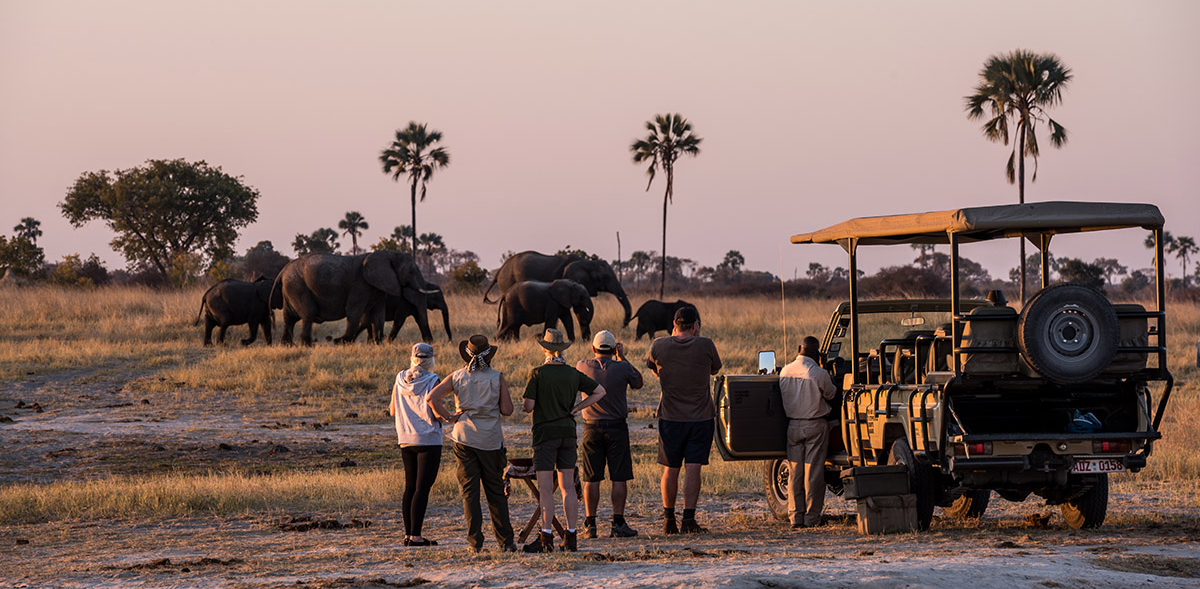 The Hide has set a bar of excellence and luxury for Hwange National Park accommodation and is consistently voted as one of the "Best Safari Lodges" in Zimbabwe. Located in a prime position in the Park, The Hide offers its guests fantastic game viewing right on your doorstep; a variety of daily activities to suit everyone and welcoming staff, who make you feel like family from the minute you arrive.
The Hide sleeps up to 20 guests in ten comfortable and spacious deluxe, family deluxe and honeymoon deluxe tents. The tents have a myriad of different configurations with indoor and/or outdoor bathtubs and showers. They are fan cooled for your comfort in summer and have extra warm blankets and hot water bottles for the cool winter months. Each has a private veranda from where guests may be entertained by the comings and goings of a large variety of game at the waterhole.
The Dove's Nest
Overlooking the open tree-lined vlei and pan where giraffe and elephants come down to drink, The Doves Nest provides you with a romantic African fairytale setting, where you can sleep out in the vast openness of the wild and immerse yourself in the sights and sounds of the bush that surround you.
There is something quite special about the wide expanse of the African sky and with just the stars, moon and occasional call from the wild, to keep you company, you are in for a treat for your sleep out at The Hide.
There is no extra charge for your sleep-out in The Dove's Nest but it is subject to availability and should be booked in advance.
Camp Hwange reverts back to the concept the original safari, where activities centred on being immersed in the wild, walking being the main activity. During walks with well trained and experienced guides you will track and follow some of the most feared animals of Africa, secure in the knowledge that your guides and trackers are competent in all aspects of this exciting adventure. 
Camp Hwange has 8 chalets overlooking a permanent waterhole. Each chalet is furnished with stylish simplicity and has en-suite bathroom facilities. The chalets enjoy clear views of the waterhole so that if you wish you may observe the animals in Africa, in their natural habitat from the privacy of your own space.
Images from our recent stay at Camp Hwange
If you are looking for an exciting safari destination – in a remote and exclusive area – with great game viewing all year round, and one that actually makes a difference to the local communities and wildlife, then you need look no further than Bomani.
Situated on a 5000 acre private reserve within the Ngamo Forest Area Bomani is just 1 hour by plane / 4 hours by road from Victoria Falls or Bulawayo. Alternatively you can transfer by road to Dete and then take the Elephant Express rail car.
All the tents have a private en-suite bathroom, hot running water and electricity by diesel/solar generator.
Friendly and knowledgeable guides will take you on walks or drives inside this wild and remote region of Hwange National Park where you can expect to see lions, cheetahs, as well a large herds of elephant and buffalo.

Chilo Gorge Safari Lodge has been designed to bring the outside in; the lodge is light and spacious, simple and elegant, yet with all the comforts of home, to provide you with a haven from the heat of the day, a place to rest and recoup, and to prepare for your next big adventure.
The great African wilderness is never far away. You can watch elephants, hippos and crocodiles cooling off in the waters of the river from the viewing deck.
Luxurious guest rooms sleep two and comes with a spacious en-suite bathroom. A private balcony and seating area commands superior views over the river and the park opposite.
Chilo Gorge Tented Camp
An intimate camp overlooking the floodplains of the Runde River, comprising 4 large A-frame tents, configured as twin rooms, each with a private en-suite 'bathroom'.
Meals are enjoyed under the cool shade of a Nyala berry, but there is also a mess tent if the weather is inclement.
It provides a wonderful location from which to do game walks and is located close by to a number of the best water pans in Gonarezhou.
Chilo Gorge Tented Camp  combines well with a few nights at the lodge.
Zambezi Expeditions
An exclusive mobile camp overlooking the majestic Zambezi river, Zambezi Expeditions showcases one of the most magnificent settings in Mana Pools National Park.
Comfortable yet classic, the camp offers the kind of intimacy with nature that can only be achieved by immersing yourself in the heart of the wild.
Set under the shade of winter thorn and ebony trees, each tent has en-suite bathroom facilities.
With unique access to the Zambezi River, your days will be filled with adventurous canoeing safaris, tracking game along the shorelines by foot, and fishing for the iconic tiger fish. An absolute must, however, is a game drive in an open 4×4 along the flood plains and into the heart of the Mana Pools UNESCO World Heritage Site.
Kanga Camp
Situated within a private concession in Mana Pools NP, Kanga Camp is a completely untouched wilderness paradise offering an unspoiled and authentic safari experience away from the traditional riverside camps of Mana Pools National Park.
Apart from the Zambezi River many miles away, Kanga Pan is a sole source of water in dry season, and draws the wildlife right to your doorstep.
The camp comprises of six tents all raised on a wooden platform for an elevated view over the Kanga Pan. All tents are complete with en suite bathroom, flushing toilet, outdoor showers, hot running water and a secluded veranda.
Lots of guests don't even bother with game drives, preferring to relax under the shade of a mahogany tree and soak in the uninterrupted views of Kanga Pan's hyperactive watering hole – the perfect "armchair safari".
Matusadona National Park / Lake Kariba
Rhino Safari Camp
Rhino Safari Camp is a small rustic safari camp set in a wild and remote area within the Matusadona National Park on the shores of Lake Kariba.
Hosting a maximum of fourteen guests in seven twin bedded rooms, our guests are offered a highly personalised safari experience that blends comfort and wildness. We are a permanent camp open year round.
The emphasis is on providing guests with their creature comforts without losing touch with the natural surroundings. Rooms are elevated wooden platforms with extended thatched roofs with comfortable twin beds, private bathroom and magnificent views of the lake.
Game activities include game drives, game walks and cruises on the lake.
Bumi Hills Safari Lodge
Set on a range of remote hills in one of Zimbabwe's finest wilderness locations, Bumi Hills Safari Lodge is utterly captivating. With the Zambezi escarpment as its backdrop, this haven of serenity overlooks the eternal shimmering waters of Lake Kariba below. Not only is Kariba's shoreline wildlife-rich, but the lodge's proximity to Matusadona makes for endless game-viewing opportunities on a luxury safari, all led by our passionate team of guides.
Each of the ten stylish suites boasts spectacular views over the lake and its surrounds. A truly immersive Zimbabwe wildlife experience, you will wake to the sound of birdcalls echoing across the water and uninterrupted vistas of the lake.
With the lake as your playground, spend your days cruising on the water or meandering the surrounds on a walking safari. Venture deeper into the bush in search of fossilised dinosaur footprints or go on an enthralling game drive in search of the Matusadona lions.
Get in touch
If any of our suggestions or itineraries stimulate the travel bug in you and get your feet itching then just drop us an email or give us a call. We look forward to hearing from you.