Zimbabwe has long regarded as one of the best destinations in Africa for lovers of wildlife and wilderness. Even though for a number of years, for political reasons, many people were reluctant to visit it remained a firm favourite with those seeking an authentic African wilderness experience.
The political situation has improved significantly and Zimbabwe now finds itself at the top of many people's wish list.
The diversity of National Parks is perhaps unmatched by any other destination. In addition to game viewing by vehicle walking safaris are possible in most parks and in Matobo NP you can track rhino on foot.
The Zambezi river offers a wide choice water based activities with canoeing, white water rafting or maybe a relaxing sunset cruise.
Matusadona NP, on the shores of Lake Kariba, is great for both walking and game viewing by boat, whilst Gonarezhou NP, on the border with Mozambique, is one of the very best places to immerse yourself in the bush, combining remoteness with spectacular scenery.
With so much else to talk about, we almost forgot to mention the awe inspiring Victoria Falls. Almost.
Zimbabwe has international airports at Harare and Victoria Falls.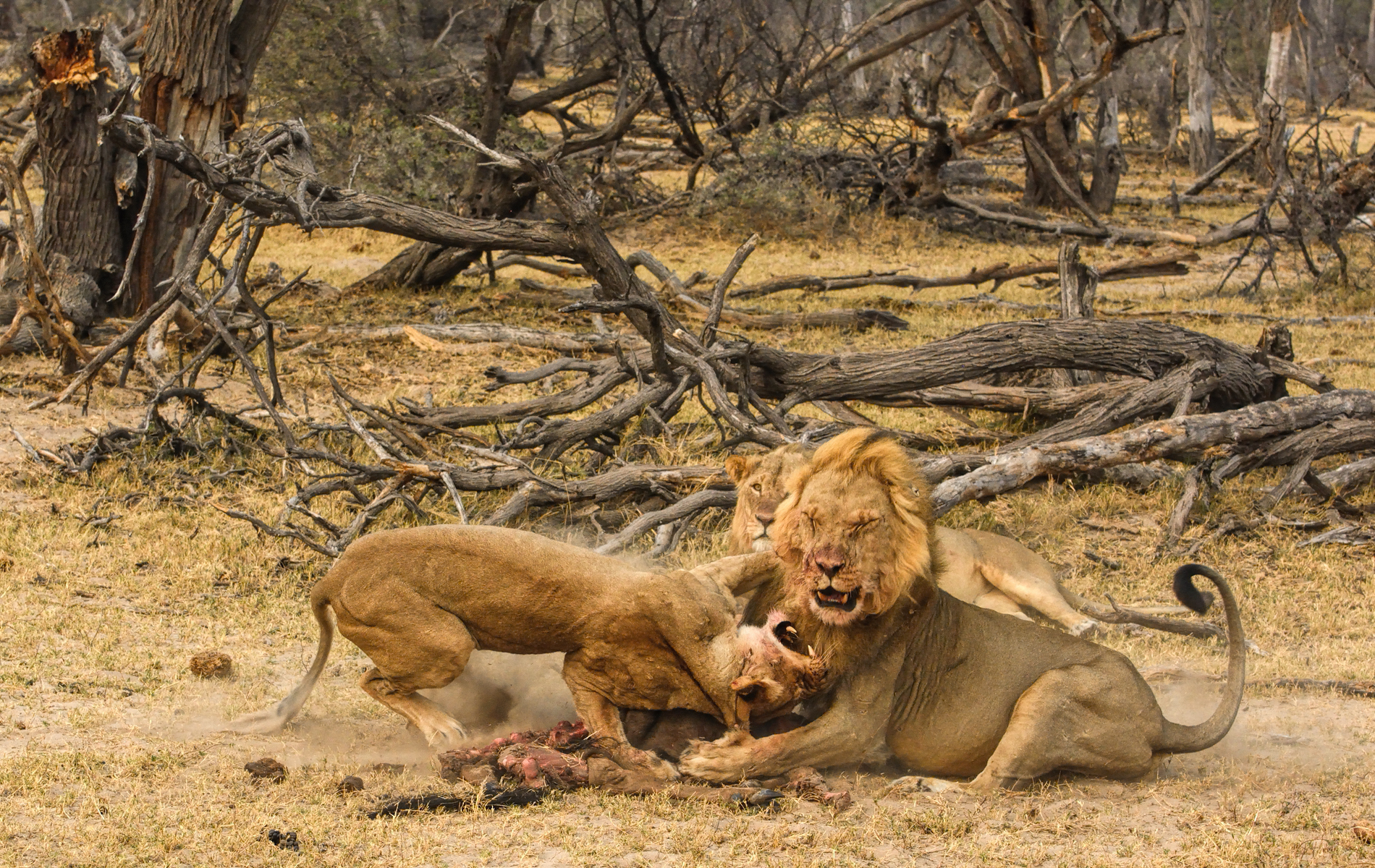 Hwange
Hwange National Park (formerly Wankie Game Reserve) is the largest game reserve in Zimbabwe and lies in the west, between Bulawayo and Victoria Falls.
Hwange National Park hosts over 100 mammal and 400 bird species and is one of Africa's finest havens for wildlife and is home to vast herds of elephant, buffalo, zebra and has a very large concentration of giraffe.
All Zimbabwe's specially protected animals can be found in Hwange and it is the only protected area where gemsbok and brown hyena occur in reasonable numbers.
The population of African wild dogs to be found in Hwange is thought to be of one of the larger surviving groups in Africa today, along with that of Kruger National Park and Selous Game Reserve. Other major predators include lion, leopard, spotted hyena and cheetah.
There is no natural year round permanent source of water in Hwange and the park and its wildlife depend on a system of pumps and pans for their water during the dry season. These pans are the focal point for large congregations of animals and provide many outstanding opportunities for photography.
Due its size, Hwange has many varied landscapes and habitats and it is well worth dividing your stay between 2 camps or lodges located in different areas of the park.
Hwange is easily accessible by road from Victoria Falls and Bulawayo (journey time approx 4 hours). Alternatively there are a number of airstrips for those who prefer to fly in.
An excellent network of internal flights – both scheduled and chartered – makes it easy to combine Hwange with other parks. 
It's proximity to Victoria Falls and Bulawayo means that Hwange can easily be combined with accommodation in Victoria Falls, Zambezi NP and Matobo NP; Chobe NP in Botswana is also easily combined with Hwange.
If you are flying from overseas to visit Hwange the most convenient airport to use is Victoria Falls.
Matobo
Situated in the magnificent Matopos Hills and covering an area of 44,500 hectares Matobo/Matopos National Park was established in 1953 awarded Unesco World Heritage Status in June 2003.
The Park includes an Intensive Protection Zone where a large population of Black and White Rhinoceros are successfully breeding.
Matobo/Matopos meaning 'bald heads' was the name chosen for the area by the great Ndebele King, Mzilikazi. He is buried in the hills just a short distance from the park. The Park is also the site of the grave of Cecil John Rhodes. He is buried at the summit of Malindidzimu -' hill of benevolent spirits'. He referred to this hill as having a 'View of the World'.
The area has great spiritual and cultural significance to the local people and there are many sites within the park where important ceremonies still take place.
The Park is home to a wide variety of animal species including: black and white rhinoceros, zebra, wildebeest, giraffe, kudu, eland, sable, klipspringer, leopard, hyena, cheetah, hippo, warthog, rock dassies, waterbuck, wildcat, springhare, common duiker, crocodiles, baboons and monkeys.
Located close to Bulawayo, Matobo can be easily combined with Hwange NP and Victoria Falls. Other parks can be easily reached using internal flights.
If you are flying from overseas to visit Matobo NP the most convenient airport to use is likely to be Victoria Falls, although Harare can work equally well.
Mana Pools
In 1984, Mana Pools became the first national park in Zimbabwe to be designated a UNESCO World Heritage Site.
Mana Pools is a located by the lower Zambezi River in Zimbabwe where the flood plain turns into a broad expanse of lakes after each rainy season. As the lakes gradually dry up and recede, the region attracts many large animals in search of water, making it one of Africa's most renowned game viewing regions; bursting with a profusion of birds and animals, especially during dry season from June to October.
Four main pools and several smaller pools are scattered along the river course and the cliffs hanging over the river and floodplains provide shelter to a large and varied wildlife population. Long Pool is the largest and extends some 6km in a west to east direction. Lovely big old trees provide a shady canopy with sparse undergrowth. This makes for easy walking and is one of the reasons why this area is perfect for walking safaris.
The park stretches across 2000km² of prime Zambezi riverfront vegetation, much of which is inaccessible except on foot and as a result is completely unspoilt. The landscape includes islands and sandbanks fringed by dense forests of baobabs and indigenous trees, as well as the rugged Zambezi escarpment.
In the south Chitake Springs is of vital importance to the interior of the park as the springs form a crucial source of water as the river systems dry up during the dry season. Wildlife congregate around this precious water resource and walking safaris to the area are intensely exciting and full of action.
Because it offers water based and land activities Mana Pools is a park ideally suited to stays of 4-8 days. Visitors will often divide their time between a camp situated one the banks of the Zambezi and another in the interior of the park.
Visitors can either book a private mobile tented camp, usually economical for groups of 4 or more, or stay in one of the more established camps.
Although Mana Pools NP can be reached by road, most visitors find it more convenient to fly into one of the park's airstrips. We make use of charter flights to link Mana Pools with other parks in Zimbabwe.
If you are flying from overseas to visit Mana Pools the most convenient airport to use is Harare.
Victoria Falls
Victoria Falls and Zambezi National Parks are situated on the western tip of Zimbabwe.
The Falls, known by the local Kololo tribe as Mosi oa Tunya- The Smoke that thunders, is one of the "Seven Wonders of the World" and while it is neither the highest nor the widest waterfall in the world, it is classified as the largest, based on its width of 1,708 metres (5,604ft)and height of 108 metres (354ft) resulting in the world's largest sheet of falling water.
As well as the natural wonder of the falls itself, the town of Victoria Falls is renowned as a centre for activities like white water rafting, Zambezi sunset cruises, helicopter flights and bungy jumping.
The area around Victoria Falls, in particular the Batoka Gorge, is very good for bird life.
Victoria Falls has an International Airport and is one of the main entry points into Zimbabwe, giving easy access to Hwange NP.
It is also a good access point for Chobe NP which is only a short distance away, across the border in Botswana.
Matusadona
Matusadona is a game reserve in northern Zimbabwe that boasts a unique combination of pristine and rugged wilderness, together with the water frontage on Lake Kariba.
It is one of the last remaining sanctuaries of the endangered black rhinoceros and is commonly recognized as having the second largest concentration of wild lions in Africa after Tanzania's Ngorongoro Crater.
Relatively poor accessibility by road and extremely harsh internal network of roads keep the crowds and traffic low. It can be reached more easily by boat from Kariba and by light aircraft.
Many of the animals rescued during Operation Noah, when Lake Kariba was filling (following the construction off the Kariba Dam) were released into Matusadona, which now holds strong populations of most mammals occurring in the Zambezi valley. Buffalo are especially prominent and herds of up to 1,000-strong often congregate along the shoreline in the dry season.
Matusadona is an ideal place to get out of your game vehicle. As well as being popular for foot safaris one of the real highlights of any visit is the chance to take a boat safari on the lake; giving you a wonderful viewpoint from which to enjoy the wildlife and, especially, the prolific bird life.
Because the accommodation we use at Matusadona is located either on the lake shore or on an island, the most convenient way to reach Matusadona is by charter flight. In some cases, after arriving at the airstrip you will be transferred by boat to your accommodation.
If you are flying from overseas to visit Matusadona the most convenient airport to use is Harare.
Gonarezhou
Located in south-eastern Zimbabwe, Gonarezhou is the country's second largest national park (5,053km²) after Hwange and also one of the country's least visited.
Its habitat features beautiful spreads of mahoganies, ironwoods and tall acacia albida trees, amongst which the bird-life is prolific, particularly after the rains. The game-viewing is good, but it is the sense of being in a truly unspoilt wilderness that draws visitors. 
One of the park's outstanding highlights is the impressive red sandstone Chilojo Cliffs.
Gonarezhou borders onto South Africa's Kruger National Park and Mozambique's vast Limpopo National Park. Together these three huge parks go to make up a truly vast wild area known as the The Great Limpopo Transfrontier Park covering around 35,000km², an area similar to the size of the Netherlands.
It is possible to reach Gonarezhou by road, but the drive is long and the road is rough so most of our clients choose to fly in to either Mahenye or Chipinda airstrip. 
If you are flying from overseas to visit Gonarezhou the most convenient airport to use is Harare, as charter flights from here to Gonarezhou are generally cheaper than those from Bulawayo or Victoria Falls.
Safari ideas
Here are just a few suggestions, based on safaris that have worked well for past clients. They are not set in stone and can be easily amended to suit your requirements; changing lodges or duration. Or we can just start with a clean sheet pf paper.
Why not get in touch to discuss your ideas with us, there's nothing we enjoy more than talking about Africa.
Then we can get to work on designing a very special safari just for you.
Elephant, an African Icon
10 nights / 11 days
starts Kasane, Botswana / ends Victoria Falls,Zimbabwe
Not only is the elephant an African icon; from a photographic point of view, they are the ideal subject.
They are reasonably easy to spot, they are always busy, they do not run away when you approach them; yet getting great photos put your camera skills to the test.
4  nights Ngoma Safari Lodge – Chobe NP
2 nights Gorges Lodge – Victoria falls
2 nights Bomani Tented Lodge – Hwange NP
2 nights Nehimba Lodge – Hwange NP
9 nights / 10 days
starts Bulawayo / ends Victoria Falls
Prices from £2,100 per person for a family of 2 adults & 2 children. (excluding international flights)
An safari packed full of activity and cultural experiences. Tracking rhino, game viewing and the awe inspiring Victoria Falls are just some of the highlights.
3 nights Matobo NP
3 nights Hwange NP
3 nights Zambezi NP 
Victoria Falls, Hwange NP & the mighty Zambezi
9 nights / 10 days
starts and ends Victoria Falls
Combine the awe inspiring Victoria Falls with Zimbabwe's largest game park, Hwange NP, and 2 nights on the banks of the Zambezi river
1 night Gorges Lodge – Victoria falls
3 nights Bomani Tented Lodge – Hwange NP
3 nights Nehimba Lodge – Hwange NP
2 nights Zambezi Sands River Camp – Zambezi NP
Jewels of Zimbabwe
11 nights / 12 days
starts and ends in Harare
A great safari for photographers, wildlife enthusiasts and lovers of the African bush.
Mana Pools and Gonarezhou really are the jewels of Zimbabwe as well as being are two of the best national parks in Africa.
This amazing safari gives you the chance to experience not just game drives, but also game walks, canoeing on the mighty Zambezi river and an authentic mobile tented camp in Gonarezhou.
2 nights Kanga Camp – Mana Pools NP
4 nights Zambezi Expeditions – Mana Pools NP
3 nights private moble camp – Gonarezhou NP
2 nights Chilo Gorge Safari Lodge – Gonarezhou NP
Highlights of Zimbabwe
13 nights / 14 days
starts Victoria Falls, ends Harare
3 of Zimbabwe's premier National Parks and the natural wonder of the Victoria Falls.
2 nights Lokuthula Lodge – Victoria Falls
2 nights Camp Hwange – Hwange NP
2 nights Somalisa Camp – Hwange NP
3 nights Rhino safari Camp – Matusadona NP
4 nights Zambezi Expeditions – Mana Pools NP
The Safari of a Lifetime
16 nights / 17 days
starts Kasane, Botswana, ends Harare, Zimbabwe
4 nights at Ngoma Safari Lodge – Chobe NP
2 nights at Little Gorges Lodge – Victoria Falls
3 nights at Somalisa Camp – Hwange NP
2 nights at Camp Amalinda – Matobo NP
3 nights private mobile camp – Gonarezhou NP
2 night Chilo Gorge Safari Lodge – Gonarezhou NP
Remember
These are just suggestions based on what has worked well for previous guests, you may wish to do something different. In which case you could use our suggestions as a starting point and then make your alterations, or we could simply start with a clean slate. It is entirely up to you.
If you'd like to discuss ideas for your safari in Africa we'd love you to get in touch; either by email or by telephone.
or give us a call
+44 7918162984