One of the iconic safari destinations, Tanzania is home to some of Africa's largest, and most famous, game reserves and offers wonderful safari experiences.
The Serengeti and Ngorongoro Crater will always deliver amazing game viewing, although at times they can feel a bit crowded. If you prefer a quieter safari experience then check out Selous and Ruaha National Parks; wildlife is still excellent but you'll encounter few other vehicles.
Travel further west and you'll encounter the massive gatherings of buffaloes and hippos that make Katavi NP so special and the chimpanzees of Mahale Mountains NP.
Africa's highest mountain, Mt Kilimanjaro, is a magnet for those seeking to challenge themselves while the sandy beaches of Zanzibar offer a perfect escape for those who'd rather not.
Tanzania has international airports at Dar es Salaam and Arusha (Mt Kilimanjaro International)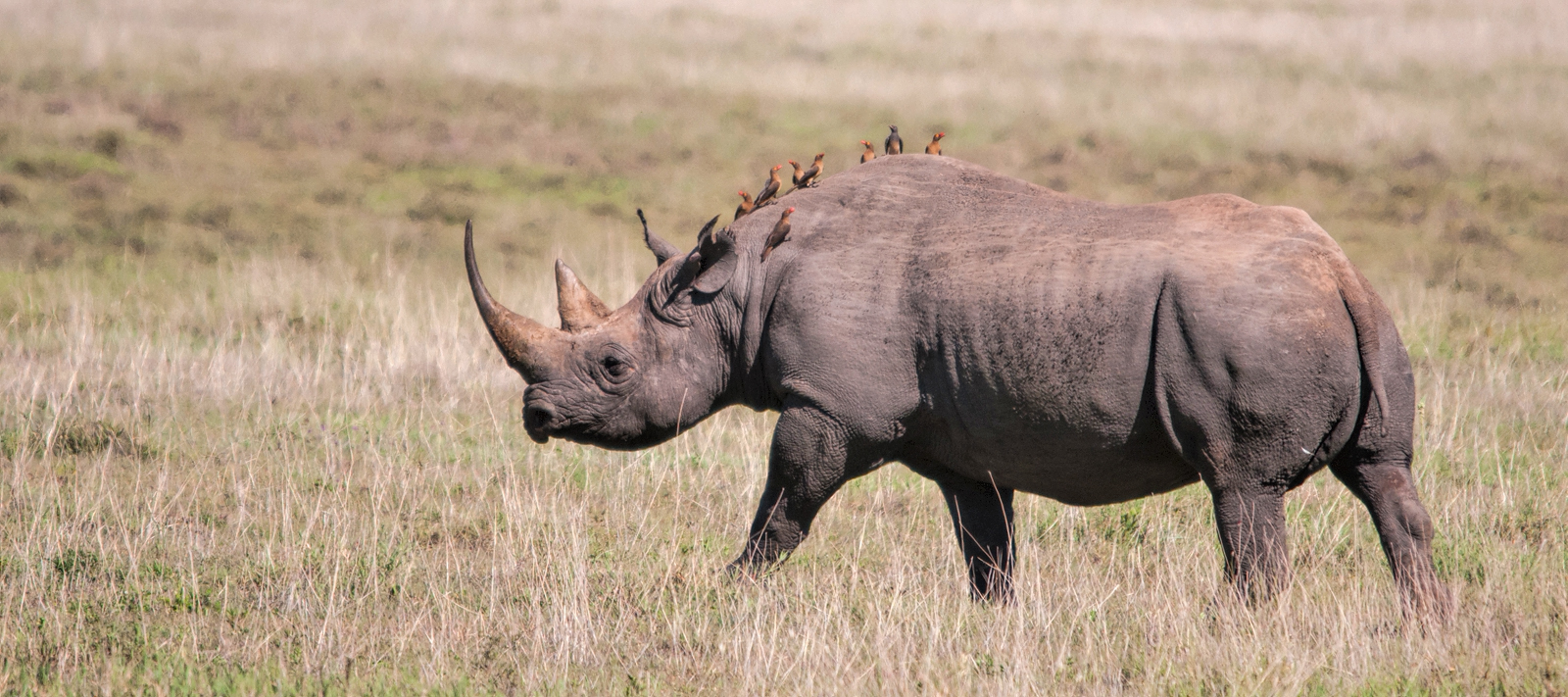 Lake Manyara
Size: 330 sq km (127 sq miles), of which up to 200 sq km (77 sq miles) is lake when water levels are high.
Location: In northern Tanzania approximately 1.5 hours (126km/80 miles) west of Arusha along a newly surfaced road, close to the ethnically diverse market town of Mto wa Mbu.
Because Lake Manyara is on the way from Arusha to Ngorongoro and Serengeti it tends to get a lot of traffic, with many safari companies using it as a filler.
In terms of animal viewing Lake Manyara is mediocre. It used to be renowned for tree climbing lions but in the absence of such a sighting the remaining game does not often excite.  However, where Lake Manyara excels is in its bird life. The lake itself attracts a wide variety of water birds and the surrounding forests are teeming with an amazing number of species. Our preference is to include Lake Manyara for clients and groups that are keen on bird life but to omit from other itineraries.
Ngorongoro
The Ngorongoro Conservation Area (NCA) is not a National Park, it is a conservationa area and a UNESCO World heritage Site located 180 km (110 mi) west of Arusha. 
Ngorongoro Crater, inside the NCA, is recognized as one of the Seven Natural Wonders of Africa.
For such a compact area the Ngorongoro Crater has incredibly prolific wildlife including the Big Five.
Because it is such a small area and such an icon of Tanzania's northern circuit it does get horribly crowded with Land Cruisers almost bumper to bumper in some places and stacked 3 deep whenever there is a significant sighting. Despite this it is hard to omit it from a first time visitor's itinerary. 
Serengeti
Size: 14,763 sq km (5,700 sq miles).
Location: 335km (208 miles) from Arusha, stretching north to Kenya and bordering Lake Victoria to the west.
The name "Serengeti" is an approximation of the Maasai word siringet, which means "the place where the land runs on forever."
Serengeti is Tanzania's oldest National Park, the flagship of the country's safari industry and a must for any first time visitor to Tanzania. As such it attracts huge numbers of visitors but the park's sheer size means that there is plenty of space for everyone and although key sightings do draw a lot of vehicles it is not difficult to get away from the crowds.
The majority of visitors to the Serengeti tend to stay in the central area, where most of the lodges and camps are.
At almost any time of year the Serengeti offers visitors a magnificent game viewing experience, except for the rainy months (Mar/Apr/May). For those wishing to witness the annual wildebeest migration as it travels northwards there excellent camps in all key locations from Ndutu in the southwest, through Grumeti in the Central Serengeti to Serengeti Mara and the Mara River in the north.
Accommodation is not as prolific as in Masai Mara so it makes sense to book as far in advance as you are able to make sure you secure the camp you want on the dates you want.
Tarangire
Location: 118 km (75 miles) southwest of Arusha.
Tarangire's landscapes are notable for the abundance of Baobab trees that seem to be everywhere. 
One of the main features of the park is the seasonal Tarangire River, which draws animals from nearby Lake Manyara in the dry season. Tarangire has excellent birdlife a huge numbers of elephants and a good variety of cats.
Few visitors spend any length of time in Tarangire and most do not get very far from the main gate which is a shame because it is a beautiful park and, with its proximity to Arusha, makes a nice gentle introduction to a Tanzanian safari. 
There are some lovely camps beside the Tarangire River, both inside and just outside the park.
Mikumi & Udzungwa Mts
These two parks are in Southern Tanzania to the west of Morogoro; accessible via a pretty good road from Dar Es Salaam.
There are so many better parks than Mikumi in Tanzania that it is not really worth a visit unless you are driving to Selous and want to break your journey. Even then this would depend on the road between Mikumi and Selous being open.
If you are amongst the few that drive to Ruaha, then you will pass the Udzungwa Mountains NP. 
Rising to altitudes of 2500m it offers a very different experience to a lowland park and is worth a visit if you have an interest in monkeys.
The Sanje Crested Mangebey and the Hehe red Colobus are endemic to the area and you also encounter black and white colobus, Blue Sykes Monkeys and vervet monkeys as well as abundant birdlife.
Ruaha
Ruaha National Park is the largest national park in Tanzania.  It covers an area of about 22,000 km². It is located in the middle of Tanzania about 130 km from the town of Iringa.
Ruaha is famous for its large population of elephants,  of which around 10.000 are currnently roaming the park. Other notable mammals include African Wild Dog and Sable Antelope. Ruaha is also a birdwatcher's paradise where 436 species have been identified from an estimated total of 475.
The best times to visit for predators and large mammals is the dry season (May–December) and for birds and flowers, the wet season (January–April).
The landscapes of Ruaha are spectacular and provide a terrific backdrop for your game drives and photographs. The park's remoteness from Dar es Salaam means that almost all visitors arrive by light aircraft and its size means that you are not likely to encounter too many other vehicles when you are on game drives. It is one of those parks where game drives are an absolute pleasure.
We have found that it is hard to do Ruaha justice in just one or two days and that to get the best from your visit it is worth staying 4-5 days and splitting your stay between two camps in different regions of the park.
Selous
The Selous Game Reserve is one of the largest faunal reserves of the world, located in the south of Tanzania. It was named after Englishman Sir Frederick Selous, a famous big game hunter and early conservationist, who died at Beho Beho in this territory in 1917 while fighting against the Germans during WW1. The Selous was designated a UNESCO World heritage Site in 1982 due to the diversity of its wildlife and undisturbed nature.
The whole Selous reserve is massive and covers a total area of 54,600 km2 (21,100 sq mi). However, on the small portion of the park which lies on the north east side of the Rufiji River is open to photographic tourism. The vast majority of the park, to the south west of the Rufiji is split between designated hunting concessions.
Some of the typical animals of the savannah Elephant, Buffalo, African Wild Dog can be found in this park in larger numbers than in any other African game reserve or national park.
Game drives in the Selous can be exceptional but when the bush is green following rainfall the animals are spread far and wide and often hard to track down.
What the Selous does have though is the Rufiji River and an afternoon boat trip on the river is one of the highlights of any visit. From the boat you will see elephants and other mammals coming to the river to drink and bathe and a delightful variety of birdlife, including a heronry and a colony of White Fronted Bee Eaters.
Due to its location visitors usually arrive in the Selous by light aircraft. For such a large park there are relatively few camps and so vehicle traffic is very light, making game drives a joy.
Katavi
Size: 4,471 sq km (1,727 sq miles).
Location; Southwest Tanzania, east of Lake Tanganyika.
Katavi National Park was created in 1974. Though it is the third largest park in Tanzania, its remoteness means that it gets few visitors;  just a few hundred each year.
The park encompasses the Katuma River and the seasonal floodplains of Lake Katavi and Lake Chada.
Katavi is renowned for its massive herds (1,000 plus animals) of buffalo and elephant as well as for vast numbers of hippo and crocodile; but the real joy of Katavi is that due to low visitor numbers you'll be able to enjoy your safari almost totally undisturbed.
Access to Katavi is almost exclusively by light aircraft and the few lodges/camps that exist are on the pricey side.
Mahale Mts
Size: 1,613 sq km (623 sq miles).
Location: Western Tanzania, bordering Lake Tanganyika.
Mahale Mountains National Park lies on the eastern shore of Lake Tanganyika.
Named after the Mahale Mountain range that lies within its borders, the park has several unusual characteristics.
First, it is one of only two protected areas for chimpanzees in the country. Thanks to its remoteness, the chimpanzee population in Mahale Mountains National Park is large and flourishing. It also the only place where chimpanzees and lions co-exist.
Another unusual feature of the park is that it is one of the very few in Africa that must be experienced by foot. There are no roads or other infrastructure within the park boundaries, and the only way in and out of the park is via boat on the lake.
Mahale Mountains adds a wonderful contrast to safaris in other parks. It is not just the wildlife that is different but the whole experience.
Access to Mahale Mountains NP is by light aircraft and accommodation is not cheap but the experience will be long remembered.
Safari ideas
Here are just a few suggestions, based on safaris that have worked well for past clients. They are not set in stone and can be easily amended to suit your requirements; changing lodges or duration. Or we can just start with a clean sheet pf paper.
Why not get in touch to discuss your ideas with us, there's nothing we enjoy more than talking about Africa.
Then we can get to work on designing a very special safari just for you.
12 nights / 13 days
starts Arusha / ends Dar es Salaam
Prices from £2,735 per adult / £2,220 per child for a family of 2 adults & 2 children. (excluding international flights)
A safari for active families. Combining the magnificent Serengeti NP and the unique Ngorongoro Crater with time to chill out on the Spice Island itself, Zanzibar.
2 nights – Arusha
1 night Lake Manyara
3 nights Serengeti NP
2 nights Ngorongoro Conservation Area
4 nights Zanzibar
11 nights / 12 days
starts & ends in Arusha
Prices from $4,565 / £3,540 per person (excluding international flights)
With such a magnificent profusion of wildlife people often overlook the fact that the Tanzania is one of Africa's best birding destinations with an incredible wealth of birdlife.
This safari has been designed to help you discover the amazing variety of birds to be found in Tanzania's parks. With a specialist birding guide and a private vehicle it's a real treat.
2 nights – Arusha
2 nights – Tarangire NP
2 nights – Lake Manyara
2 nights – Ngorongoro
3 nights – Serengeti NP
Selous and Ruaha – Jewels of the South
9 nights / 10 days
starts and ends in Dar es Salaam
Both Selous NP and Ruaha NP are acknowledged by safari connoisseurs to be amongst the best parks in all of Africa and places where visitors can enjoy terrific game viewingwithout the crowds often found in Tanzania's northern parks.
1 night Southern Sun – Dar es Salaam
4 nights Lake Manze Camp – Selous Game reserve
4 nights Mdonya Old River Camp – Ruaha NP
Remember
These are just suggestions based on what has worked well for previous guests, you may wish to do something different. In which case you could use our suggestions as a starting point and then make your alterations, or we could simply start with a clean slate. It is entirely up to you.
If you'd like to discuss ideas for your safari in Africa we'd love you to get in touch; either by email or by telephone.
or give us a call
+44 7918162984